Well, I guess this little series of posts over the next week and a bit will offer a bit of a slice of BIFF-life, and even though I'm unable to discuss a few films that are in competition for the FIPRESCI award that I am judging with Tina Kaufman and Kenicho Okubo, I've still managed to map out a pretty comprehensive list of Asia Pacific-origin, and other international films to get excited about.
Last night's opening feature—Lone Scherfig's "An Education"—was a charming, sometimes risqué British coming-of-age tale that was mostly satisfying until the very abrupt ending; but like a few of the other audience members who would have liked to ply the woman with champagne in order to find some kind of resolution, I wasn't able to pin down and ask the film's beautiful star, Carey Mulligan about 'alternate endings' that might have been filmed.
Actor-turned-director Leah Purcell offered a much more satisfying experience with her charming Australian period short comedy "Aunty Maggie and the Womba Wakgun", and there were obviously several cast and crew in our audience relishing some sumptuous costume and production design in what's been described by some as 'contemporary urban dreaming'.
This 18th-Brisbane International Film Festival, will be the last to be staged mid-year—it's moving to November in 2010 in an active partnership with the Asia Pacific Screen Awards. It's also the last time in the festival's history that the bulk of the screenings and activities will be held in the beautiful Regent Cinemas, which will soon be changing forever in the face of a looming 40-storey development. So last night's opening launch—and the close in just over a week—are tinged with a bit of sadness.
What's ahead for me? This afternoon I'll catch Emily Tang's "Perfect Life", which Melbourne audiences missed after producer Jia Zhangke withdrew the film in protest over that festival's screening of the documentary about Uyghur activist Rebiya Kadeer, "10 Conditions of Love". I'm also hoping to see Aussie director Mike Kraft's local production tonight, a debut thriller feature called  "Storage", and have a chat with director David Bradbury about his excellent new documentary about photographer Philip Blenkinsop—"My Asian Heart".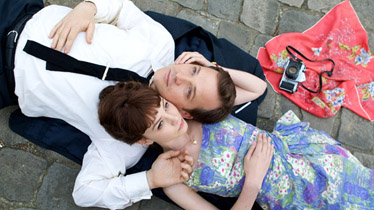 An Education (UK), a film by Lone Scherfig
Back to news