Just a quick check-in today, because Saturday didn't offer much festival news—I have a life outside the festival, you know… But my news today is still relevant to those interested in Australian and Asia Pacific cinema.
I slipped away from other commitments to see Australian actor-turned-director, Rachel Ward's adaptation of Newton Thornburg's novel "Beautiful Kate", a family tragedy of Shakespearean proportions, played out in the brutal drought-ravaged conditions of the remote outback. A very crusty Bryan Brown plays Dad to Ben Mendelsohn's embittered prodigal son in an inspired piece of filmmaking.
I was also able to take a sneak peak at Steven Katrissios's quite accomplished debut feature "The Horseman", which features some of the most violent and imaginative vengeance killings I've seen in a long while. I don't know whether Katrissios is a fan of Korean or Japanese cinema, but I found I continually had to remind myself that this was an Australian film, rather than the kind of transgressive madness that directors like Takashi Miike or Park Chan Wook inflict upon us.
Oh, and part of the problem with sneaking peaks at films away from the public screenings means that sometimes one misses out on little gems of short films. In this case, "The Horseman" was accompanied by the two-minute "Careful with that Power Tool", Jason Stutter's sequel to his award-winning "Careful with that Axe". Kevin Stevens steps out again with his son, Cameron to demonstrate an abject lesson in poor parenting, and I'm disappointed to say I'll have to wait for another opportunity to find out just how the little feller damages himself this time around.
Sunday will bring a firm commitment to jury duty, my first meeting with Ken'ichi Okubo and Tina Kaufman, watching Khoa Do's "Missing Water" and Asghar Farhadi's "About Elly", a Q&A session with the independent Chinese filmmakers, Chow Keung and Emily Tang, and topping the day off with some Aussie convict cannibalism in Jonathan Auf Der Heide's "Van Diemen's Land". But more on all of this tomorrow.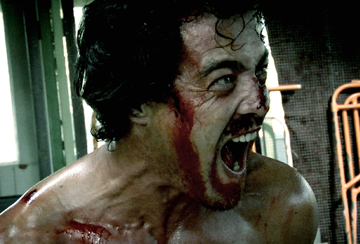 The Horseman (Australia) a film by Steven Kastrissios
Back to news