Mostly jury duties today—I had hoped to catch up with Father Joseph Pulinthanath and talk about his documentary, "Roots", which examines the human impact of the Dumbur Dam in southern India's Kerala region, and while Joseph and I were able to have a quick chat while our various juries convened for the first time—Joseph is working with Salaam el-Merebi and Tim Kroenert on BIFF's Interfaith Jury to decide on an award for a film promoting Humanitarian Values—I found myself regrettably turning down the opportunity to see his film on the big screen.
But there was an excellent reason to do so, for Emily Tang and her husband Chow Keung had finally arrived in Brisbane after a mix-up on Friday saw them miss the chance to discuss their film "Perfect Life" with the audience of its first screening in Brisbane. The couple were barely off the  plane when they were whisked up into the Hoyts theatrette for a quick two-on-one with me before the catch-up Q&A. I was caught off-guard, actually swatting up on Emily's career, when the pair were brought to meet me, but we had a good old chat about their examination of the perils that globalisation and drastic economic changes have wrought on ordinary citizens in China.
When we took the conversation down in the Festival Bar with an enthusiastic group of punters, matters turned to the changing face of Chinese filmmaking, and, of course, the controversy surrounding Keung's decision to withdraw "Perfect Life" from the programme at the Melbourne International Film Festival. With an enraptured audience looking on, this exhausted pair—they had arrived only an hour or so before, and would be leaving for Locarno within twelve hours—became quite animated and passionate in defence of their decision. In addition to stressing that the withdrawal was in response to the presence of Rabiya Kadeer, rather than the content of the documentary itself, Keung and Tang were quick to remind us of their status as independent filmmakers with no ties to the Chinese government.
I finished off the evening with a very empty belly—I hadn't eaten since mid-morning—and that was probably a good thing considering the final film for the day: "Van Diemen's Land" from Jonathan Auf Der Heide, who has brought to life a much more introspective examination of cannibal convict Alexander Pearce than we might have seen in last year's very ordinary torture porn flick "Dying Breed" or the docu-drama "The Last Confessions of Alexander Pearce". In the case of last night's film, the brutal reality of eating another man's flesh takes a back seat to the inner workings of someone driven by hunger to murder another. At the extended Q&A after the film, the charming and articulate Auf Der Heide and his equally considerate co-writer and lead actor, Oscar Redding offered a perfect complement to this very thoughtful and understated story of man-battling-man-battling-nature.
What's in store for Monday? More jury duties… but I will be able to let you know some details about a couple of BIFF films that I managed to catch up with outside the public screenings.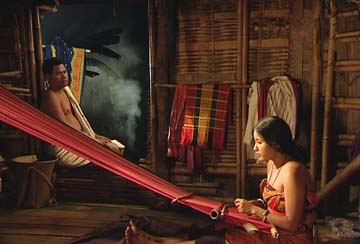 Roots (India) a film by Joseph Pulinthanath
Back to news