Monday saw more jury screenings, but I was able to cram some extra-jury stuff in there as well (along with some teaching commitments). But the best thing about today was an extended [read: "totally impromptu"] breakfast meeting I organised on behalf of my colleague Ken'ichi Okubo, who has a particular interest in experimental film.
So on Sunday night I quickly rang around the people I know through my various contacts, and on Monday morning about ten people rocked up at Belle Epoque next to the festival hotel, Emporium, to discuss the state of experimental film in south-east Queensland. Ken had already met Joel from OtherFilm, a collective dedicated to avant-garde, experimental, abstract, expanded and other weird sorts of film, but I had also invited Joel's fellow OtherFilm-er, Danni and PhD student Huw Walmsley-Evans, who is researching the process of film reviewing and criticism. There was a strong contingent from the Queensland University of Technology, including film & TV lecturer, Helen Yeates, and horror guru, Dr Mark Ryan; and Ken was also interested to hear about The Big Screen Project, an open air forum for student and emerging film being coordinated by PhD candidate Woitek Konzal and undergraduate film & TV student Liam Keyes. All this has particular relevance to Ken, as he has been curating a number of exhibitions about the moving image back at the Tokyo Metropolitan Museum of Photography, and is now quite keen to look at curating projects further afield.
In the film stakes today, I was looking at the programme and saw that "Agrarian Utopia" is on offer at BIFF, which also screened in competition for the FIPRESCI Award at this year's Hong Kong Film Festival. This really quite beautiful feature film by Thai director Uruphong Raksasad saw the actors actually farming a piece of land in Thailand, and struggling with the realities of environmental sustainability. Raksasad's film is particularly memorable for its glorious cinematography, although I found it stirring even just for the monsoons and obscenely bloated thunderclouds that tormented the production, especially in the light of Australia's recent sustained drought.
Tonight before I go to bed, I'll be having a look at "Roots" by Indian filmmaker Father Joseph Pulinthanath; the story of the displacement of an entire community is compelling, and I'm looking forward to having a chat with Joseph about his experiences making their film—you'll note I said "their" film, rather than "his", as at dinner tonight, Joseph was quick to point out that "Roots" was his chance to give a voice to the voiceless. More on this film and John Hughes's "Indonesia Calling" tomorrow.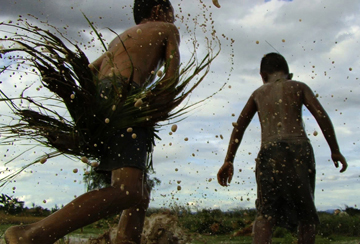 Agrarian Utopia (Thailand) a film by Uruphong Raksasad
Back to news