Wednesday, 5 August 2009
•
Jury! Jury! Jury! Yeah, sorry about that—I've always loved Cary Grant, and I'm also loving the whole FIPRESCI Jury process. The thing is that I'm seeing all these wonderful films, and I can't actually discuss any of them until Sunday evening after the award has been presented.
Still, I've had a chance to see a lot of other stuff; late last night I was able to watch John Hughes's documentary "Indonesia Calling: Joris Ivens in Australia", which examined the impact of Ivens's 1946 documentary on regional politics, and, interestingly, its impact on the genre of documentary and the film's long-term implications for a generation of Australian filmmakers. I found myself wanting to source the original as well, even if it's just to satisfy that desire to drink in the exotic bustling location shots of Sydney, Jakarta, and other places around the world from almost six decades ago.
As I was walking out of a screening of the Korean  director Kim So-yong's "Treeless Mountain"—no, I can't talk about it!—I noticed crowds massing for the sold-out session of "The September Issue", which I saw last week. It's a great documentary about the 2007 September issue of American Vogue, and as I watched it, I reflected on what might come of  the magazine if the poker-faced Chief Editor Anna Wintour stepped out in front of a bus; it was also interesting to see some of the extraordinarily talented people behind the scenes, like Creative Director Grace Coddington, a former glamour model from the sixties, who has changed the face of fashion with her formidable imagination.
I'm a shameless sci-fi geek, so I was keen to jump the gun on the debut feature film by Duncan Jones (aka: Zowie Bowie), which will have a theatrical release in Australia later this year. "Moon" stars—mostly—Sam Rockwell as a corporate astronaut assigned to the dark side of the moon for three years to oversees mining operations. But in the last weeks of his contract, strange things begin happening, and Sam begins to question his sanity. I guess it wouldn't help with the dulcet tones of Kevin Spacey being piped into the room through Gertie—a ubiquitous robot chaperone. The film was surprisingly funny, poignant, and fascinating at all the same time—I found myself reminded of films like  "Solaris", which make the sci-fi take a back seat to narrative and character development—how refreshing!
Oh, and I was fortunate enough to catch "Gandhi's Children", David MacDougall's absolutely hypnotic doco about the Prayas Children's School for Boys in Delhi. An almost pitch-perfect examplar of the observational form, this documentary was at times amusing, often heartbreaking, and over its three hours, always compelling.
Finally, I forgot the other day to plug a very nice little Australian short film called "Boundless" by Stephen Kanaris, who wrote and directed this story about a thirty-five year old Down's Syndrome man whose enthusiasm and optimism knows no… well… bounds. Saxon Graham plays the gentleman in question, and to great effect—this is simple, but beautiful storytelling, and Saxon's performance was quite inspiring.
Tomorrow? A chat with a north-eastern Indian filmmaker; a film about a frustrated Palestinian judge-turned-taxi driver; and I get up to a little mischief and do some exploring with intrepid BIFF photographer, Jimmy Malecki.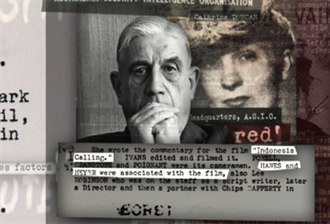 Indonesia Calling: Joris Ivens in Australia (Australia) a film by John Hughes
Back to news