Wednesday, 23 September 2009
•
STEADY AS A ROCK
If there is a staple of the Vladivostok festival it is the annual appearance of Rock Brynner. Rock as the son of Yul Brynner who in turn is Vladivostok's most famous son was invited to the first festival back in 2003 – and has come back every year since. Wearing his trademark fedora (there is an irony in the son of the world's most famous bald man wearing a hat no?) Rock has become a local celebrity and is often asked to pose with awed local citizens.
However there is more to Rock than another Jerry van Dyke or Danni Minogue living off the esteemed family name.
A qualified historian (he is a professor at Western Connecticut State University) he not only attends the festival, but gives lectures on the history of Vladivostok (the city was established by his great grandfather and his forefathers also established the local historical museum here) at the Russian universities. At the moment, he is most excited about the fact that next year represents the 150th anniversary of the city. If the opening of the festival is any indication, July 2nd 2010 will be one hell of a gala affair.
Though he is a walking, talking history book, Rock has also written down his stories in his 2006 book "Empire & Odyssey". One of the amazing things about this book is encapsulated by a comment he made to the Library Journal at the time of the book's release.
"For anyone who has endured [writing] a novel, perhaps the greatest joy of turning to history is that you don't have to worry about plausibility. Had I concocted a family saga that involved, say, the Emperor of Korea, Tsar Nicholas II, a vast shipping and mining empire, pirates, tiger hunters, the Trans-Siberian Railroad, acrobats, Gypsies, opium dens, KGB and SMERSH agents, Hollywood legends and rock'n'roll stars, Samuel Beckett, Sam Giancana, and Muhammad Ali—I could never have made this true story plausible. These are all elements of our saga, and since they are documented in the endnotes, I don't have the job of making this incredible epic seem credible."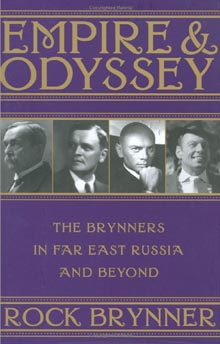 Back to news