Sunday, 27 September 2009
•
OPENING NIGHT
I've been met by cars at the airport before. I've often had smiling guides greet me at the airport. I've had some festivals demonstrate distinctive local greeting rituals. But Vladivostok is the only festival where I've been bear hugged by festival staff members* as I've cleared customs. It's like a homecoming. My only prior visit to the "Pacific Meridian" Vladivostok International Film Festival (to employ the full title) was in 2007. My short film "The Agreement" played here and I was struck then by how supportive the festival was to up and coming shorts film-makers. This year there are shorts directors who have flown in from Australia, Doha, Mexico and Peru – all on the festival tab! (The feature directors all seem to be from Russia.) This was confirmed for me last year when it became apparent that Variety coverage was not their strongest concern, but they were much more interested as to whether I had completed another short. 2008: No short. No Vladivostok. This year I'm representing APSA in my blogging role (with some probable, yet-to-be negotiated "Variety" coverage), but festival staff who endearingly remember me from 2007 are all asking whether I have made another film (and with a bi-lingual romance and a comedy about global warming going begging it breaks my heart to tell them "no").
But regardless, I'm back in this land of left hand (buses and police vans) and right hand (Korean and Japanese imports) drive cars, a gorgeously beautiful port and even more exquisitely beautiful women. Some things haven't changed. Rock Brynner, son of Yul Brynner who was born here and great grandson of one of the men who literally built this city is back again as a festival guest (The New York-dwelling historian has never missed an edition of the festival and is a now a local celebrity in Vladivostok). There's been some funding pruning (GFC anyone?), but it hasn't interfered with the festival's ability to put on a show. There were only five people on stage singing the festival theme song and not the 27 that belted out the memorable tune (I'm trying to get a recording for the blog, but I can sing the chorus if anyone cares to ask) when I was here last time. But some of the preceding events made the festival song almost antic-climatic. Not only has Catherine Deneuve come to the festival, but she was serenaded by Lithuiuanian actor Ivar Kalinish as a montage of some of madame's most famous films behind him. Not only was the festival opened with speeches from Astronaut (Benjamin Alvin Drew) and Cosmonaut (Alexander Balandin) but there was even a pre-recorded, weightless message from Gennady I. Padalka and Roman Romanenko, two staff members currently working in a Russian space station wishing the festival a splendid opening. Oh yes, and then there was the cyclist Nikolai Yevmenov who after setting out from the Moscow Film Festival and riding a bike (complete with unmissable "Pacific Meridian" banner) across Russia for 88 days to deliver the "9,288 km" sculpted glass award for Best Film in the festival. So the song was a little anti-climatic but still very catchy and inspired rhythmic clapping. But what a tough act for a film to follow! As if opening night premieres don't have enough to contend with. The sheer afterglow of the opening ceremony may be a reason that the opening film "The Miracle" seemed to take so long to warm up. But once it settled into its narrative, this allegedly true story about a woman clutching an icon who was paralysed for four months (and its undertow about economic miracles promised by Nikita Kruschev and admission of brutalities under Joseph Stalin) entertained and kept tantalizing with its mystery-like structure.
Though as I write this from my silent room in the Hyundai Hotel with my view out to the harbour, Russian flag flapping in the cool, 2am breeze, and with only the growl of accelerating cars to act as my late night soundtrack, I can hear that the song has insinuated itself into my brain. Looks like it just might be tonight's lullaby.
*well okay there have been (ahem) a couple of other times, but that's not really what I'm talking about here.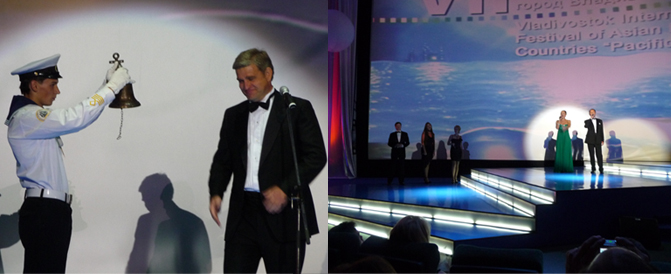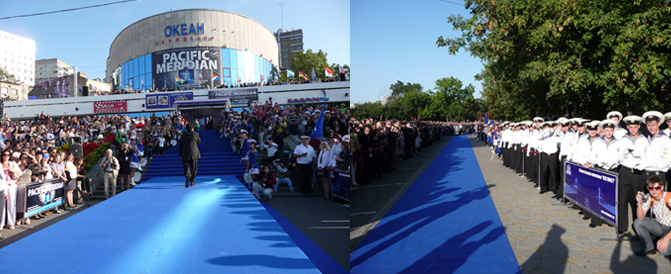 Blue Carpet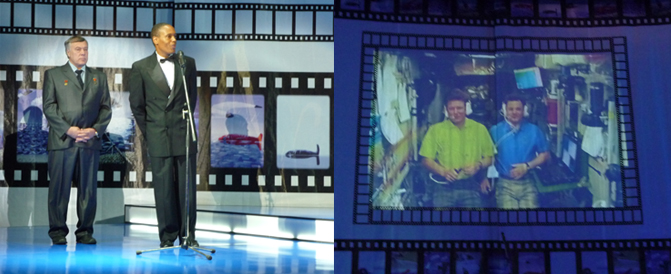 Astronaut Benjamin Alvin Drew and Cosmonaut Alexander Balandin; Gennady I. Padalka and Roman Romanenko, Russian space station
Back to news