TOP NAFF, NO RIFF RAFF
Festivals run on buzz. On one level PiFan is driven by its appeal to a local and loyal audience of film fans who devour horror films, grok science fiction movies and adore anything a little bit out of the ordinary. The 'Fantastic' aspect of PiFan is a key element in its identity (though they do play fast and loose with it sometimes; In 2002 the festival opened with Bend It Like Beckham because Korea's performance in the World Cup Soccer was like a 'fantasy come true for Koreans'.
But last year Pifan introduced a new element which has upped the buzz quotient. It has become a cliche to introduce a market to boost a festival's profile (and where there is a market, can a Talent Campus be far behind? But the addition of the Network of Asian Fantastic Films (NAFF) which opened tonight clearly has visitors as excited as the local audience that has supported the festival through thick and thin. This project market has a high-powered jury (headed by former Columbia Tri-Star topper Chris Lee, the other members are Lee Joo-ick producer of Seven Swords, Hong Kong mover and shaker extraordinaire Nunsun Shi and CEO of Tiger Gate  Entertainment  William Pfeiffer) who will grant 7 awards from 19 proposed film projects from across Asia. A buffet dinner kicked off with the usual speeches (Festival director Mr Han and then the Mayor of Bucheon, and with a champagne toasting of the room by the NAFF jury chief Chris Lee.) The usual stampede for the free food  was followed by a revved up networking session that made the Indy 500 look like a snail race. At my table alone there was remake king Roy Lee (The Ring, former PIFF staffer and producer Ellen Kim (Cry Woman), Hanna Lee (Secret Sunshhine) and Korean pop culture historian Mark Russell. Around the room could be seen Eric Khoo who was seated with the Singaporean delegation (NAFF has a special country focus each year with the island state in the spotlight for 2009). Arty adventurer Ly Jin was touting her project Space Gore. Rosa Li had left her hubby Kenneth Bi (The Drummer) chained to  a computer to write a script while she repped Chased for Hong Kong-based writer/director, Ezra Emerson and Ham Tran whose Vietnamese boat people saga Journey of the Fall made a splash a few years ago is looking to do a biopic of a Vietnamese martial artist. It was a real who's who of the Asian film industry.
Part of what fuelled the buzz  (besides beer and soju) it seemed to me that unlike other markets in which each project has to be couched in cotton wool and touchy feely terminology so the film can be nurtured to the right festival or the elusive arthouse audience, NAFF seems to be a matter of Horror Film? BANG let's go! You want to reach a mainstream Asian audience, Go for It! The deliberately narrow focus of the market appears to be energizing the participants. Of course the only way to know for sure is when the films get made. Production takes a while to cycle through. For instance the 40 per cent rebate co-production scheme developed in Australia a couple of years ago is only starting to show its success this year. Similarly, it took a while before people really understood what the Adelaide Film Festival was doing with its seed money for films that turned out to be Ten Canoes and Samson & Delilah (and a couple of duds too. No system is perfect) Likewise the success of the first NAFF will not be visible (or invisible) until 2010 or 2011. Hopefully the momentum can be maintained while the first genre films roll off the production line.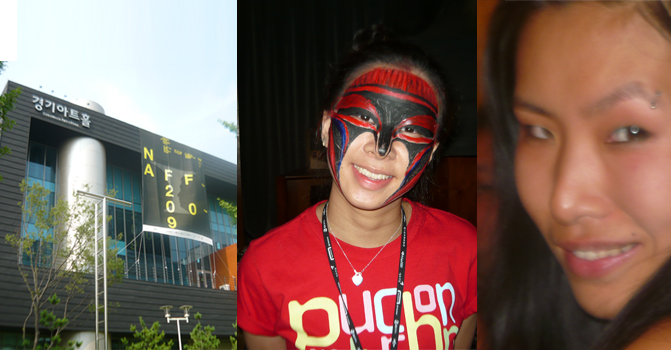 NAFF Centre;  PIFan Volunteer;   Ly Jin
Back to news