Thursday, 22 October 2009
•
THE WINNER IS…
You sweat on your project, you have a zillion meetings and then, like some beauty contest runner-up you have to watch while someone else wins the prize. Or someone else watches you. So it goes with the TPG. Before the 2009 Tokyo Project Gathering was announced at the Roppongi Hills Movie Cafe, I spoke to a couple of people with projects in contention and they were all a tad nervous, but clearly satisfied with the process.
The TPG prize in collaboration with Technicolor Asia was worth USD20,000 in post-production, is to be used against Technicolor Asia's extensive Digital Imaging services.  Further benefits, such as additional support on Sound and Front End services, will also be provided.
In a previous TIFFCOM year, I was at the TPG party and I happened to be talking to Nonzee Nimbutr. Both of us merrily chatting away, when as the winning project was announced he quickly, but calmly cut me short and said: "That's me, I have to collect my money." He wasn't quite as cool as he seemed as he had already had been notified of his winning.
This year however, the winner Izuru Kumasaka was so clearly surprised that it seemed very unlikely that he knew his project had been selected. I reviewed his first film Asyl (as it was known before it was rebranded as Asyl: Park and Love Hotel) at the Pusan Film Festival in 2007.  His new project is called Secrets on the Table. Other than the fact that it is a heart-warming human interest story I'm still trying to uncover details. So far what happens behind closed doors has stayed behind closed doors.
THE INEVITABLE
While Izuru Kumasaka had something to sing about, he was not amongst the gathering of festival fun-lovers who were summoned to the Shakaru Karaoke bar in Roppongi. Representatives from the Udine Far East Film Festival, PiFan, Variety, Screen and the Hollywood Reporter and of course TIFFCOM lead the way in the ancient art of karaoke (kara meaning 'empty', oke being an abbreviation for 'orchestra', it basically means fake orchestra). While songs were sung in Japanese and English, yours truly did everything from Tom Jones impersonations to some gangsta rap song I'd never heard before (it's easy enough as they all have the same tune). Personally for me the biggest surprise was what a fabulous crooner Variety reporter and Japan Times film critic Mark Schilling was. Then again he spent a considerable portion of his time covering Japanese nightlife (and sumo, and films, and…) during his 30 year residency in Tokyo so I should have guessed he could carry a karaoke tune.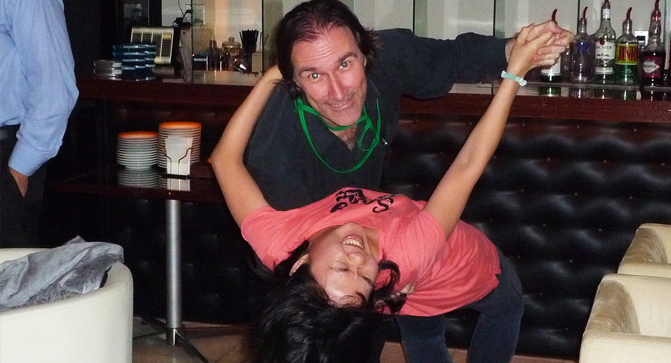 Russell Edwards dancing with Ivy Lam of The Hollywood Reporter
Back to news