Last day. It's been a long ride. Have met many amazing people. Tonight I am attending the closing night film The Tree pre-function party at The Majestic Beach, then the red carpet for The Tree, then Cannes Ceremony followed by the screening and on to the post-party at Cherie Cheri. It will no doubt be a long night.
I am hopeful that some Asia Pacific films come up trumps tonight at the Awards Ceremony. Apichatpong's (nicknamed Joe) Uncle Boonmee has become an outside favourite. Would be wonderful if an independent Thai film won. This film is also produced by Simon Field an APSA Academy Member who was nominated for a producing role on a Best Feature Film in the 2007 APSAs for the Indonesian film Opera Jawa.
Red Carpet is a crush. Almost like a rugby scrum with onlookers trying to buy your ticket and trying to squeeze through the security gates to get to the red carpet. People are pushing from behind, it's hot and you are in black tie. People are stepping on your long gown.  I am fretting that my dress will get ripped.  Once inside it is more manageable and I get to walk the red carpet with Screen Australia's Julie Archet who has been very generous in showing me the Cannes red carpet ropes. She was a great escort and looked resplendent in an emerald green satin silk dress.  Eric Bonte, our French photographer for the APSA launch was on the red carpet and yelled to us to stop for photos. He will be sending some in the next few days so I will post once I receive them.
Inside we settle in for the closing ceremony of the 63rd Cannes Film Festival. Anticipation is high. I so want Chang-dong or Apichatpong to win something.  Tim Burton comes out looking wild and cool and the rest of the Jury attend their positions with a missing place for detained Iranian Jafar Panahi.  Presenters come out and ask the President of the Jury to announce the winners. Each time Tim Burton forgets to get up and opens the scroll and announce the winner. There is much laughter.
Australian director Michael Rowe wins the Camera d'Or prize for his film Ano Bisiesto (Lap Year) The BALLARAT-born director now calls Mexico home, and picked up the Camera d'Or for best first feature film. There was much excitement in our row of Aussies.
Lee Chang-dong (two time APSA winner and Academy member) wins best screenplay for Poetry and I stand and woop like Julia Roberts at the races in Pretty Woman. It's ok the French are very vocal. Lee is his usual cool, humble self and grateful for the appreciation of Korean cinema. He is such a nice guy.
Juliette Binoche wins best actress for her role in Abbas Kiarostami's Certified Copy and hops up on stage and goes straight to Jury seats and grabs Jafar Panahi's name card and raises it to the audience and speaks about his imprisonment. She raves passionately about working with Abbas. Javier Bardem and Elio Germano then share the acting prize.
There is a hush as the Grand Prix is announced and the room erupts as it goes to Of Men and Gods by Xavier Beauvois who also picks up Jafar Panahi's Jury name card and mentions him and makes a plea during speech.
Oh and my favourite bit, the Palme d'Or goes to Apichatpong (Joe) Weerasethakul for Uncle Boonmee (his fifth entry on the Croisette). I adored this film.  Now I am really whistling (the two fingered whistle taught by my grandfather on the dairy farm) and up on my feet. Apichatpong talks about how cool Tim Burton's hair is, about how he must thank his mum and dad for taking him to the cinema some 20 years ago and how that changed his life. About how cinema is magical and a continual learning curve with much still to learn. He thanks the ghosts and spirits for allowing him to make this film. He is a gentle man (who makes beautiful, gentle films) who is in the centre of a movement for democracy for the arts in a troubled political landscape. This is a man who scripts and meditates, Vipassana, which is concentrated on the breath. We share this in common. The world would be a different place if all did this daily practice. The film is a tribute to old Thai cinema and the traditions of reincarnation and belief in ghosts.
The Tree was a joy to watch. Fantastic to see Boonah and the scenic rim (south-west Queensland, Australia) on the big screen. Fifteen years in the industry and I was excited like a child that my weekend home (town and landscape not house) was on the screen and that I recognized so many hills and locations.  It is a moody, moving piece that is well directed. It received a good 3 minute standing ovation. On to the post-party for vodkas and a bit of a groove. Walked in to Bill Withers being spun by the DJ. Nice. Made me feel like I was home. Traipsed home at 2am. Respectable time. Need to be up early to pack to get home.
Goodbye Cannes. It's been a revelation.
Get off the plane in Brisbane at 1:30am Wednesday 25th morning and switch on my berry to the news that Jafar Panahi has been given temporary bail. I tearfully hug the Iranian Faramarz that I am travelling with. This is the best news to come home to, knowing that I am going home to my kids and that Jafar will be with his.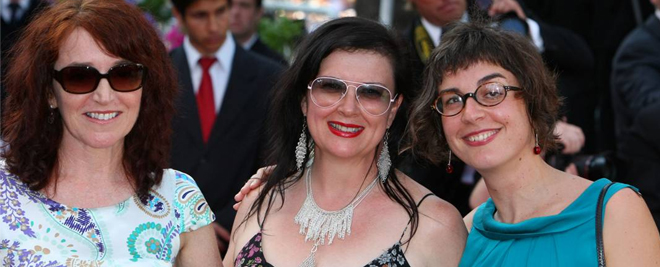 On the Closing Night red carpet with the Screen Australia ladies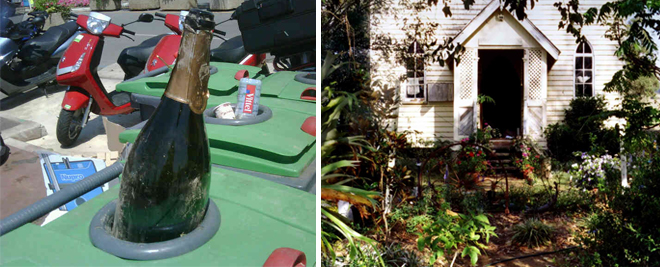 And that's a wrap;  Home sweet home. My weekender in Boonah
Alireza KhatamiMay 25, 2010 at 10:31pm
Subject: Jafar Panahi Freed!

Dear Friends,
It's a pure pleasure to inform you Jafar Panahi has been released from prison today 25th of May. After 80 Days of imprisonment, he has been released temporarily with on a bail of 200k USD. Congratulation to all. This is a great achievement for all of us. You all did a wonderful support, joined the group, wrote to you friends, told them about the cause, arranged screening, asked people to sign the petition, ect. all of those effort came to a great result. Thank you to everybody. thank you for believing in your voice. thank youuuuuuuuu
there are so many more political prisoners in Iran who are not known. We try our best for them as well. Let's keep our group, stay in touch and keep our effort for those who need it. We did it once. we can do it again.
With Peace, Light and happiness
Alireza
CANNES WINNERS 2010
FEATURE FILMS
Palme d'Or
LUNG BOONMEE RALUEK CHAT (Uncle Boonmee Who Can Recall His Past Lives) directed by Apichatpong WEERASETHAKUL
Grand Prix
DES HOMMES ET DES DIEUX (OF GODS AND MEN) directed by Xavier BEAUVOIS
Award for Best Director
Mathieu AMALRIC for TOURNÉE (ON TOUR)
Award for Best Screenplay
LEE Chang-dong for POETRY
Award for Best Actress
Juliette BINOCHE in COPIE CONFORME (CERTIFIED COPY) directed by Abbas KIAROSTAMI
Award for Best Actor Ex-aequo
Javier BARDEM in BIUTIFUL directed by Alejandro GONZÁLEZ IÑÁRRITU Elio GERMANO in LA NOSTRA VITA (OUR LIFE) directed by Daniele LUCHETTI
Jury Prize
UN HOMME QUI CRIE (A screaming man) directed by Mahamat-Saleh HAROUN
Short Films
Palme d'Or – Short Film
CHIENNE D'HISTOIRE (BARKING ISLAND) directed by Serge AVÉDIKIAN
Jury Prize – Short Film
MICKY BADER (BATHING MICKY) directed by Frida KEMPFF
UN CERTAIN REGARD
Un Certain Regard Prize – Groupama Gan Foundation for Cinema HAHAHA directed by HONG Sangsoo
Jury Prize – Un Certain Regard
OCTUBRE (OCTOBER) directed by Daniel VEGA, Diego VEGA
Un Certain Regard Award for Best Actress LOS LABIOS (THE LIPS) played by Victoria RAPOSO, Eva BIANCO, Adela SANCHEZ
CINEFONDATION
1st Prize Cinéfondation
TAULUKAUPPIAAT (THE PAINTING SELLERS) directed by Juho KUOSMANEN
2nd Prize – Cinéfondation
COUCOU-LES-NUAGES (Anywhere out of the world) directed by Vincent CARDONA
3rd Prize Cinéfondation Ex-aequo
HINKERORT ZORASUNE (THE FIFTH COLUMN) directed by Vatche BOULGHOURJIAN JA VEC JESAM SVE ONO ŠTO ŽELIM DA IMAM (I ALREADY AM EVERYTHING I WANT TO HAVE) directed by Dane KOMLJEN
GOLDEN CAMERA
Caméra d'or
AÑO BISIESTO directed by Michael ROWE
Back to news