Saturday, 4 November 2023
•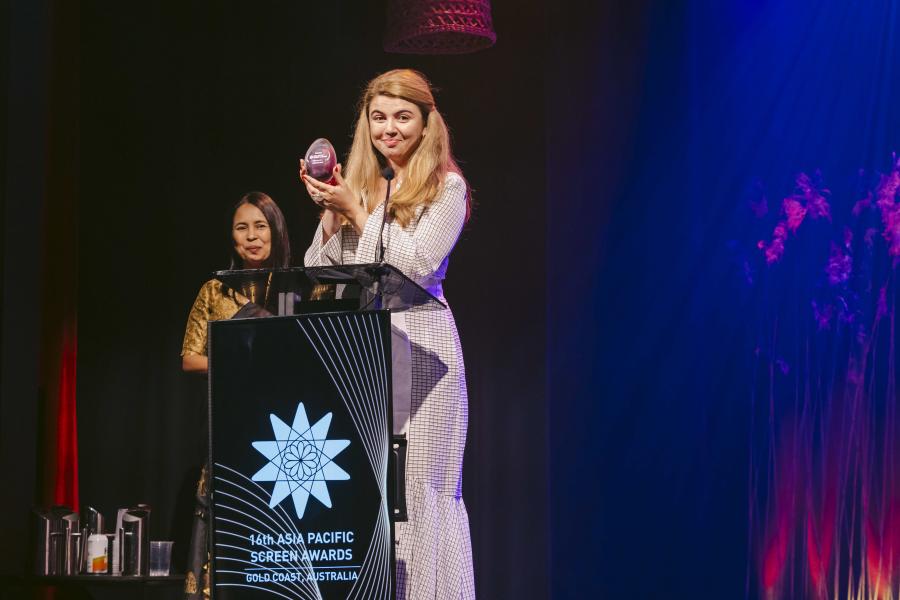 The winners of the 16th Asia Pacific Screen Awards (APSA) were announced this evening at the Australian ceremony, with Japanese films Perfect Days taking home the Best Film Award and Evil Does Not Exist (Aku Wa Sonzai Shinai), winning the prestigious Jury Grand Prize.
Films from 8 countries have taken home prizes at the 16th annual event, which honours the cinematic excellence of 78 countries and areas of the Asia Pacific and films that best reflect their cultural origins and the diversity of the region.
APSA is Australia's most international film event, with guests and representatives from more than 20 countries attending this year's Red Carpet and Ceremony at Home of the Arts (HOTA) on the Gold Coast, Australia, on
the traditional land of the Kombumerri families of the Yugambeh Language Region.
Best Film winner Perfect Days, a gentle comedy drama about a toilet cleaner in Tokyo finding happiness in the everyday, is directed by Wim Wenders and produced by Wenders, Takuma Takasaki and Koji Yanai who also initiated the real-life Tokyo Toilet Project that features throughout film.
Following its Cannes premiere, Perfect Days last week screened in its home city, opening the Tokyo International Film Festival. It is also Japan's submission to the 2024 Academy Awards in the Best International Feature category.
In accepting the award via a video message Wim Wenders said: "It is with great pleasure and pride that my Japanese producers Takuma Takasaki and Koji Yanai and myself received the news that our film Perfect Days was awarded Best Picture at the Asia Pacific Screen Awards."
"Wow, what an honour! Especially for a German director. The film was, in many ways, a dream come true for all of us, especially the fact that nobody less than the great Koji Yakusho played the leading role, the humble public servant, Hirayama."
Evil Does Not Exist (Aku Wa Sonzai Shinai), winner of the APSA Jury Grand Prize, is the story of threats to nature and community when a talent company proposes to develop a glamping site near a small Japanese village. It marks the second major recent APSA win for a film by Ryusuke Hamaguchi, whose Drive My Car won Best Film in 2021. The Jury Grand Prize was accepted by producer and APSA Academy member Satoshi Takata.
Takata said, 'Thank you so much. First I'd like to thanks Eiko Ishibashi– the composer and musician of this film who first brought this concept and idea to Director Hamaguchi and the Director made it into a feature film that goes in tandem with beautiful music.
Director Hamaguchi was not able to come here because he's hosting a special private preview screening right now at this moment back in Nagano prefecture 2 hours driving from Tokyo where we shot this, film inviting all the collaborators. I'd like to send this to them. 
I'd like to thank the Jury members who find that cinematic moment in this film that is worth watching and I'd like to thanks all the APSA members and staff for this beautiful moment and I hope this film will go on to see a new audience. Thank you so much.'
Two part-autobiographical Korean diaspora stories have taken home awards in 2023.
Celine Song won the APSA for Best Director for her nuanced story of romance and emigration Past Lives, in the first major award for the film outside North America.
Celine Song said: "I'm so happy and honoured to receive the Best Director Award at Asia Pacific Screen Awards. It is very special to receive this for my very first film, and my very personal film and it is also so meaningful to receive it from my own community. Thank you so much, it really means the world."
Anthony Shim was awarded the APSA for Best Screenplay for Riceboy Sleeps, a story of a single mother raising a son in Canada in the nineties, whose lives are changed when they travel back to South Korea and reconnect with family.
The APSA for Best Performance has been won by Palestinian performer Mouna Hawa for her role in the Jordanian film Inshallah a Boy (Inshallah Walad).
In the debut feature from Amjad Al Rasheed, Hawa plays the mother of a young daughter whose life is upturned by harsh local inheritance laws when her husband suddenly passes away.
Mouna Hawa said via video message "I want to thank Amjad Al Rasheed for trusting me to bring to life the Nawal he has been dreaming of for years. Inshallah a Boy raises moral questions by telling a story of a woman who fights for her basic human rights: not being displaced, not being separated from her own child, demanding recognition, seeking justice and liberation. In these times, a film like Inshallah a Boy that dares to question our entire reality is essential not only for educating people and making them think, but also gives us a voice in times where we simply can't speak. Thank you."
Rounding out the winners determined by the APSA International Jury, the Best Cinematography category has been given two honours. The winner in 2023 is Azamat Dulatov for Kazakh film Qas, with the jury adding a Special Mention for Krum Rodriguez for Georgian film Citizen Saint (Mokalake Tsmindani).
APSA International Jury President Clara Law said: "The cultural diversity in this year's Asia Pacific Screen Awards short-listed selections is truly amazing, as is reflected in the winners. I fervently hope that this will inspire upcoming and younger filmmakers to be brave, to not be afraid to break new ground in their pursuits, so that the art and cultural diversity of our region will reverberate in many beautiful films in the years to come."
Three awards have gone to films from Kazakhstan at the 16th edition of APSA. In addition to the abovementioned Best Cinematography, the APSA Youth, Animation, Documentary International Jury has awarded Best Youth Film to Bauryna Salu by Askhat Kuchinchirekov. The film explores the tradition of
children being adopted by their grandparents while their parents are still alive. Also an actor known for his lead role in the international hit and 2008 APSA Best Film winner Tulpan, Kuchinchirekov made his debut as writer-director with Bauryna Salu, and he also produced alongside Anna Katchko who accepted the award at the ceremony.
Also from Kazakhstan, actors Aibar Saly and Alisher Ismailov were jointly awarded the APSA for Best New Performer, for a first- or second-time lead performance, for their roles as orphans searching for their father in
Darkhan Tulegenov's Brothers (Bratya). Director Tulegenov was present at the APSA Ceremony in Australia and accepted the award on their behalf.
The Siren (La Sirène), France-based Iranian director Sepideh Farsi's tale of the Iran-Iraq war told through the eyes of a young boy in a city under siege, has won the APSA for Best Animated Film. The film is produced by Sébastien Onomo.
In her acceptance speech Sepideh Farsi said: "Thank you for this award. It means a lot and I hope that it will enable the film to travel further. When we were making The Siren we thought of the Iraq-Iran conflict as a past war. As I am speaking to you now I am heartbroken, because the world is again in turmoil. I wish to be showing the film in a more peaceful world in the future and I ask you all to fight for this peaceful world." 
The winner of the APSA for Best Documentary Film is Sarvnik Kaur's Against the Tide, following two fisherman friends from different classes in Mumbai's Koli community who both face the same challenges at sea as their environment changes. Against The Tide is produced by Kaur with Koval Bhatia.
Chair of the APSA Youth, Animation, Documentary International Jury Midi Z said: "I was honoured to Chair the Jury considering APSA Youth, Animation and Documentary nominees. The nominated films showcased the diversity and originality of the region's films and included works from master filmmakers and first-time director's debuts. We liked every movie, and discussed each one in depth. It was a very meaningful process and thanks to APSA, I have learned a lot."
Previously announced winners were all present to accept their awards, with Jeremy Chua accepting the FIAPF Award for Outstanding Contribution to Asia Pacific Cinema and Phạm Thiên Ân collecting the award which recognises the abundant emerging talent of Asia Pacific, the Young Cinema Award, for Inside the Yellow Cocoon Shell (Bên Trong Vỏ Kén Vàng), which was produced by Chua.
Cultural Diversity Award winner Rapture (Rimdogittanga, India, People's Republic of China, Qatar, Switzerland, Netherlands) was accepted by six of the multi-country producers Xu Jianshang, Eva Gunme R Marak, Sun Li, Harsh Agarwal, Aditya Grover, Stephen Zacharias.
The recipients of the MPA APSA Academy Film Fund development grants of US$25,000 were announced as Ahmed Yassin Al-Daradji (Iraq), Rima Das (India), Tamar Shavgulidze (Georgia), and Anthony Chen (Singapore).
The successful filmmakers selected for the 2023/24 year-long immersive development programme, the Asia Pacific Screen Lab, are: Shadi Jamil Habib Allah (Israel) for his project Morning Thread, Haziqah Binti Azemi (Malaysia) for her project Garek and Bavaneedha Loganathan (Sri Lanka) for her project 46 Mondays.
The Asia Pacific Screen Lab is an initiative of the Asia Pacific Screen Academy in association with Griffith University, Griffith Film School, NETPAC (Network for the Promotion of Asia Pacific Cinema) and the Sun Foundation.
Chair of the Asia Pacific Screen Academy Tracey Vieira said: "I would like to congratulate all the winners and recipients at the 16th Asia Pacific Screen Awards, and thank all attendees and participants at APSA and the Asia
Pacific Screen Forum. There is a phenomenal energy in the room at APSA, where it is abundantly clear that filmmakers thrive on coming together and connecting across cultures, borders and languages, and through a shared love of telling our diverse stories on screen."
Gold Coast Mayor Tom Tate said: "Seeing filmmakers and industry leaders from all over the region gather for this special celebration of cinema is fantastic. As a city, we are proud to continue our long-standing relationship with APSA and I congratulate winners and nominees."
Major Partner Screen Queensland CEO Jacqui Feeney said: "The Asia Pacific Screen Awards has once again created incredible opportunities for local filmmakers to engage with their counterparts across the region and to
see their films. This will immeasurably enrich our state's film industry and we congratulate all the winners at the awards."
The Asia Pacific Screen Awards and the Forum are presented by the Asia Pacific Screen Academy with the support of major partners the City of Gold Coast, Screen Queensland, the Motion Picture Association and Griffith Film School, Griffith University.
Back to news