Thursday, 14 September 2017
•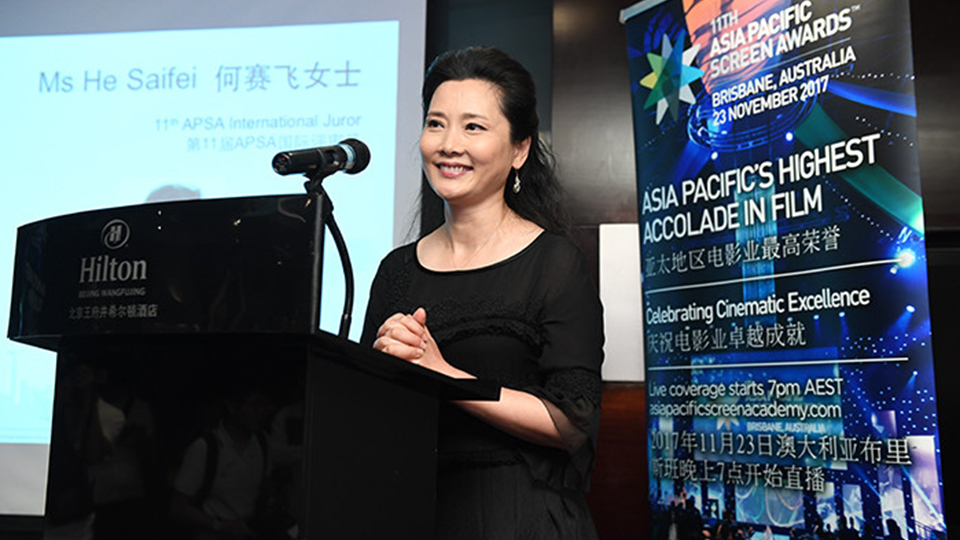 Beijing: The Lord Mayor of Brisbane, Cr Graham Quirk today announced the first three members of the 2017 APSA International Jury as Chinese actress He Saifei, Filipino writer/director Adolfo Alix Jr and Kazakh writer, director and cinematographer Adilkhan Yerzhanov.
Making the announcement from a special APSA Academy event in Beijing, Cr Quirk said the Brisbane based Asia Pacific Screen Awards are the region's highest accolade in film, encompassing the world's fastest growing film region, comprising 70 countries and responsible for half of the world's film output.
"APSA was created to provide this important and diverse region with a prestigious award of its own and now, 11 years on, it has forged its place as the most esteemed award in the region. The Awards continue to shine a spotlight on powerful Asia Pacific stories, foster cross-cultural dialogue and celebrate filmmakers whose accomplishments too often go unrecognized," Cr Quirk said.
"APSA is important to the city of Brisbane because it strengthens our significant business and cultural ties with the region. Entering into its second decade, APSA has become a great drawcard for film business events, helping to transform Brisbane into an Asia Pacific cultural hub and position us as a destination to do the business of film.
"Last year, we hosted the CILECT Congress [International Film and Television Schools Association] and Asian Animation Summit. Industry events see APSA as a unique offering for their film practitioner delegates and an opportunity to network and collaborate with both the Australian film industry and the prominent Asia Pacific filmmakers who fly to Brisbane to attend the Awards."
"This year, we have an exciting new program of industry events, APSA screenings and there a number of exciting APSA aligned conferences confirmed for the coming years."
The Beijing event forms part of the 2017 Lord Mayoral Business Mission and was attended by International Jury member Ms He, APSA Academy members, representatives of the Motion Picture Association (MPA), Australian business and investment commission Austrade, Australia's Department of Foreign Affairs and Trade, and by the Secretary General for the China Film Producers Association (CFPA), Mr Wang Fenglin.
The CFPA is the leading industry organisation for the Chinese film industry, is a member of APSA founding partner FIAPF, the International Federation of Film Producers Associations, and is an Official Submitting Organisation for APSA, selecting and submitting a shortlist of films to APSA Competition each year.
The APSA International Jury is comprised of leading film practitioners and experts from across the globe whose task in determining the winners in each of 7 categories is challenging, given the strength of the APSA Competition. Two further internationally recognised names will be announced later.
He Saifei (People's Republic of China) has worked with some of the world's most acclaimed directors including Zhang Yimou, in his Academy Award® nominated Raise the Red Lantern (1991), Chen Kaige in the Cannes Film Festival Competition film Temptress Moon (1996) and Lust, Caution (2007) by two-time Academy Award®-winning Taiwanese director Ang Lee, which was nominated for a Golden Globe® and two BAFTAs. Her extensive body of work includes ten feature films and many significant roles in long-running Chinese television drama series. She won the China Film Society of Performing Arts Award for her role in Blush (1995) and was awarded the Hundred Flowers Award for Best Supporting Actress for her role in war epic Di hou wu gong dui (1996). She most recently appeared in the action-comedy Super Express.
Following his acclaimed debut feature film, Adolfo Alix Jr has become one of the most promising and prolific young Filipino filmmakers with his other films screened at various international film festivals. Kadin (The Goat, 2006), Alix' second feature, premiered at Locarno International Film Festival in Switzerland and competed in the 27th Festival International du Film d' Amiens in France.
Manila (2009), co-directed with Raya Martin and starring Piolo Pascual, was selected in the Out-of-Competition (Special Screenings) of the 62nd Festival de Cannes, His 2013 film Death March was screened in the Un Certain Regard section at the 2013 Cannes Film Festival. His latest feature Dark is the Night (Madilim ang Gabi) will premiere at Toronto International Film Festival.
Adilkhan Yerzhanov is one of Kazakhstan's foremost filmmakers. In 1999, he received accolades for the first ever Kazakh animation series Kozy-Korpesh and Bayan-Sulu. He was the recipient of the APSA NETPAC Prize for emerging talent in 2013 for Constructors (Stroiteli). He has made several shorts and features, among which The Owners (2014), which premiered at Cannes, was nominated for the APSA for Best Feature Film, and was subsequently screened and awarded at many film festivals all over the world. His new film, The Plague at the Karatas Village (2016), had its world premiere at IFF Rotterdam where it won the NETPAC Award.
The APSA International Jury determines the winners of Best Feature Film, Achievement in Directing, Achievement in Cinematography, Best Screenplay and two acting categories, Best Performance by the Actress and Actor. They will also determine the winners in the prestigious Cultural Diversity Award, under the patronage of UNESCO. The Jury can, at its discretion, award a Jury Grand Prize.
Winners in the 11th Asia Pacific Screen Awards will be announced at the APSA Ceremony on Thursday 23 November at Brisbane Convention and Exhibition Centre.
Back to news