Wednesday, 15 September 2021
•
APSA REVEALS FIRST LOOK AT ASIA PACIFIC SCREEN FORUM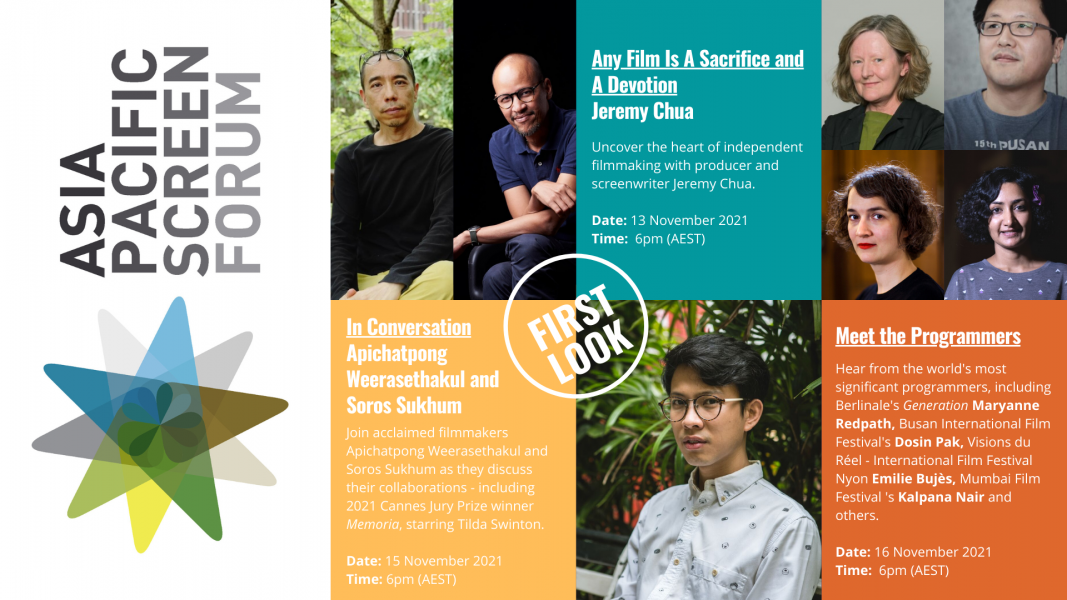 WELCOMES NETFLIX AS MAJOR SPONSOR
Gold Coast, Queensland: The Asia Pacific Screen Academy today opened worldwide registration for the 3rd Asia Pacific Screen Forum (Nov 11-16) with first look events featuring Palme d'Or and APSA Best Film winner Apichatpong Weerasethakul, together with APSA FIAPF Award winning producer at the forefront of the Thai independent cinema movement, Soros Sukhum, a Conversation with Jeremy Chua, plus a stacked global line-up for the popular Meet the Programmers session, and global personalised networking.
APSA today also welcomed Netflix as a Major Sponsor of the 14th Asia Pacific Screen Awards (Nov 11) and 3rd Asia Pacific Screen Forum. The global powerhouse streamer joins major sponsors Gold Coast City Council, Screen Queensland, Griffith Film School and the Motion Picture Association (MPA) alongside founding partners UNESCO and FIAPF in supporting APSA to deliver the Forum and a full competition for the 14th Asia Pacific Screen Awards in 2021.
Chair of the Asia Pacific Screen Academy Tracey Vieira said APSA Forum would provide unprecedented access to some of Asia Pacific's most innovative filmmakers.
"We are thrilled to present a Conversation with Singaporean producer Jeremy Chua, who has an incredibly agile approach to financing," she said.
Chua most recently produced Abdullaah Mohammad Saad's Rehana Maryam Noor, the first Bangladeshi film to be selected for Cannes' Un Certain Regard section, and is developing projects across the region. The film will have a special screening on the Gold Coast for local audiences, where global audiences can view earlier work from Chua, including K. Rajagopal's A Yellow Bird (2016), now available on Netflix.
"It is also exciting to be able to hear from acclaimed filmmaker Apichatpong Weerasethakul and producer Soros Sukhum discussing their collaboration including the 2021 Cannes Jury Prize winner Memoria, starring Tilda Swinton," Ms Vieira said.
While this was Weerasethakul's first film shot outside Thailand, and in English, Sukhum is well known for his international and highly creative approach to financing and producing. Sukhum was honoured by FIAPF at APSA in 2020 for his contribution to Asia Pacific cinema – particularly for his discovery and fostering of new voices and creating pathways to facilitate the realisation of their creative visions.
"APSA has embraced the opportunity to deliver the Forum and Awards using accessible technology, and continue our unwavering commitment to support and showcase the region's remarkable storytellers and screenmakers, particularly through these most challenging times. We are so pleased to welcome Netflix  as a Major Sponsor," Ms Vieira said.
Debra Richards, Netflix Director, APAC Studio & Production Affairs, said: "APAC is such an exciting part of the world for Netflix, and we are incredibly proud of the growing slate of local language films and series we are making with amazing creators across Asia Pacific. As a region, it is also the fastest growing in the world for Netflix memberships. So, it's the ideal time for us to partner with APSA to celebrate and inspire storytellers across APAC."
The first program events announced for the 3rd Asia Pacific Screen Forum are:
Any Film Is A Sacrifice and A Devotion with Jeremy Chua
Jeremy Chua is a Singaporean film producer and screenwriter. In 2010, he started his career as a programming assistant at independent art center, The Substation Singapore, then trained as a producer at Lowave Paris and Akanga Film Asia. Since 2014, he founded Potocol, a film company focused on development and co-production of independent Asian films. He wrote and co-produced his first film, A Yellow Bird by K. Rajagopal, which premiered at 55th Cannes Critics' Week and is currently available on Netflix. He has also coproducedBrotherhood by Pepe Diokno (Karlovy Vary IFF 2016), A Lullaby to the Sorrowful Mystery by Lav Diaz (Silver Bear, Berlinale 2016), A Family Tour by Ying Liang (Opening Film, International Competition Locarno IFF 2018), Motel Acacia by Bradley Liew (Tokyo IFF 2019), A Love Unknown by John Clang (IFF Rotterdam 2020) andDeath of Nintendo by Raya Martin (Berlinale Generation K Plus) and Rehana Maryam Noor by Abdullah Mohammad Saad (Cannes Un Certain Regard 2021). He is an alumnus of EAVE Ties That Bind 2013, Produire au sud 2016, Berlinale Talents 2017, SEAFIC 2017 and Torino Film Lab 2018. He works under Marco Mueller's programme team at Pingyao International Film Festival and has been a programme consultant for Sheffield Documentary Festival UK.
In Memoria with Apichatpong Weerasethakul and Soros Sukhum
Visionary and multi award-winning Thai auteur Apichatpong Weerasethakul's incredible body of work includes Cannes Palme d'Or winner Uncle Boonmee Who Can Recall His Past Lives and APSA Best Film Cemetery of Splendour, and in 2021 he was awarded the Cannes Jury Prize for Memoria, produced by Soros Sukhum (Pop Aye, Diamond Island). Pioneer of the Thai independent film movement, Soros Sukhum is credited with launching the careers of a generation of artistic and experimental filmmakers, including Aditya Assarat, Sivaroj Kongsakul, Anocha Suwichakornpong, and Nawapol Thamrongrattanarit.
Meet the Programmers Panel
Now a popular fixture of the Forum, Meet the Programmers offers international and local industry unprecedented access to hear from some of the world's most significant programmers, and delivers on APSA's mission to broaden the market appeal of Asia Pacific content. The line-up to date includes Head of Berlinale's Generation Maryanne Redpath, Busan International Film Festival Senior Programmer Dosin Pak, Visions du Réel – International Film Festival Nyon Artistic Director Emilie Bujès and Mumbai Film Festival Programming Head Kalpana Nair. Hosted by Kiki Fung, Programme Consultant at Hong Kong International Film Festival and former Head Programmer for Brisbane International Film Festival.
Random Connections
A virtual replication of the all-important networking and connections achieved by attending festivals, awards and screen events, where chance meetings can result in creative collaboration, knowledge transfer and support. Opt-in to be connected with other filmmakers – the earlier you register, the more connections you make!
The 3rd Asia Pacific Screen Forum and 14th Asia Pacific Screen Awards will be presented as both physical, and globally streamed events at/from HOTA (Home of the Arts, Gold Coast).
When launched in 2007 on the Gold Coast, APSA was and continues to be a ground-breaking initiative to create an Academy and Awards that would connect and celebrate the cinematic excellence and rich cultural diversity encompassed by the world's fastest growing film region: more than 70 countries and areas, 4.5 billion people, and responsible for half of the world's film output.
Back to news