Wednesday, 16 October 2019
•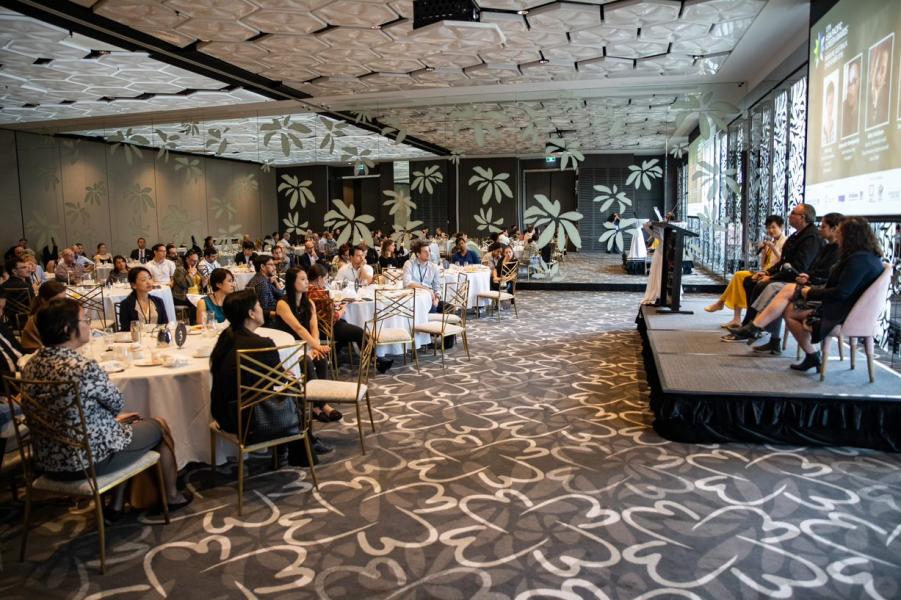 Brisbane: The Asia Pacific Screen Awards today announced the Asia Pacific Screen Forum, an action-packed program of industry-led networking opportunities, designed to facilitate relationships and collaborations between filmmakers across Asia Pacific. Providing fertile creative ground for APSA nominees and guests to strengthen their connections, the programme is open to all industry professionals, providing an unprecedented opportunity to meet and learn from filmmakers from right across the region. The Forum events will take place in Brisbane from Saturday 16th, culminating in the APSA Ceremony on Thursday 21st November.
Established in 2007, the Asia Pacific Screen Awards is the region's highest accolade in film where cinematic excellence shines. With films from 70 countries and areas in the region, APSA honours filmmaking that best reflects its cultural origins and the diversity of Asia Pacific. Now in its second decade, APSA continues to unearth the rich stories of the region and open doors and unique opportunities for those in the film industry.
Chair of the Asia Pacific Screen Awards and its Academy Michael Hawkins said "Bringing together the nominees in the Asia Pacific Screen Awards has long been one of the most fertile networking and nurturing grounds for the filmmakers of Asia Pacific and beyond. Ideas have been conceived, collaborations born and projects nurtured, resulting in lasting contacts, networks and possibilities for members of the Asia Pacific Screen Academy, and the industry who join us for the event."
"The unprecedented gathering of industry heavyweights, early career filmmakers, established auteurs mixed with the industry's decision makers has opened doors for many of our guests," he said.
"The Forum is in many ways as important as the Awards and films themselves. In as much as the films inform us about cultures from other lands, listening to, and collaborating with other practitioners is just as instructive. It is in keeping with the whole notion of the Academy," Mr Hawkins said.
The official opening of the Asia Pacific Screen Forum celebrates 100 years of Korean cinema. This special networking function with Australian industry and visiting international filmmakers features a live musical performance from Sounds Across Oceans, an intercultural ensemble musical performance to celebrate 100 years of Korean cinema and a welcome from Asia Pacific Screen Awards Chair Michael Hawkins.
Asia Pacific Screen Forum highlights include:
Asia Pacific Screen Forum Brunch – The panel will explore cultural diversity and freedom of expression in the Asia Pacific, drawing on their unique perspectives and combined decades of cinematic experience.
The Director's Chair with Adilkhan Yerzhanov, one of the most significant cinematic voices from Central Asia, presented in partnership with the Australian Directors Guild.
Creative Collaborations: Australia & Republic of Korea in Focus – exploring the creative cross-cultural opportunities between the Australian and Korean screen industries.
Reel Connections: Encouraging Early Career Collaboration – an event designed in recognition of the crucial importance of connections for emerging and early career filmmakers, for local and international industry.
Meet the Programmers – some of the world's leading film programmers and curators will dive into the decision-making process, discuss how to move an audience and what it takes to have a film selected.
Industry Roundtables presented in partnership with Screen Queensland:
– Roundtable 1 – PROTEST IN MOTION: Political expression in animation
– Roundtable 2 – REELING BACKWARDS INTO TOMORROW: How historical reflections serve storytelling today
– Roundtable 3 – SUSTAINABLE CINEMA: When culture meets the commercial 
Industrial Light & Magic VFX Workshop – a compelling look into Lucasfilm's VFX and animation studio presented by ILM Singapore's Luke Hetherington, former APSA Jury member.
Animation Weekend – screenings of APSA-nominated animated features in partnership with SIGGRAPH Asia.
In Conversation with Jack Thompson AM PhD, President of the APSA Academy, and David Wenham following a screening of the iconic, Cannes-selected 1975 film NFSA Restores: Sunday Too Far Away. Australian Cinémathèque co-presents this event with the Asia Pacific Screen Awards, in association with NFSA Restores, the National Film and Sound Archive's digital restoration program.
For more information and to purchase tickets, click here.
Back to news