BRISBANE'S ASIA PACIFIC SCREEN LAB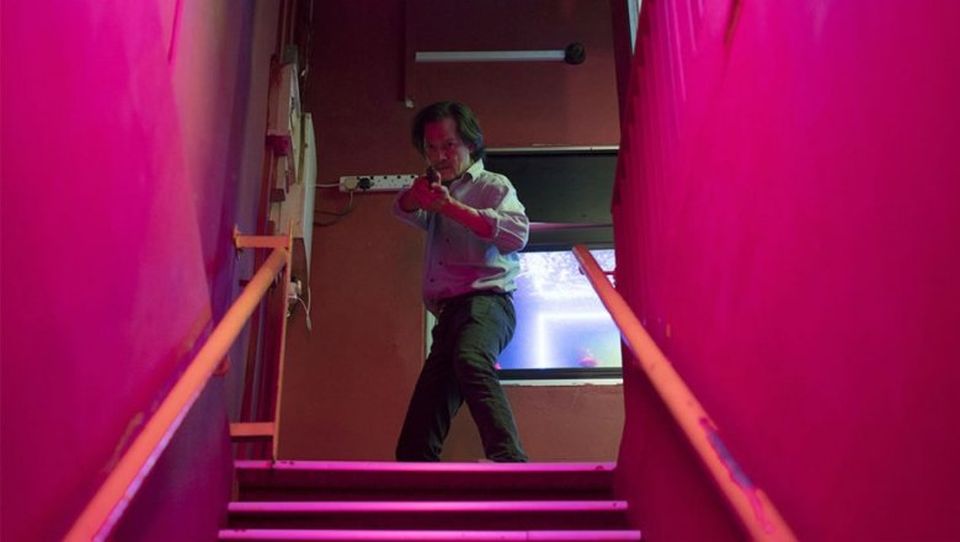 – CELEBRATES FIRST WORLD PREMIERE AT LOCARNO
– OPENS SUBMISSIONS FOR 2019
– PRESENTS SPECIAL PROGRAMME AT MALAYSIA'S GEORGE TOWN FESTIVAL
George Town, Malaysia: Brisbane's Griffith Film School (GFS), the Asia Pacific Screen Academy and NETPAC (Network for the Promotion of Asia Pacific Cinema) have announced the Asia Pacific Screen Lab (APSL) is open for project submissions for LAB in 2019. The announcement was made by GFS Head-of-School Herman Van Eyken from the George Town Festival in Malaysia, where GFS is presenting a special film programme JALAN-JALAN, showcasing the school's connection to the region.
The announcement comes on the eve of the World Premiere of the first completed APSL feature, A Land Imagined, in official competition at the prestigious Locarno International Film Festival, Switzerland on August 7. A Land Imagined is written and directed by 2017 APSL graduate Singaporean Yeo Siew Hua, who was mentored in the programme by Taiwan based producer and APSA Academy member Peggy Chiao.
Currently in its fourth year, the Asia Pacific Screen Lab is a unique year-long intensive incubator programme for early career filmmakers of the region, with a focus on encouraging regional collaboration and co-production opportunities. Each recipient is paired with a mentor sourced from the APSA Academy and guided through a year-long mentorship which includes development workshops in writing, directing, producing and pitching, and a residency with their mentor.
The Lab participants are able to benefit from extraordinary networking opportunities with Asian Pacific screen professionals at the Asia Pacific Screen Awards (APSA) in Brisbane in November. Now entering its twelfth year, the Asia Pacific Screen Awards is the region's highest accolade in film, honouring the cinematic excellence and cultural diversity of 70 countries and areas.
The George Town Festival, which began in honour of George Town's designation as a UNESCO World Heritage Site is an annual, month-long celebration of culture, heritage, art, and community that transforms the city into a global stage and attracts thousands of visitors.
The current APSL recipients Daniel Rudi Haryanton, mentored by Teng Mangansakan II, and Joshua Long, mentored by Singapore's Anthony Chen (Ilo, Ilo), will be at the festival taking part in further script development and pitching and production workshops as part of the Lab. They will be working with industry professionals including screen writing expert Jan Fleischer, documentary expert Nilotpal Majumdar and Ben Gibson (director of the Berlin Film School). They are set to graduate from the lab November 30, 2018 in Brisbane.
The Jalan-Jalan, George Town programme of features and shorts includes screenings of APSA winning films, among them Ilgar Najaf's The Pomegranate Orchard and Mustafa Kara's Cold of Kalandar, both former winners of the Asia Pacific Screen Awards Young Cinema Award presented by NETPAC (Network for the Promotion of Asian Cinema) and Griffith Film School (GFS). This important Award addition recognises the abundant emerging talent of Asia Pacific. The award is eligible to directors of debut or sophomore feature narrative films, with the recipient chosen from the APSA feature narrative film competition.
Also announced this week, Iraqi filmmaker Mohanah Hayal's feature Haifa Street is one of only six projects selected for the Venice Film Festival Final Cut in September, a dedicated workshop to provide concrete assistance in the completion of films. Hayal is a 2016 APSL graduate mentored by the iconic Malaysian filmmaker U-Wei Bin Haji Saari.
Applications for the APSL in 2019 are open to screenwriter and/or writer/director and/or producer living and working in the region. They must have one feature film credit with an international film festival screening. Applications close September 30, 2018, with winners announced in October and mentors announced at the Asia Pacific Screen Awards on November 29.
The APSL is an initiative of NETPAC overseen by NETPAC members Philip Cheah, Park Ki-yong, Anne Demy-Geroe and Herman Van Eyken and hosted and administered by the Griffith Film School, Griffith University Brisbane in collaboration with the APSA Academy, Screen Queensland, the Asia-Europe Foundation and the Sun Foundation.
At its core the APSL, now in its fifth year, develops a vehicle for enabling film co-productions by early career feature filmmakers from across the Asia Pacific, typically those who have made at least one feature film within the frame of their particular national cinema and are now ready for a larger framework.
QUOTES ATTRIBUTABLE TO:
GFS Head-of-School Herman Van Eyken: 'It is a monumental moment for the Asia Pacific Screen Lab to see a project nurtured by the Lab reach the screen for the first time. We congratulate Yeo Siew Hua on his incredible achievements with A Land Imagined and the World Premiere at Locarno, one of the world's longest-running film festivals. The Lab is truly thriving and continues to grow its engagement across our region, as the Jalan-Jalan programme at the George Town Festival can attest. I am now looking forward to seeing the applications come if for what will be the fifth year of the APSL in 2019.'
Michael Hawkins, Chair of the Asia Pacific Screen Awards and its Academy: 'The Asia Pacific Screen Awards is a celebration of cultural diversity through the shared language of cinema. The APSA Academy is made up of both established and emerging filmmakers who have excellence in storytelling in common. The APSL and the APSA Young Cinema Award are particularly important in ensuring the culturally diverse storytelling of our region's cinema continues to grow and strengthen into the future and I would like to thank our partners Griffith Film School and NETPAC for their incredible work to this end.'
ADDITIONAL INFORMATION
Asia Pacific Screen Lab: www.griffith.edu.au/filmschool
Asia Pacific Screen Awards: https://www.asiapacificscreenawards.com/about
Asia Pacific Screen Academy: https://www.asiapacificscreenawards.com/about-academy
Jalan-Jalan programme, George Town Festival, 5 August to 2 September 2018: https://georgetownfestival.com/programmes/griffith-film-school
A Land Imagined, Locarno Film Festival: https://www.locarnofestival.ch/pardo/program/archive/2018/film.html?fid=1037057&eid=71
Back to news