By Russell Edwards
It might seem weird to kick off a blog about Hong Kong's Filmart (March 23-26) with a wrap-up of the opening of the Hong Kong International Film Festival (March 22), but given that they are all part of the city's month-long Entertainment Expo it shouldn't be that surpising. Most festivals find it hard enough to find one opening night film that will appease film buffs, politicians, sponsors and the local industry.
Traditionally, though HKIFF has TWO opening night films.
First up was Jackie Chan's return to "serious" acting (as opposed to the stuff that has made him an international household name) "Shinjuku Incident". Jackie turned up of course as did director Derek Yee and several co-stars including Daniel Wu.
Then no sooner did the Dolby Digital credit roll by and it was another set of speeches for the HKIFF's second opening film, Ann Hui's "Night and & Fog". I'll be reviewing both of these films for Variety as soon as I get a moment to scratch myself, but suffice to say that Hui's film is a companion piece to her film "The Way We Are" which played the festival circuit last year. A dignified Hui introduced her film and cast (Simon Yam looking particularly cheerful about his turn as a wife-beating brute) to an appreciative home crowd, Most of the international attendees who were at the first film are nowhere in sight now. There's probably a party somewhere, but I have to get those reviews out…
IF YOU'RE TALKING TO ME YOUR CAREER (OR THE ECONOMY) MUST BE IN TROUBLE
Standard Operation Procedure for me at any film market is to walk around the place, not really talking to anybody (though I do wave to a lot of people, I'm not a complete sociopath). Firstly, this allows me to get a feeling of who is here and where their "office" will be for the next 4 days. More importantly on the first day of a market the business of the day is business. Accordingly, film critics shouldn't be at the top of anyone's agenda. While people were happy to chat at last night's HKIFF drinks soiree come press conference before the opening films, today should be different. Sales agents, production companies are hungry and are looking to meet people who have money to spend or at least claim to know someone with money to spend. To save either potential embarrassment or confusion I won't be doing any name dropping today. The Good News is that the market has a good turn out and everyone who is anyone in Asian film seems to be here and certainly I haven't had any conversations about who isn't here. Stay tuned…
IT'S CALLED ACTING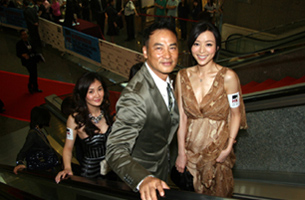 I sat in the press conference for the new Peter Ho-sun Chan $23 million production "Bodyguards and Assassins" listening to the Mandarin commentary for about five minutes before I thought about getting a simultaneous translation radio from the press counter. For about 20 minutes I regretted my decision. At least when I couldn't understand what was being said the press conference sort of appeared to be interesting. The film will be better I'm sure, but some projections of computer drafted building for Chan's recreation of 1905 Hong Kong were like a teaser for a teaser for a teaser.
Fortunately when Peter Chan and director Teddy Chan lined up with their stellar cast as rousing music dominated the room (Nicholas Tse, Simon Yam, Leon Lai, Fan Bing Bing, Eric Tsang and Donnie Yen all in a row!) I was able to understand as each went through their character role and why it was important. Outlining how they would approach their generically named characters the best quote went to the taciturn Donnie Yen who will be  playing The Gambler in this story of violence dryly said. "I don't gamble. I don't like it. I will have to learn how to gamble from Eric". The rotund and completely unabashed Tsang sharing the sofa with Yen roared with  laughter.
Back to news