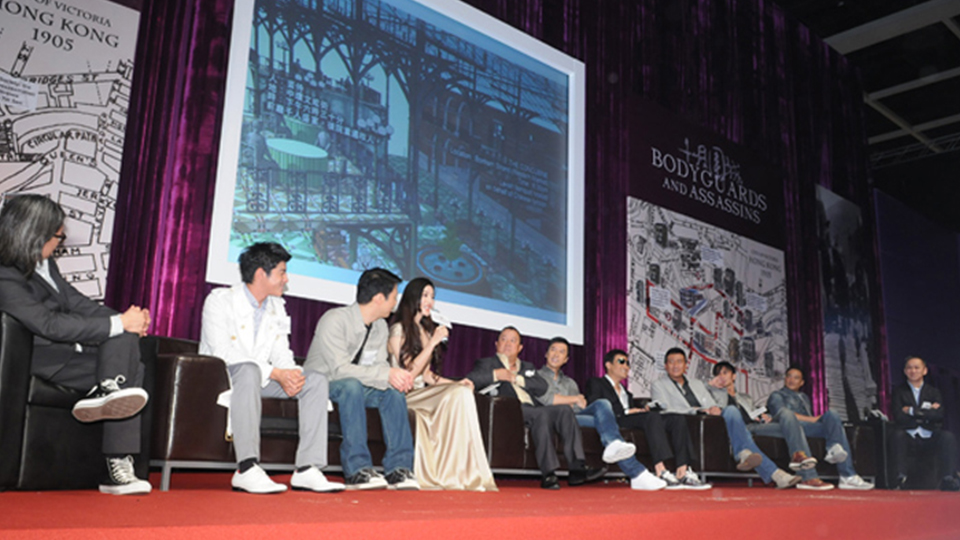 By Russell Edwards
IT'S NOT FILM THAT GOES THROUGH THE CAMERA, IT'S DOLLARS!
The Hong Kong Trade and Development Corporation set up some interviews for contenders in the Hong Kong Asia Film Financing Forum known as HAF. (while I wouldn't want to inflict the acronym HKAF on anyone as it sounds like a plutonium strength coffee, I do like the look and the sound of HAFFF. It might be finicky to pick on invalid or contorted abbreviations, but missing initials do bother me). There are 27 entries in this year's co-producing market. No time to speak to everyone (a point proved when one of my interviewees didn't turn up) but chatting with Australians Murali K. Thalluri ("2.37″) and his co-writer/co-producer Nick Selth about their Indian adventure film project "Jewel" which could foreseeably ride on the back of the dream run of  "Slumdog Millionaire" one is impressed by their enthusiasm. Some Australian funds are unofficially in place, but film-making can notoriously be like a house of cards.
Similarly talking over the chances of "The Dancer" a political romance about the quote/unquote "darkest period of Indonesian history" with director Ifa Isfansyah, scriptwriter Salman Aristo (who wrote the current Indonesian box office hit "Laskar Pelangi") and their producer Shanty Harmayn, they feel confident that they can acquire the extra money they need to add to the French money that is already in place.
Funnily enough one of the most successful producers, Hong Kong-based Alexandra Sun whose films have taken her to Cannes red carpet ("Blind Mountain") is the most philosophical about the process. When I talk to her about her chances of scoring funding for her latest project "Help" she offers a seasoned and sageful  "we'll see" that speaks of the many disappointments that inevitably occur on the way to success.
FEI'S WAY
While I was standing blocking a passageway shooting the breeze with Cannes Director's Fortnight Programmer Jeremy Segay and Singapore journo turned film producer Sylvia Wong, my fellow APSA Nominations Council
member Professor Xie Fei of the Beijing Film Academy appears by my side. He's happy to see me, but then he is always happy, which is a quality in anyone that always astounds me.
SAVING FACE
Already signs of decling market activity are becoming apparent. One producer literally drags Jeremy and I to his booth for a chat about nothing in particular. We hoped for tea even as we wondered what we were doing there. Eventually it dawns on me that we are being used as human props to disguise the fact that no one has been coming to his booth to discuss business. Unless something dramatic happens there will be no shame in doing this as soon most booths will probably doing likewise.
LEAST SAID, QUICKEST MENDED
Attended the Asian Film Awards last night and the opening party allowed me to chat more extensively with people than time has previously permitted. A long wait for the ceremony to begin particularly allowed a long chat with Asako Fujioka of Yamagata's documentary film festival which allows me to fill her in on what I've been doing. The awards themselves? Well A+ for showmanship although the awards presentation is too long (but aren't they all?).
Back to news