Thursday, 26 March 2009
•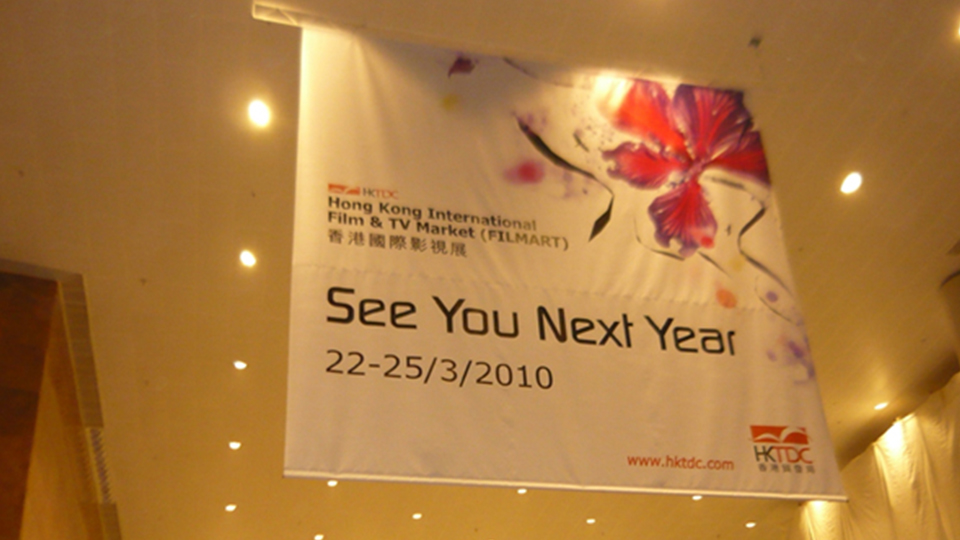 By Russell Edwards
AND THAT'S THE WAY IT WAS…
2009 HK Filmart is drawing to a close and it has been an odd one. It started out very optimistically. Every one who is here is usually here, so there was a refocussing as a Asia event rather than a international film market. Then by the end of the first day, optimistism appeared to have completely dissipated as reality set in that money for projects other than HAF was thin on the ground. For about a day gloom seemed to roll in with the Bladerunner styled thunderstorms. Then for no apparent reason, the atmosphere changed. Resigned to the fact that no one was going to make a lot of money, they networked like crazy and spent a lot of spadework putting faces to names. "We're all here anyway right? So let's have a good time!" seemed to be the philosophy.
In fact as I write, I recall that the market on the 4th day last year was like a ghost town. People had packed on the 3rd day. This year on the 4th day, sure the crowd has thinned out, but people are still chatting and are preparing for the day when the economy picks up.
THERE SHE IS AGAIN…
At most of the parties that I've been too while I've been at Filmart, there is a Chinese woman who rapidly approaches anyone she hasn't already met, with no ado whatsoever asks for your name card and then is gone quicker than Miike Takashi can churn out a feature film.
You might think it is just merely odd, until you start getting those anti-Chinese government spam messages in your in-box. I'm all for freedom of speech, particularly for oppressed spiritual groups etc, but I'm not sure that cyber harassment is any one's path to either enlightenment or liberation. Gives me something to think about when I do my next Metta Bhavana I suppose.
LE PREMIERE ANNOUNCEMENT
It won't be officially announced until May (probably held off until Cannes), but I can tell you that one of Asia's finest is due to receive France's esteemed Chevalier order of artes and letters for his years of service to cinema. I'd tell you more, but I'm sworn to secrecy.
JAPAN NIGHT POSTSCRIPT
While I was having a fabulous time inside on the third floor of The Pawn, it seems that lots of other market attendees were having a lot less fun standing in the Hong Kong rain as their invitations got soggy. Include Nansun Shi and Timothy Kwok were amongst the major players who were barred from entry due to over-crowding. Venice Film Festival honcho Marco Muller and Fortissimo Film's Wouter Barendrecht were waved straight in however.
Back to news