Wednesday, 17 October 2018
•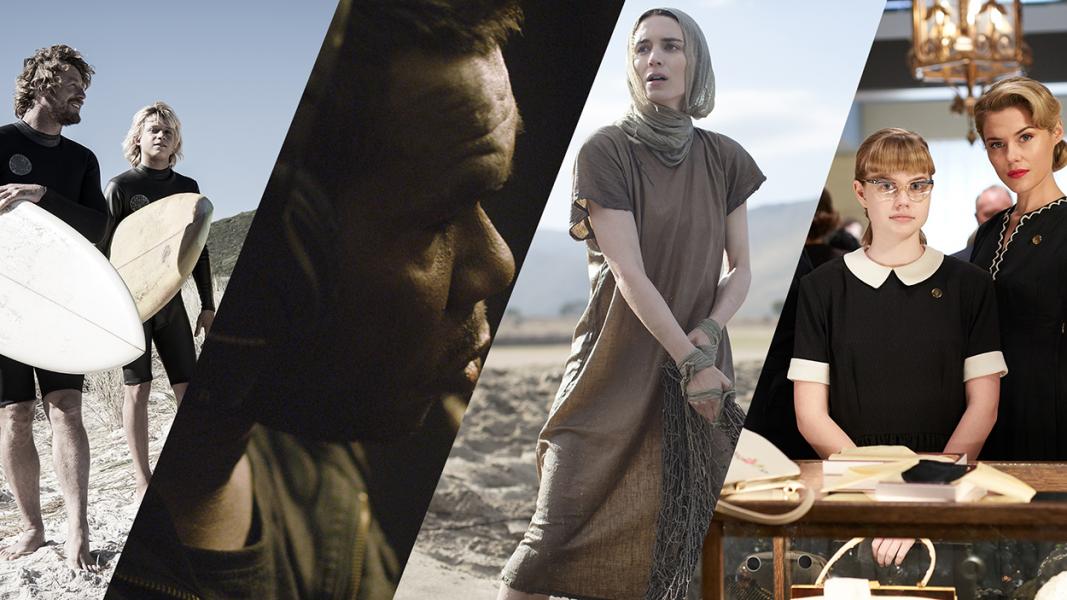 Brisbane Lord Mayor has today unveiled the full list of nominations for the upcoming Asia Pacific Screen Awards ceremony on 29 November in Brisbane.
Cr Quirk revealed that Australian films had received a staggering five nominations for the annual awards event.
"I'm thrilled to see Australia produce powerful and highly-acclaimed works that will compete alongside the best from the Asia Pacific for our region's highest film accolades," Cr Quirk said.
"Brisbane is a proud home to the awards and it is a great privilege to honour the filmmakers of a region comprised of 70 countries and areas and responsible for half the world's film output.
"Major events such as the Asia Pacific Screen Awards contribute $150 million into the Brisbane economy and support thousands of local jobs.
"Ladies in Black, Gurrumul, Mary Magdalene and Breath have all received nominations for the region's highest film honour."
Academy Award®-nominated Australian filmmaker Bruce Beresford is nominated for Achievement in Directing for his comedy drama Ladies in Black, which grossed $9.25 million dollars at the Australian Box Office.
He contends with some of this year's festival favourites.
Joining Beresford are 2018 Cannes Palme d'Or winner Kore-eda Hirozaku for Shoplifters (Manbiki Kazoku, Japan), Nadine Labaki for her Cannes Jury Prize winning Capharnaüm (Lebanon), Venice Film Festival Horizons Best Director winner Emir Baigazin for The River (Ozen, Kazakhstan, Norway, Poland) and Ivan Ayr for Soni (India), which also premiered in the Horizons competition at the 2018 Venice Film Festival.
Beresford said he was delighted to be nominated.
''I am flattered to be nominated in such a prestigious event" he said.
"Having been the APSA International Jury President in 2008, I am well aware of the calibre of the films and recognise the honour of being nominated amongst them."
Beresford and Ladies in Black producer Sue Milliken were recently named Festival Patrons of the Brisbane International Film Festival, presented by Queensland Art Gallery & Gallery of Modern Art.
Gurrumul, the seventh highest grossing Australian documentary of all time, is nominated for Best Documentary Feature Film.
The story of the Australian music icon is up against competition from all corners of the region: Amal (Egypt, Lebanon, Qatar, France, Germany, Norway, Denmark), Of Fathers and Sons (Syrian Arab Republic, Lebanon, Qatar, Germany), Of Love & Law (Japan, United Kingdom, France) and Up Down & Sideways (kho ki pa lü, India).
Nominated for her role in Australia's Mary Magdalene, American actress Rooney Mara is up for Best Performance by an Actress.
Also nominated are Zhao Tao for her performance in the Cannes competition title Ash is Purest White (Jiang hu er nv, People's Republic of China, France), Damla Sönmez for Sibel (Turkey, France, Germany, Luxembourg) and two actresses from Kazakhstan, Cannes Best Actress winner Samal Yeslyamova for Ayka (Russian Federation, Kazakhstan, People's Republic of China, Germany, Poland), and Laura Koroleva for Sveta (Kazakhstan).
Composers of two Australian films Breath and Mary Magdalene are up for the inaugural award for Best Original Score.
Golden Globe® and BAFTA nominated Harry Gregson-Williams (Breath, Australia) and both Hildur Guðnadóttir and Jóhann Jóhannsson (Mary Magdalene Australia, United Kingdom) will compete against Ryan Cayabyab for The Portrait (Ang Larawan, Philippines), Omar Fadel for Yomeddine (Egypt) and Eléni Karaïndrou for Bomb, A Love Story (Bomb, Yek Asheghaneh, Islamic Republic of Iran).
Japan's Shoplifters (Manbiki Kazoku) is the only film to receive three nominations and will compete for the coveted Best Feature Film Award with four other twice-nominated features, Lee Chang-dong's Burning (Republic of Korea), The Gentle Indifference of the World (Laskovoe Bezrazlichie Mira, Kazakhstan, France), Balangiga: Howling Wilderness (Philippines), and Manta Ray (Kraben Rahu, Thailand, People's Republic of China, France), the directorial debut of Phuttiphong Aroonpheng.
Asia Pacific Screen Awards Chair Michael Hawkins said the Asia Pacific film industry was thriving.
"In its twelfth year, the Asia Pacific Screen Awards continues to grow both in size, with the addition of a new Best Original Score award, and in reach, with the first even nomination from Uzbekistan," Mr Hawkins said.
"The awards will coincide with the World Congress of Science and Factual Producers and host a suite of industry events which will leverage the incredible talent we have travelling to Brisbane.
"We're also thrilled to be connecting Asia Pacific cinema with new audiences.
This weekend, APSA will present special screenings of nominated films Shoplifters at Brisbane International Film Festival and Burning and Memories of My Body at the Adelaide Film Festival."
The 12th Asia Pacific Screen Awards will take place on Thursday 29 November in Brisbane, Australia. Tickets for the red carpet event are available at asiapacificscreenawards.com
ACHIEVEMENT IN DIRECTING
Nadine LABAKI for Capharnaüm
Lebanon 
Bruce BERESFORD for Ladies in Black
Australia
Emir BAIGAZIN for The River (Ozen)
Kazakhstan, Norway, Poland
KORE-EDA Hirokazu for Shoplifters (Manbiki Kazoku)
Japan
Ivan AYR for Soni
India
BEST DOCUMENTARY FEATURE FILM
Amal
Egypt, Lebanon, Qatar, France, Germany, Norway, Denmark
Directed by Mohamed SIAM
Produced by Myriam SASSINE, Mohamed SIAM
Gurrumul
Australia
Directed by Paul Damien WILLIAMS
Produced by Shannon SWAN
Of Fathers and Sons
Syrian Arab Republic, Lebanon, Qatar, Germany
Directed by Talal DERKI
Produced by Ansgar FRERICH, Eva KEMME, Tobias N. SIEBERT, Hans Robert EISENHAUER
Of Love & Law
Japan, United Kingdom, France
Directed by Hikaru TODA
Produced by Elhum SHAKERIFAR, Hikaru TODA
Up Down & Sideways (kho ki pa lü)
India
Directed by Anushka MEENAKSHI, Iswar SRIKUMAR
Produced by Manas MALHOTRA
BEST PERFORMANCE BY AN ACTRESS
ZHAO Tao for Ash is Purest White (Jiang hu er nv)
People's Republic of China, France
Samal YESLYAMOVA for Ayka
Russian Federation, Kazakhstan, People's Republic of China, Germany, Poland
Rooney MARA for Mary Magdalene
Australia, United Kingdom
Damla SÖNMEZ for Sibel
Turkey, France, Germany, Luxembourg
Laura KOROLEVA for Sveta
Kazakhstan
BEST ORIGINAL SCORE
Eléni KARAÏNDROU for Bomb, A Love Story (Bomb, Yek Asheghaneh)
Islamic Republic of Iran
Harry GREGSON-WILLIAMS for Breath
Australia
Hildur GUÐNADÓTTIR, Jóhann JÓHANNSSON for Mary Magdalene
Australia, United Kingdom
Ryan CAYABYAB for The Portrait (Ang Larawan)
Philippines
Omar FADEL for Yomeddine
Egypt
Back to news