Thursday, 27 October 2022
•
NADINE LABAKI TO RECEIVE 2022 FIAPF AWARD AT THE 15TH ASIA PACIFIC SCREEN AWARDS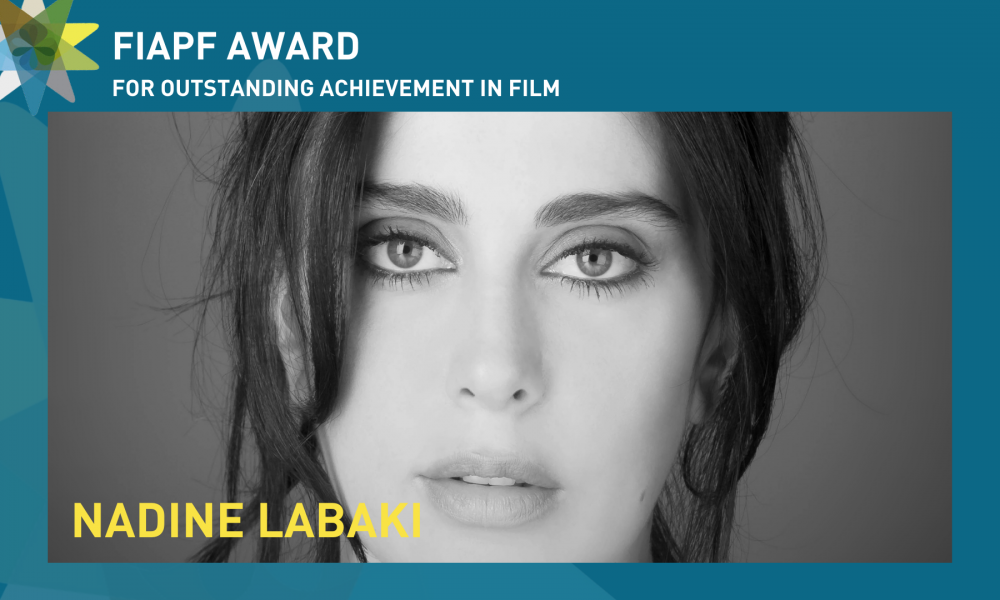 Acclaimed Lebanese filmmaker Nadine Labaki will be presented with the prestigious FIAPF Award for Outstanding Contribution to Asia Pacific Cinema at the 15th Asia Pacific Screen Awards (APSA) Ceremony on the Gold Coast, Australia on November 11.  Today's announcement was made by the Asia Pacific Screen Academy together with founding partner FIAPF–International Federation of Film Producers Associations.
The FIAPF Award, now in its 16th presentation, 
celebrates a film practitioner from the region whose career and actions contribute strongly to the development of the Asia Pacific film industry.
President of FIAPF, Luis Alberto Scalella, said: "This award is intended to highlight the universality of Nadine Labaki's cinema and the importance of her work in capturing the spirit and culture of her country, Lebanon, at this complex time for its people. Ms Labaki's work magnificently illustrates the power of cinema to tell stories that are rooted in a country and that speak to the world."
Chair of the Asia Pacific Screen Academy Tracey Vieira said "APSA is delighted to partner with FIAPF in celebrating the outstanding contribution of Nadine Labaki, whose body of work as a writer, director and performer is marked by a passion for crafting stories of universal appeal, which are richly textured with cultural significance."
Nadine Labaki said she was truly humbled by this recognition. "As artists we have a huge responsibility and a role to play in the world of tomorrow. There is so much to say, particularly in these hard times we are going through, and art and cinema have an amazing and very noble mission in proposing a new way of thinking, and opening debate about a few things that we really need to talk about. As artists, any kind of recognition is very heartwarming and gives us the strength to keep going and to keep moving forward."
Winner of more than 40 major international awards across her career to date, Nadine Labaki was a guest at the first ever APSA Ceremony in 2007, held on the Gold Coast, Australia, where her breakthrough feature film Caramel was nominated for three awards – Best Feature Film, Achievement in Directing and Best Performance by an Actress for the ensemble of Nadine Labaki, Yasmine Al Massri, Joanna Moukarzel, Gisele Aouad, Siham Haddad & Asiza Semaan.
Caramel world premiered at the Directors' Fortnight in Cannes 2007, and was written and developed by Nadine during a 2004 Festival de Cannes Cinéfondation Residency. This joyous, rebellious ode to female camaraderie was distributed worldwide and became the most successful Lebanese film export of all time.
Nadine continued to explore the female condition and religious tensions in Where Do We Go Now?, a bold, universal fable on tolerance that premiered at Un Certain Regard in 2011 and won the People's Choice Award at the Toronto Film Festival.
In 2014 Nadine directed Rio I Love You, one of the segments of the Cities of Love anthology film which she directed, co-wrote and starred in, opposite Harvey Keitel.
In 2018, Nadine Labaki was selected in the official Competition of the Cannes Film Festival with her powerfully moving Capharnaüm, a poignant manifesto on damaged childhood, refugees and the cracks in a society that turns its back on humanity, which sent shockwaves around the Croisette.
Nadine Labaki won the Jury Prize of the Cannes Film Festival that year, chaired by Cate Blanchett, and gave an unforgettable speech accompanied by young actor and Syrian refugee, Zain Al Rafeea.
Nominated for the BAFTAs, the Golden Globes, the French Césars and an Academy Award for Best Foreign Film, Capharnaüm made its Lebanese director the first woman from the Arabic-speaking world to be nominated in this category.  Nadine was also awarded the Achievement in Directing APSA for Capharnaüm.
Her latest short film Mayroun and the Unicorn created for 'Homemade' series was co-directed with her husband, composer Khaled Mouzanar. It tells the story of her daughter Mayroun's imagination during confinement.
As an actress Nadine Labaki has performed in Fred Cavayé's movie Mea Culpa, in Xavier Beauvois' film La Raçon de la Gloire, in Lebanese director Georges Hachem's Stray Bullet, in Laïla Marrakchi's Rock the Casbah, in Oualid Mouaness' 1982, Mounia Akl's Costa Brava, Lebanon and Wissam Smayra's Perfect Strangers.
Nadine is a graduate of audiovisual studies from the University of Beirut and has directed many award-winning advertisements and music videos.
She was the 2019 president of the Un Certain Regard Jury at Cannes Film Festival and in 2008 received the Insignia of Chevalier in the Order of Arts and Letters from the French Ministry of Culture.
The Asia Pacific Screen Awards and Forum are presented by the Asia Pacific Screen Academy with the support of major partners the City of Gold Coast, Screen Queensland, the Motion Picture Association and Griffith Film School, Griffith University.
The Asia Pacific Screen Forum is also supported by Major Government Partner Screen Australia, ATOM QLD, Screenrights, Essential Screen Skills and QT Gold Coast.
APSA acknowledges and celebrates its founding partnerships with UNESCO and FIAPF-International Federation of Film Producers Associations.
Tickets are on sale for the full Forum and the 15th Asia Pacific Screen Awards ceremony. Both events will be presented as physical events at HOTA on the Gold Coast and the Forum will be globally streamed.
4th ASIA PACIFIC SCREEN FORUM
https://www.asiapacificscreenawards.com/asia-pacific-screen-forum
https://apsa.swoogo.com/APSA2022
MEDIA CONTACTS:
Alicia Brescianini +61 400 225 603 / [email protected]
Cathy Gallagher +61 416 227 282 / [email protected]
Georgina Stegman +61 415 622 213 / [email protected]
Website: https://www.asiapacificscreenawards.com/
Facebook: https://www.facebook.com/asiapacificscreenawards
#APSA2022
ABOUT THE ASIA PACIFIC SCREEN AWARDS & ASIA PACIFIC SCREEN ACADEMY
The Asia Pacific Screen Academy proudly presents the region's highest accolade in film, the Asia Pacific Screen Awards. Established in 2007, APSA ignites and honours the cinematic excellence and cultural diversity of the world's fastest growing film region: comprising 78 countries and areas, 4.5 billion people, and responsible for half of the world's film output.
All APSA nominees, Nominations Councils and Jury members are inducted into the prestigious APSA Academy presided over by Australian screen legend Jack Thompson AM PhD. The Academy boasts over 1,400 of the region's leading filmmakers and provides exclusive networking, development and funding opportunities available to Academy members through the MPA APSA Academy Film Fund, and Academy mentoring opportunities for the next generation of Asia Pacific filmmakers through the Asia Pacific Screen Lab.
Back to news