Monday, 29 October 2018
•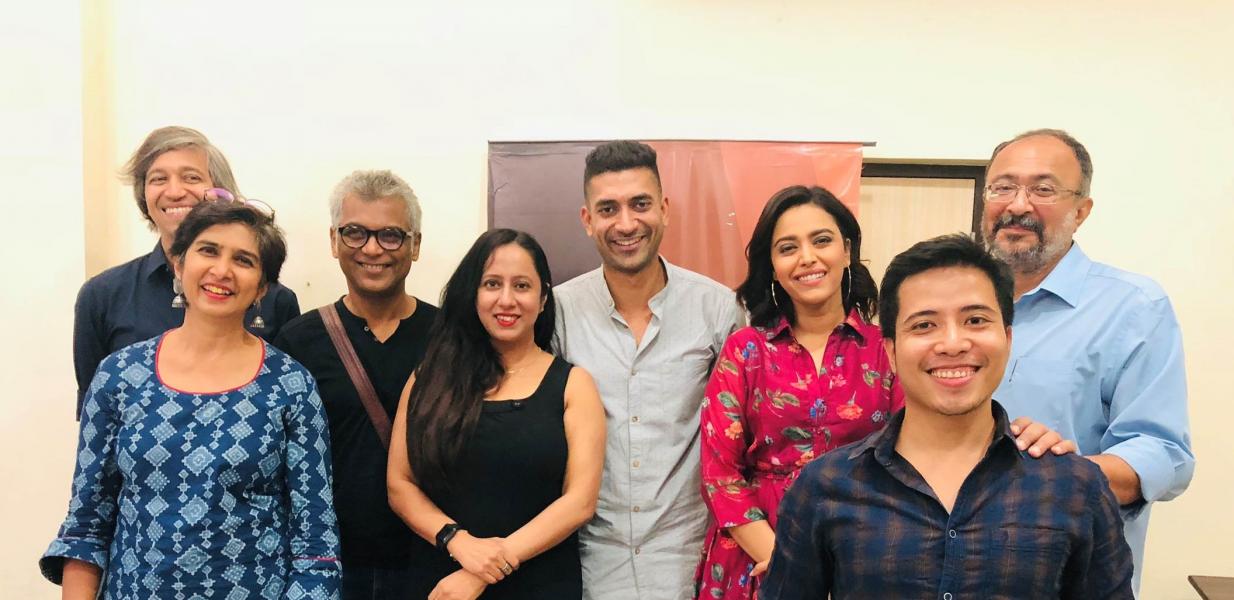 Screenwriters Association (SWA), Motion Picture Association (MPA) and Asia Pacific Screen Awards (APSA) launched a joint script development outreach program, 'Launch Your Script' 2018, in India earlier this year to enable Indian screenwriters to showcase their work on a global platform.
To mark the success of 'Launch Your Script', 2018, SWA hosted a felicitation ceremony for the LATC Global Film and TV program winner, Anubhav Chopra for his entry titled "Phurrr" and the twelve finalists of the outreach program on October 24th 2018 at the SWA office in Andheri (W).
Swara Bhaskar, actor known for her roles in films such as Tanu Weds Manu, Ranjhanaa, and the recently released Veere Di Wedding and Saiwyn Quadras, writer of popular films such as Neerja, Mary Kom and Parmanu – the story of Pokhran were the Chief Guests. Also in attendance, were members from the MPA's India office, SWA, senior APSA Academy members and Suman Mukhopadhyay, recipient of the 2017 MPA APSA Academy Film Fund grant.
The objective of the outreach program was to open doors for SWA members and screenwriters across the country to compete in the 2018 MPA APSA Academy Film Fund. After receiving over 600 entries and going through multiple rounds of evaluation, SWA and the selection committee comprising APSA Academy members: Rajit Kapur, Mayank Tewari, Leena Yadav, Rajan Khosa and Meenakshi Shedde shortlisted twelve finalists whose entries stand a chance to win a script development grant of USD 25,000 during the 12th Asia Pacific Screen Awards, to be held in Brisbane, Australia in November this year.
Chair of the Asia Pacific Screen Awards and its Academy Michael Hawkins said, "The MPA APSA Academy Film Fund has seen phenomenal success in 2018 with finished projects premiering at Cannes, Venice and beyond. APSA applauds SWA and MPA India for their extensive outreach in support of the initiative, which in 2017 saw one of the applicants through this process, Suman Mukhopadhyay, become one of the four successful MPA Film Fund recipients. We look forward to seeing a strong number of applicants again in 2018." Mike Ellis, President and Managing Director, Motion Picture Association, Asia Pacific said, " "We are delighted to partner once again with the Screen Writers Association of India and the Asia Pacific Screen Awards in this enterprising program that offers screenwriters an avenue to secure significant support for a new feature film project. In 2017, Suman Mukhopadhyay's project Paradise in Flames, went on to receive one of the four USD$25,000 script development grants. The project is now well advanced in the development stage. The MPA APSA Academy Film Fund is now recognized as a world-class initiative for kick-starting exciting stories from every corner of the Asia Pacific."
Chief Guest of the event, Swara Bhaskar said, "A script is where the depth of a character lies. No matter how hard an actor tries, there has to be something more in the writing for the character and the plot to stand out and be real. Now that I'm writing a script myself, I can also empathize with the struggle and hard work of the process of script writing."
Speaking about the collaboration, Anjum Rajabali, veteran screenwriter and Executive Committee Member, SWA said, "The Screenwriters Association is privileged to have been invited to associate with the Asia Pacific Screen Awards and the Motion Picture Association in this 'Launch Your Script' initiative since 2017. SWA congratulates its member, Anubhav Chopra for emerging as the winner of the prestigious LATC Global Film and TV program for 2018. It also offers its best wishes to the 'Launch your Script' finalists."
About the MPA APSA Academy Film Fund: The Motion Picture Association (MPA) and Asia Pacific Screen Awards (APSA) annually awards four script development grants of US $25,000 each to APSA Academy members at the awards ceremony held in Brisbane, Australia. APSA is regarded as the highest accolade in film in the region, and these grants provide significant support to enable stories from the Asia Pacific to reach the global stage. Winners of the film fund in the past have included Iranian writer-director Asghar Farhadi (for A Separation, which went on to win an Academy Award®) and Australian writer-director Rolf de Heer (for Mr. Ward's Incredible Journey). In
2017, SWA member Suman Mukhopadhyay's Paradise in Flames was one of the four recipients of the MPA APSA Academy Film Fund. This project was submitted with the endorsement of APSA Academy member Rajit Kapur as a creative consultant.
About SWA: The Screenwriters Association (SWA, formerly Film Writers' Association – Regd. Under the Trade Union Act 1926, Regd. No. 3726) is a Trade Union of screenwriters and lyricists who work for Films, TV and Digital Media in India. Authors, novelists, playwrights, journalists who aspire for to diversify or join full-time the mediums of films, TV or Digital entertainment, are also members of the SWA.
Back to news