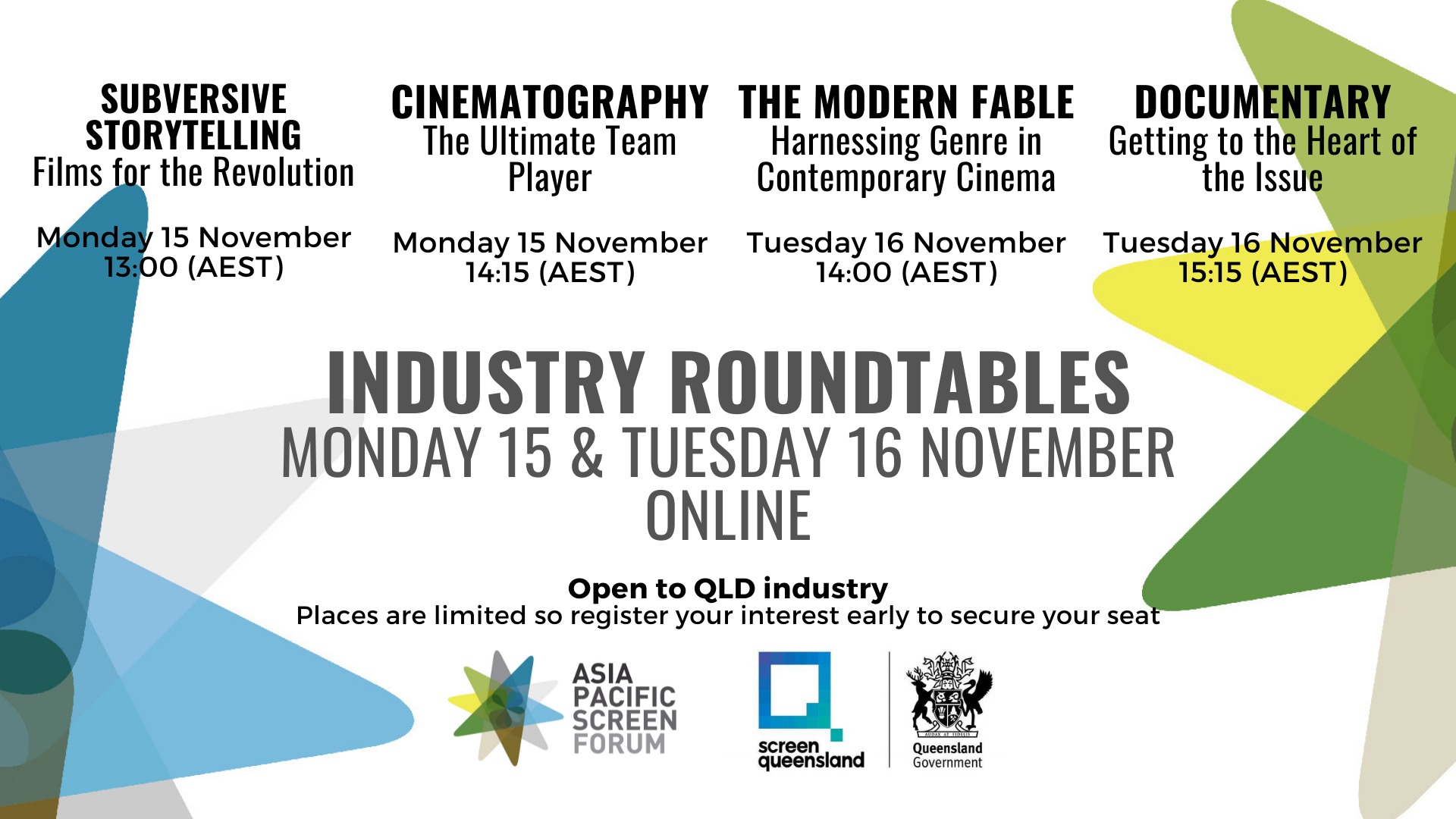 Building on the remarkably successful editions in previous years, the roundtable discussions in 2021 are comprised of four intimate discussions, providing a unique space for screen creatives to openly discuss their craft. While topics are familiar, the chance to openly discuss industries from different cultural, political, linguistic and budgetary frameworks provides an unparalleled opportunity for the participants to learn from each other.
These sessions are FREE, and open by expression of interest to a limited total number of QUEENSLAND participants to ensure an intimate conversation where everyone can contribute. Successful recipients will also receive a full forum pass.
MONDAY 15 NOVEMBER
SUBVERSIVE STORYTELLING: Films for the revolution 
13:00-14:00
A film can change the world and speak truth to power. Join this roundtable discussion about film as activism and the revolutionary power of the medium.
Moderated by Dean Gibson (Australia)
CINEMATOGRAPHY: the ultimate team player 
14:15-15:15
Explore the collaborative role cinematographers play in creating a compelling visual narrative. From interpreting the words of a screenplay and the vision of the director, to supporting editors and colourists through technical choices.
TUESDAY 16 NOVEMBER
THE MODERN FABLE: Harnessing genre in contemporary cinema 
14:00-15:00
Genre can provide a framework for addressing critical issues and exploring cultural identity. This roundtable discussion explores challenging contemporary film to create new folklore for modern audiences.
Moderated by Anderson Le (USA)
DOCUMENTARY: Getting to the heart of the issue 
15:15-16:15
Join this roundtable as we navigate the complexities of non-fiction storytelling, from community access to finding the story engine.
Moderated by Mitzi Goldman – Documentary Australia Foundation