Tuesday, 22 September 2009
•
BUILD A SHIP, SAIL TO SADNESS*
Apologies for tardiness. It's been a whirlwind. No sooner did I leave Vladivostok than I bounded into Brisbane for the Nominations Council deliberation week for APSA 2009. It was an intense week, full of rigorous debate, minimal name calling, and more eligible films than you could shake a stick at.  There was little time for breathing let alone filing a blog report in between whittling down a list of 212 contenders down to a nominations list of up to five films across nine categories.
Anyway I digress (once more). There's always a touch of sadness to any closing festival ceremony and a Russian festival like Vladivostok naturally has a touch of melancholy (cue the balalaika) in between the celebration and award giving.
Hosts first, guests later.
At the closing ceremony, the "9288 km" (the distance between Vladivostok and Moscow) Award" from the Governor of Primorsky Territory was given to director Andrey Khrzhanovsky "For his contribution to world culture".  In fact Khrzhanovsky's most recent film A Room and a Half was one of those hotly debated by the Nominations Council soon after in Brisbane.
The Audience Choice Award for the Best Russian Film, went to Bury Me Behind the Baseboard directed by Sergey Snezhkin, which is based on the novel by fellow filmmaker (Kilometre Zero) Pavel Sanayev.
The Yul Brynner Award, bestowed by his son Rock no less, went to actress Liza Arzamasova for her role in Russian film Priest.
The Award from Vladivostok Mayor went to actress Alisa Khazanova for her role in Footsteps On The Sand (Russia), the directorial debut of Sergey Stepanchenko – a former actor in over 70 Russian films and the current President of the festival!
THE INTERNATIONAL VIEW
The international jury comprising of Chow Wing Keung (Hong Kong), Tan Chui Mui (Malaysia), Francis Xavier Pasion (Philippines), Sunji Iwai (Japan), Leonid Rybakov (Russia) were appropriately international in the prizes they gave.
The South Korean Wave has resurged with the film Breathless which has been feted since its Pusan 2008 debut. In Vladivostok it won both the Grand-Prix for the Best Feature (including a 625,000 RUB prize) and Best Actress Award (including a 250,000 RUB prize) for Kim Kobbi turn as the hard-edge schoolgirl.
The Best Actor Award (a 250,000 RUB prize) went to Li Zhi Zhong for his role in the Chinese film Jalainur which was also discussed by the APSA Nominations Council (the announcement of Nominees will come soon. Be patient.)
The Best Director Award (a 375,000 RUB prize) went to Sean Baker for the film Prince of Broadway (USA).
The Best Short Film Award  (a 375,000 RUB prize) went to 2008 Cannes prize winner Jerrycan directed by Australia's Julius Avery.
Finally. the Special Jury Award. For the director`s attempt to raise the concern on the critical social conflict in the Gujarat region a 250,000 RUB prize went to India's Nandita Das for her directorial debut FIRAAQ.
Vladivostok is a memorable festival experience. Though for some jury members – not mentioning any names – Russian vodka may have induced an alcohol-fuelled amnesia. At least the guests who won prizes have proof they were in Vladivostok (Imagine waking up from a three day black out with hundreds of thousands of roubles in your bank account!). Well in fact I have proof too, but for the right price – I won't publish the photos on the blog.)
*title stolen from an odd little – overlooked – film reviewed by my Variety colleague Richard Kuipers during the 2007 Sydney Film Festival which proves that a rave review in Variety doesn't necessarily mean the world will beat a path to your door.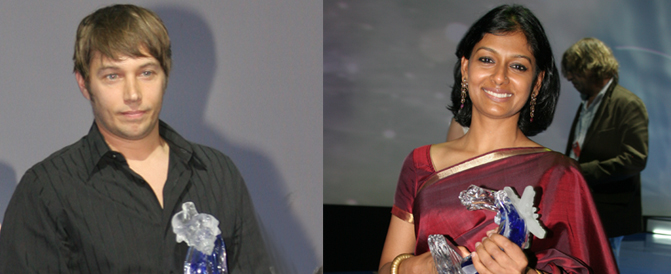 Sean Baker;  Nandita Das
Back to news