International Nominations Council Announced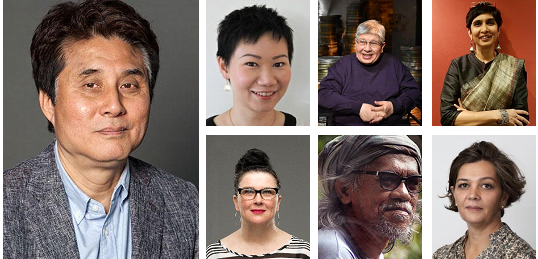 We are thrilled to reveal our esteemed International Nominations Council.
The council, chaired by long-time member Hong-Joon Kim (Republic of Korea), will meet in Brisbane in September to determine the nominees for Best Feature Film, Achievement in Directing, Achievement in Cinematography, Best Screenplay and Best Performance by an Actress and Actor.
They will also determine the nominees in the prestigious Cultural Diversity Award under the patronage of UNESCO.
Nominees will compete at the 13th Asia Pacific Screen Awards on 21 November in Brisbane, Australia.
HONG JOON KIM (Republic of Korea) – Chair
Hong-Joon Kim was Festival Director of the Puchon International Fantastic Film Festival and Commissioner of the Korean Film Council from 2000-2005. He is the Artistic Director of the Chungmuro International Musical Film Festival. His published books include I, a Filmmaker: Kim Hong-Joon's Film Notes and Two or Three Things You Want to Know About Movies. Hong-Joon Kim is an award-winning director, and screenwriter of films including Jungle Story and La Vie En Rose. He hosted and co-wrote the television series Korean Classical Cinema Special.
U-WEI BIN HAJISAARI (Malaysia)
A leading figure of Malaysian new wave cinema, U-Wei Bin HajiSaari is a published art writer, essayist and newspaper columnist and was the first Malaysian director to have a film selected for the Cannes Film Festival.  A native of Pahang, Malaysia, he studied filmmaking at the New York School for Social Research in New York City. His film Woman, Wife and Whore (1993) received five awards at the 11th Malaysian Film Festival. The Arsonist (1995), was invited to Un Certain Regard in Cannes Film Festival as well as Berlin, Montreal, Nantes, Fribourg, New York and Busan and was awarded Grand Prix at the Brussels Film Festival. HajiSaari became a member of the Asia Pacific Screen Academy in 2013 when his film Hanyut was nominated for Best Screenplay.
KIKI FUNG (Hong Kong)
Kiki Fung is Programmer for the Hong Kong International Film Festival. She was previously Head Programmer for the Brisbane International Film Festival and Brisbane Asia Pacific Film Festival, and Industry Consultant for the Asia Pacific Screen Awards. She has guest-curated for the Brisbane Festival and Sydney's Museum of Contemporary Art and was Film Program Manager for the Melbourne International Arts Festival. Before moving to Australia in 2010, she served at the Hong Kong Film Archive in areas of publication editing, management and program co-ordination. Fung is an essayist, member of the Network for the Promotion of Asian Cinema and a committee member of the Hong Kong Film Critics Society.
MAXINE WILLIAMSON (Australia)
Maxine Williamson has worked in the industry for 23 years. Influential in commencing the Asia Pacific Screen Awards as Associate Producer and finishing after its 10th edition as Film Director.  She has been Director of Brisbane Asia Pacific Film Festival and Co-Director of the Brisbane International Film Festival. Williamson has been an Asia Pacific Consultant for Turkey's Antalya Film Forum and an Asia Pacific Ambassador for Sabanci Foundation Short Film Competition, the Mongolian Film Institute and Altan Khalis International Film Festival. She is a member of the Network for the Promotion of Asian Cinema and, prior to her work with Asia Pacific cinema, Williamson worked in the arthouse exhibition and distribution sector for 10 years.
MEENAKSHI SHEDDE (India)
Meenakshi Shedde is India and South Asia Delegate to the Berlin Film Festival and an independent film curator, based in Mumbai, India. Winner of India's National Award for Best Film Critic, she has been on the jury of 20 international film festivals, including Cannes, Berlin, Venice, Karlovy Vary and Taipei. She has been India/Asia Curator/Consultant to the Toronto, Locarno, Busan, British Film Institute (BFI London), Dubai, IFFI-Goa, Kerala, Mumbai and Colombo film festivals. She has been Mentor to screenwriters and critics at film labs worldwide, including Asia Pacific Screen Lab (Australia). A senior journalist, she freelances for Variety, Screen International and Sight & Sound. She has written for or edited 17 books, mainly on cinema.
DELPHINE GARDE-MROUEH (France)
Delphine Garde-Mroueh has had more than 12 years in the film, art and cultural industries in the United Arab Emirates. For ten years she was the Head of Programme Administration & Film Services for the Dubai International Film Festival and programmed the highly-regarded Arabian Nights section. Her aim is to connect audiences to Arab and world cinema, champion emerging and acclaimed filmmakers and promote Arab film and talent on the international stage.
KIRILL RAZLOGOV (Russian Federation)
Kirill Razlogov started his career as a researcher in Gosfilmofond, one of the world oldest and biggest film archives. For several years, he was also a translator of French movies shown at festivals and film weeks in the Soviet Union. Over time Kirill became one of Russia's chief experts in cinema history. For more than 10 years, Kirill has been the Program Director of Moscow International Film Festival. From 1989 till 2013 he headed the Russian Institute for Cultural Research. He has been teaching film and cultural studies disciplines in universities, hosting author's telecasts and has written a great number of works on art history.
Back to news