Wednesday, 13 October 2021
•
OPEN FOR WORLDWIDE REGISTRATION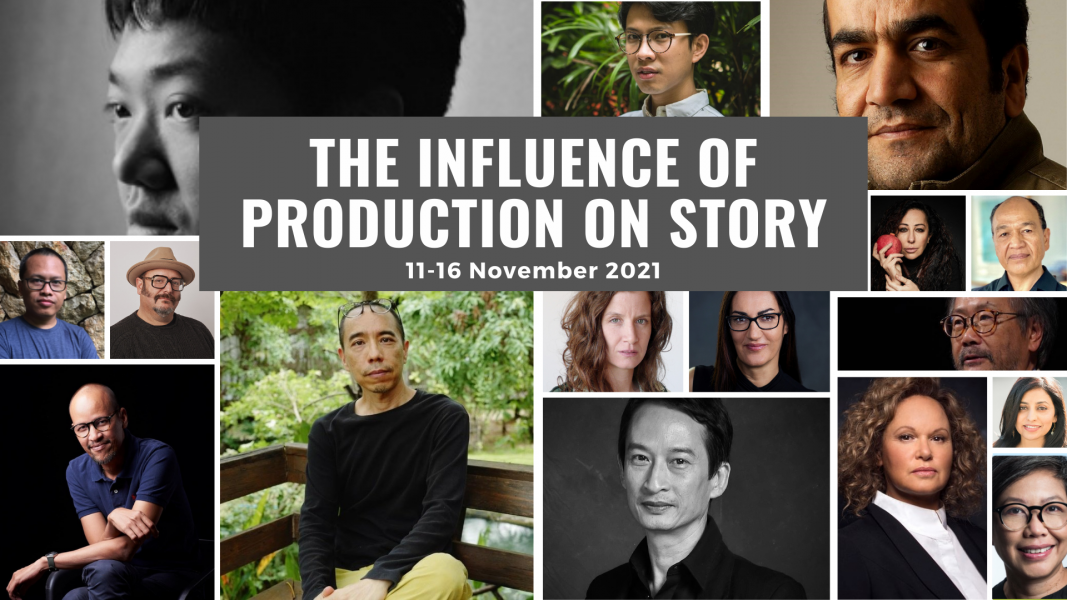 The 3rd Asia Pacific Screen Forum, presented from Australia's Gold Coast, honours cinematic excellence and inspires new connections, generating discussion and new models for filmmaking across Asia Pacific. 
Presented as both a physical and globally streamed event, the Forum's theme The Influence Of Production On Story is explored via a series of panels, in conversations and case studies. Open to the screen industry and featuring APSA Jury, nominees and Academy Members, the 6-day event is designed to spark lively screen culture discussions with themes of inclusion, accessibility, authenticity, excellence in craft, and connection.
With Jack Thompson AM PhD as President of the Academy, the event is presented by the Asia Pacific Screen Awards' prestigious Academy of filmmakers, one of the largest and most diverse film Academies in the world. 
Bringing together the most extraordinary talent, the 2021 Asia Pacific Screen Forum has grown in its 3rd year. Officially opening on Thursday November 11 with the gala Asia Pacific Screen Awards to be held at HOTA on the Gold Coast, Australia, the Forum sessions will commence on Friday November 12 with a program of three significant panel discussions featuring some of the most influential leaders in their field, and encompassing some of the biggest issues faced by the storytellers of Asia Pacific and beyond.
Covering the politics and logistical challenges of filming in politically unsafe environments, the Filmmaking in Hostile Environments panel will be moderated by Professor Peter Greste (award-winning correspondent and author, The First Casualty) with panel guests Granaz Moussavi (Iranian born and Australian based Director/Producer of When Pomegranates Howl set in Afghanistan and nominated for APSA 2021 Best Youth Feature Film), Shawkat Amin Korki (Director of Iraq's Official Academy Awards®  Submission for Memories on Stone (2014) & Winner of the APSA 2014 UNESCO Award), Rachel Leah Jones (Winner of APSA 2019 Best Documentary Feature for Advocate) and Sam Ho (Member of the APSA Youth, Animation, Documentary International Jury in 2015).
First and second-time directors represent almost half of the APSA nominated films for 2021 and Reel Connections featuring keynote speaker Yeo Siew Hua, (winner of the 2018 APSA Young Cinema Award for his Locarno winning film A Land Imagined) is an offering for like-minded emerging filmmakers to share ideas, stories and experiences.  
Meet the Sales Agents connects filmmakers to the deal makers! Hear from Paul Wiegard (Madman Entertainment Managing Director, Exec Producer Nitram), Pearl Chan (Good Move Media), and Alberto Alvarez Aguilera (Pyramide Films).
Exploring informal and formal co-production strategies, the Creativity and Financing panel discussion is steered by some of the best producers in the region including Nick Batzias, with a background in acquisitions, business affairs and production and producer of Nitram (Nominated for Best Performance by an Actor APSA 2021), and Meiske Taurisia the producer of Vengeance Is Mine, All Others Pay Cash (Nominated for Achievement in Cinematography APSA 2021).
Exploring themes of representation, accessibility and authenticity, the Maintaining Authenticity In Production panel representatives hail from a diverse and esteemed background. Writer/director of Fiji's first feature film The Land Has Eyes, and specialist in indigenous storytelling, art and cultural identity, Vilsoni Hereniko will be joined by Ana Tiwary of indiVisual films who specialises in multicultural stories for global audiences as well as acclaimed filmmaker Tran Anh Hung.  This panel will explore how to navigate the demands of production to deliver authentic stories in cultural and diaspora film. 
Join Man Booker International Prize Nominee Eka Kurniawan (Vengeance is Mine, All Others Pay Cash) who discusses the process of development for writing, direction and producing From Page To Screen: Adaptations for Film. Eka is joined by the multi-talented Leah Purcell (Writer/Director and APSA 2021 Best Actress nominee for The Drover's Wife The Legend of Molly Johnson) and one of New Zealand's most celebrated writers Briar Grace-Smith (Director – Cousins).
These events add to the previously announced powerhouse lineup of events featuring Palme d'Or and APSA Best Film winner Apichatpong Weerasethakul, together with APSA FIAPF Award winning producer at the forefront of the Thai independent cinema movement, Soros Sukhum, a Conversation with Jeremy Chua (Singapore) and Bina Paul (India), plus a stacked global line-up for the popular Meet the Programmers session. Additionally, global personalised networking is made available via Random Connections which is a virtual replication of the all-important networking and connections achieved by attending festivals, awards and screen events where chance meetings can result in creative collaboration, knowledge transfer and support.  
The week-long series of events will be accessible online to participants right across the vast region as well as in person at Home of the Arts (HOTA) on the Gold Coast. The events will take place November 11-16 in the lead up to the previously announced Award Presentation on the evening of Thursday, November 11.
A screening program will complement the Forum with both industry and public able to attend advance screenings of Cannes Jury Prize winner Memoria (starring Tilda Swinton and directed by Apichatpong Weerasethakul), Rehana (starring Azmeri Haque Badhon – Best Performance by an Actress) & A Land Imagined (APSA 2018 Winner Young Cinema Award -Siew Hua Yeo). 
Gold Coast Mayor Tom Tate says "The Asia Pacific Screen Forum underscores our city's commitment to this global industry."
Chair of the Asia Pacific Screen Academy Tracey Vieira:
"The Asia Pacific Screen Forum has grown from strength to strength, embracing the need to increase support for the filmmakers of Asia Pacific with more opportunities to connect, network, learn and develop. We have crafted an event rich in talent and diversity, with over 30 expert industry speakers from 17 countries and areas of Asia Pacific and beyond. 
The opportunity for screenmakers to hear from some of the world's top decision-makers for festivals, sales agents, broadcasters and distributors provides unprecedented access to these gate-keepers to reach an audience, and provides an insight into how these decisions are made. 
APSA continues to identify, support and amplify the careers of emerging storytellers throughout Asia Pacific, with 18 of the 38 nominated films by first or second feature directors, and the annual presentation of the Young Cinema Award in partnership with NETPAC and GFS. The Forum presents specially crafted events to speak directly to these emerging voices.
The Asia Pacific Screen Academy is thrilled to present the 3rd Asia Pacific Screen Forum, and we invite the participation of filmmakers across the region and beyond to join us in November."
Screen Queensland CEO Kylie Munnich:
"Each year, the Asia Pacific Screen Awards shines a light on inspirational talent from the region, including Queensland's diverse and creative local content creators. As host for the Awards and the Forum, our state is positioned as an important screen hub for the wider Asia Pacific region. Screen Queensland is proud of our ongoing support of the event, which  allows Queensland practitioners to connect and collaborate with industry counterparts from across the Asia Pacific." 
The Forum is presented by the Asia Pacific Screen Academy, with the support of the City Of Gold Coast, Screen Queensland, Netflix, Motion Picture Association, Griffith University Griffith Film School. 
3RD ASIA PACIFIC SCREEN FORUM –  FULL PROGRAMME
All times are AEST.  All panels are virtual (V) Some are also physical (P)  
All screenings are physical only, at HOTA, Home of the Arts
Registration is now open at https://www.asiapacificscreenawards.com/asia-pacific-screen-forum
Thursday November 11
18:00 14th Asia Pacific Screen Awards (V+P)
Friday November 12
11:00-12:00 PANEL: Creativity and Financing (V+P)
13:00-14:00      PANEL: Maintaining Authenticity in Production (V+P)
15:00-16:00 PANEL: Filmmaking In Hostile Environments (V+P)
19:00 CINEMA SCREENING: Memoria (P)
Saturday November 13
15:00 CINEMA SCREENING: Rehana (P)
18:00- PANEL: Any Film Is A Sacrifice and A Devotion with Jeremy Chua (V+P)
Sunday November 14
10:30-11:30 PANEL: From Page to Screen: Adaptations for Film (V)
15:00 CINEMA SCREENING: A Land Imagined (P)
18:00 PANEL: Reel Connections (V)
Monday November 15
15:30-16:30 PANEL: Meet the Sales Agents (V+P)
18:00 PANEL: In Conversation with Apichatpong Weerasethakul and Soros Sukhum (V+P)
Tuesday  November 16
18:00 PANEL: Meet the Programmers (V+P)
Nominations for the 14th Asia Pacific Screen Awards were also announced today and the full list can be found here: https://www.asiapacificscreenawards.com/
MEDIA ENQUIRIES: 
Cathy Gallagher + 61 (0) 416 227 282 / [email protected]
Georgina Stegman +61 (0) 415 622213 / [email protected]
IMAGES FOR MEDIA: https://www.dropbox.com/sh/gy8n2d0jc675w4p/AADsSV5TvqFVmoFD7AXETlJHa?dl=0
Website: https://www.asiapacificscreenawards.com/
Twitter: https://twitter.com/APScreenAwards
Facebook: https://www.facebook.com/asiapacificscreenawards
#APSA2021
ABOUT THE ASIA PACIFIC SCREEN AWARDS & ASIA PACIFIC SCREEN ACADEMY
The Asia Pacific Screen Academy proudly presents the region's highest accolade in film, the Asia Pacific Screen Awards. Established in 2007, APSA ignites and honours the cinematic excellence and cultural diversity of the world's fastest growing film region: comprising 70 countries and areas, 4.5 billion people, and responsible for half of the world's film output. 
APSA and its Academy is committed to its ongoing global partnerships with UNESCO, FIAPF, the European Film Academy (EFA), the Motion Picture Association (MPA), Premios Platino del Cine Iberoamericano, NETPAC (the Network for the Promotion of Asian Cinema), the Asia Pacific Screen Lab (APSL) and Griffith Film School.
All APSA nominees, Nominations Councils Jury members are inducted into the prestigious APSA Academy presided over by Australian screen legend Jack Thompson AM PhD. The Academy boasts over 1300 of the region's leading filmmakers and provides exclusive networking, development and funding opportunities available to Academy members through the MPA APSA Academy Film Fund, and Academy mentoring opportunities for the next generation of Asia Pacific filmmakers through the Asia Pacific Screen Lab. 
Back to news