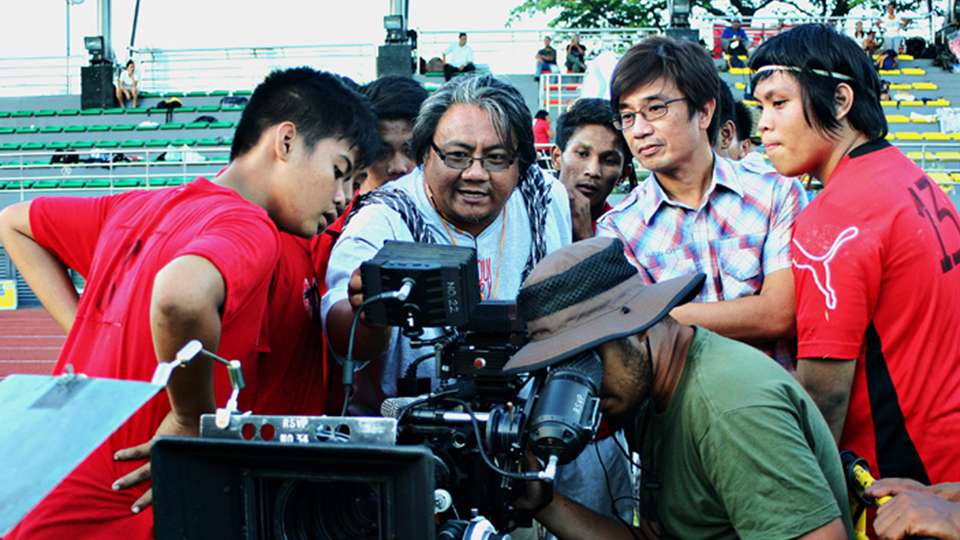 The Asia Pacific Screen Awards (APSA) announced in Cannes today a new script development fund specifically for children's films.
The fund is a partnership between APSA and Manila based 4 Boys Films, established by APSA Academy member Butch Jimenez.
Two AUD$20,000 grants will be given to support new children's feature films at creative inception that carry positive, life affirming messages specifically for and about children in Asia Pacific.
It will be exclusively available to members of the APSA Academy, a group of the region's leading filmmakers comprised of past nominees, winners, council members and International Jury of APSA.
Butch Jimenez was inducted into the Academy as the Producer of 2007 Best Children's Feature Film Nominee, The Bicycle.
He is the father of four boys, Miguel, Benjamin, Joaquin and Mateo. The advocacy for children's films through the establishment of the fund is in their honour.
"I've always believed that children's films have a unique power to influence young hearts and minds. My hope is that the partnership with APSA will encourage Asia Pacific filmmakers to make more children's movies to bridge cultural divides and leave a positive mark to the next generation," Mr Jimenez said.
Aside from The Bicycle, he has produced some of Philippine cinema's highest profile films such as Muro Ami, Jose Rizaland In the Navel of the Sea which have competed in various international festivals. His last project was Happyland, a true story of juvenile delinquents living in the garbage dumps of Tondo whose lives were changed through soccer.
APSA Chairman Des Power said: "Our Academy is made up of an extraordinary group of filmmakers who are extremely influential in the global marketplace. One of them is Mr Jimenez. It is therefore very pleasing that through his foundation we are able to offer Academy members a fund of this calibre for the development of children's films. When we formed the Academy, this is precisely the kind of collaboration and support that we hoped it would facilitate."
"Funds at the early stage of script development are of immense value to our Academy members. I thank Mr Jimenez for his commitment and passion for this important category of films."
The announcement was made from APSA's International Launch in Cannes where several other key developments for 2011 were revealed including the introduction of Academy voting rights for selected categories, reflecting the growing role of the Academy.
The APSA definition of a Children's Film is defined as projects for and about young people, or told partly or entirely from a child's point of view and, or a film that at its heart is made for children.
An eligible Children's film under the APSA Charter of Rules and Regulations is a film defined as being suitable for viewing by children both with and or without parental guidance. Using the UN Convention on the Rights of the Child, a child is considered to be any human being below the age of 18. The definition therefore includes babies, small children, older children and young people.
Feature length narrative films, documentaries and animated feature films will be eligible to apply and projects will be judged on the same criteria that apply to films in the APSA competition – films that best reflect their cultural origins, demonstrate cinematic excellence and are deemed Asia-Pacific as determined by the APSA applied test in the Charter Rules and Regulations.
The inaugural grant recipients will be determined by a panel of industry experts and will be announced at the fifth annual APSA Ceremony on Australia's Gold Coast on November 24.
More information about the APSA Children's Film Fund, founded by 4 Boys Films, and the Rules and Regulations will be made available to Academy members in the coming months ahead of the submissions open date.
The Asia Pacific Screen Awards (APSA) is an international initiative of the Queensland State Government, Australia, in unique collaboration with Paris-based UNESCO and FIAPF-International Federation of Film Producers Associations.
It promotes, supports and acclaims the cinematic excellence and cultural diversity of the vast Asia Pacific region through its annual Awards Ceremony, film funding initiatives, television production, and a growing membership body of the most accomplished filmmakers in the world's fastest growing film region.
Back to news