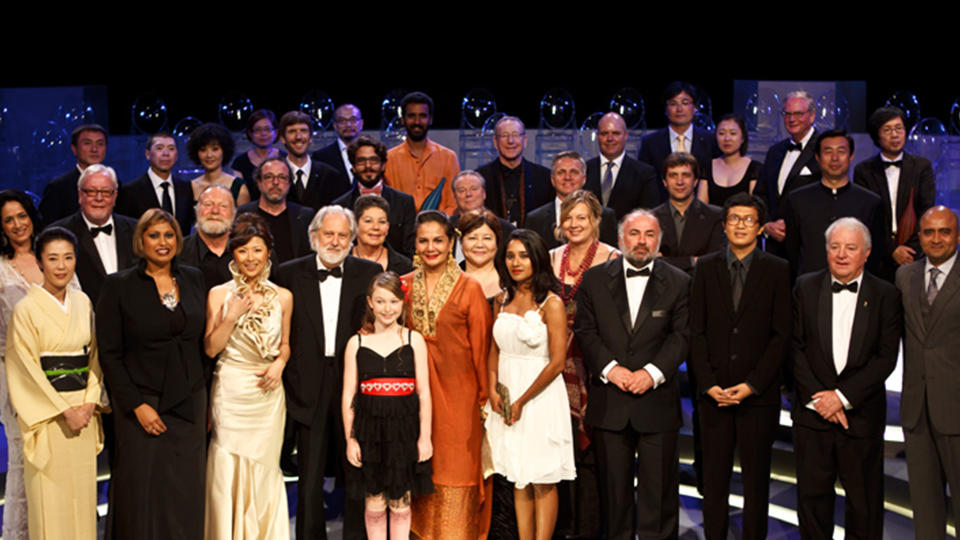 The Asia Pacific Screen Awards in Cannes today announced the introduction of Academy member voting rights for selected categories of the fifth annual Asia Pacific Screen Awards (APSA).
Past Jury, Nominations Council, Documentary and Animation Academy members will determine the nominees and winners for Best Animated Feature Film and Best Documentary Feature Film in the 2011 competition.
Children's Feature Film Academy members will, along with past Jury and Council, decide on the Nominees for Best Children's Feature Film with the winner in that category to be determined by the International Jury ahead of the fifth annual APSA Ceremony on November 24.
APSA Chairman Des Power said: "Since forming the Academy in 2008, we have always said that, in time, our members would have voting rights. This is a key milestone which reflects the growing stature of our Academy and I am delighted to see Academy voting rights become a reality in the fifth year of our competition."
In making the announcement at APSA's International Launch, APSA Artistic Director Maxine Williamson said: "Animation, Documentary and Children's feature films are highly specialised fields and it is appropriate that Academy members from these fields, along with outstanding practitioners in the region, participate in assessing the work of their peers in these genres."
"We will utilise cutting edge technology to introduce these changes and are very excited to be working with highly respected international companies Cisco and The Media Architects to enable the introduction of our new judging and voting processes in 2011."
Academy members will view and vote on eligible films using e.v.e – enhanced video encryption – a unique online screening platform developed by Brisbane based digital media development firm The Media Architects. The e.v.e application will allow members to easily and securely watch eligible films wherever they are in the world.
The Nominations Council will also view eligible films through the online streaming service and their deliberations will take place using Cisco TelePresence – high quality, life-like video conferencing technology. Council members across five countries will be brought together by Cisco to deliberate on films and determine the nominees without leaving their home city.
The Nominations Council will be Chaired once again by filmmaker and academic Professor Hong-Joon Kim (Republic of Korea) and the 2011 Council members will be Russell Edwards (Australia), Yuka Sakano (Japan), Jeannette Paulson Hereniko (Hawaii, USA), Peggy Chiao (Taiwan), Philip Cheah (Singapore). APSA Chairman Des Power and Artistic Director Maxine Williamson will also participate in the process.
APSA's Academy was established in 2008 to encourage dialogue, collaboration and business opportunities for the region's filmmakers. It also provides a platform to foster opportunities for co-productions and other initiatives to develop between the 70 countries and areas that form the APSA network.
All APSA Nominees, Winners, Jury and Nominations Council members are inducted into the Academy – the most respected names in film from the region and some from outside it, including Jury members and Producers from Europe, the UK and the US. There are currently 389 members which increases by 100 each year as new Nominees and Jury members are inducted.
The announcement was made from APSA's International Launch in Cannes where several other key developments for 2011 were revealed including the formation of a Children's Film Fund, reflecting the growing range of activities undertaken by the organisation which also includes television production and the MPA APSA Academy Film Fund.
The international launch was attended by more than 150 guests including: APSA Patron and founding director of Pusan International Film Festival Kim Dong-ho; FIAPF President Luis Alberto Scalella; representatives from APSA's Official Submitting Organisations across the region and many directors of the world's leading film festivals including Tokyo, Berlin, Moscow and Toronto along with representatives from the European Film Academy.
Australians in attendance included filmmaker and Tropfest founding director, John Polson, and actor and director Nash Edgerton whose latest project, Bear, is competing in Cannes' short film competition. Also in attendance was Australian writer/director Julia Leigh whose debut feature Sleeping Beauty is one of 20 films in competition for the festival's Palme d'Or.
Three time APSA winner and APSA MPA film fund recipient Lee Chang-dong (Republic of Korea) is the president of the Grand Prize jury for Cannes' Critics Week sidebar, APSA Academy member Bong Joon-ho is the President of the Camera d'Or Jury and APSA Academy member and Hong Kong producer-director Johnnie To is part of the main competition Jury.
The fifth annual APSA Ceremony will take place on Australia's Gold Coast on November 24, 2011. Nominees will be announced October 12.
Back to news