Thursday, 20 December 2012
•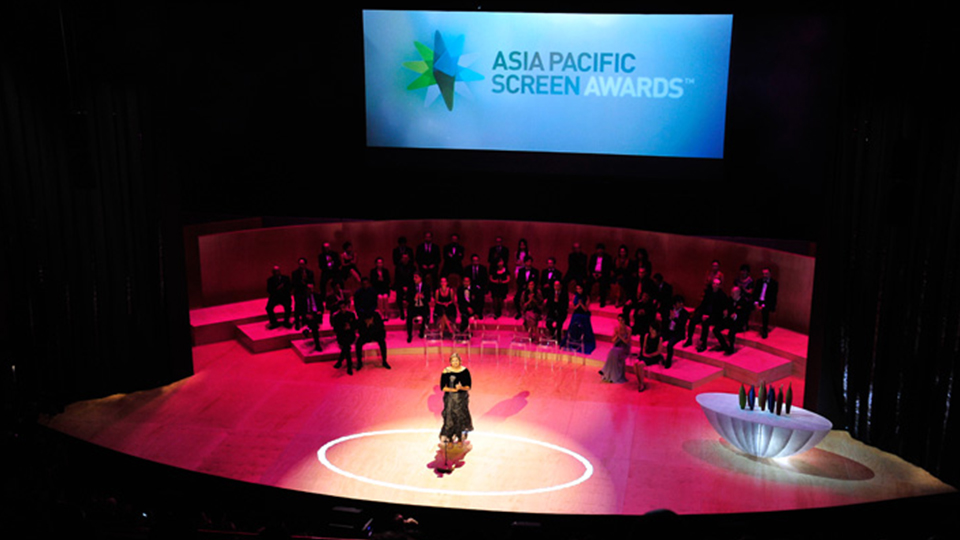 The sixth annual Asia Pacific Screen Awards (APSA) will be broadcast to more than 46 countries across the Asia Pacific region on Australia Network on Sunday, January 6, 2013.
The 90-minute program features the star studded APSA ceremony, held at the Queensland Performing Arts Centre in Brisbane, Australia on November 23.
An audience of more than 700 celebrated the shining lights of Asia Pacific film at a ceremony that included appearances by filmmakers and industry luminaries from more than 30 countries across Asia Pacific. Among them were internationally acclaimed Australian actor and APSA Academy President, Dr Jack Thompson.
The ceremony was hosted by well-known Australian television presenter and author, Indira Naidoo.
The evening featured a special guest performance by Oscar®, Grammy® and two time Golden Globe® winner, internationally renowned Japanese composer, actor and musician Ryuichi Sakamoto who was awarded the 2012 FIAPF Award for his contribution to film.
APSA celebrates the cinematic excellence and cultural diversity of the vast Asia Pacific region, which produces half the world's film. From the flamboyant exuberance of Bollywood to the stunning cinematography of the Turks, from the epic productions of Russia to the joyful melancholy of Japanese anime, APSA is the region's highest accolade in film.
Nominated filmmakers representing 34 films from 18 countries and areas across Asia Pacific vied for top honours in nine award categories and four special awards on Asia Pacific's night of nights in film.
The Australia Network is Australia's international television service, beaming 24/7 to an estimated 31.2 million homes. In the weeks leading up to the broadcast, the Australia Network will screen trailers from APSA nominated films, interviews with award recipients and multi-award winning Australian producer and 2012 APSA International Jury President, Jan Chapman AO, who headed the six-member International Jury with representatives from Israel, People's Republic of China, Georgia, Turkey and India.
For broadcast times in each country, or to view the trailers and interviews on-line go to: http://australianetwork.com/events/apsa/
For more information about APSA visit www.asiapacificscreenawards.com
Back to news