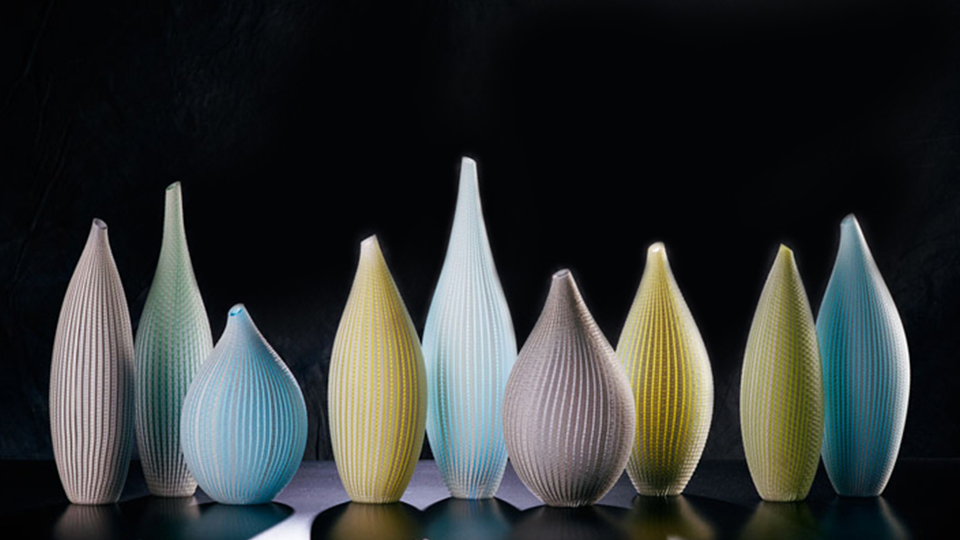 Premier and Minister for Trade Peter Beattie today announced artist Joanna Bone has been given the prestigious task of creating a unique prize for winners at the much-anticipated Asia Pacific Screen Awards.
The event is a major cultural initiative of the Queensland Government through Queensland Events and will be held on the Gold Coast on November 13.
"Rather than a statuette or medallion, the Asia Pacific Screen Awards asked Joanna to create a piece of art that is symbolic of the diverse cultures being celebrated at this big film event," Mr Beattie said.
"Joanna's award-winning blown glass work is influenced by the Australian landscape, particularly the fish and corals of the Great Barrier Reef, so award winners will be taking home top honours and a bit of Queensland too," he said.
"The glass award will also become a lasting symbol of these annual film awards."
Joanna's exquisite contemporary glass vessels, in varying forms, will be presented to winners in 11 award categories. Glass cane work is an ancient technique and refers to the glass 'canes' used for decoration. Joanna is recognised as one of the technique's finest modern exponents.
She is the only Queenslander to win Australia's top glass prize, The Ranamok Awards, in 2005. In 2000, she was the overall winner of the Royal Overseas League Trophy Competition (London) and was commissioned to make its Music Awards trophy.
Joanna made Queensland her home in 2002.
Originally from the UK, she began her studies at Portsmouth Art School. She studied glass design at Wolverhampton University in the Midlands – the traditional home of glass makers in Britain, and she completed a Master's Degree in Glass and Ceramics at The Royal College of Art, London.
Her work has been exhibited in the UK and Australia, and in galleries including The Victoria & Albert Museum London, Object Gallery Sydney, Oxford Gallery Oxford, Quadrivium Gallery Sydney, Queensland Art Gallery and Craft Queensland. She is currently showing at Marks & Gardner Gallery, Mt Tambourine, and the Glass Artists Gallery, Sydney.
It is also fitting that this commission is a celebration of the relationship between art and film. Film is one of the most influential art forms of the 20th and 21st centuries.
"This relationship is recognised by Brisbane's Gallery of Modern Art – the only art gallery in Australia to have purpose-built facilities to show cinema as an art form," Premier Beattie said.
The Asia-Pacific Screen Awards is unique partnership between CNN International, UNESCO, the International Federation of Film Producers Associations and Queensland Events.
Back to news