Thursday, 8 November 2018
•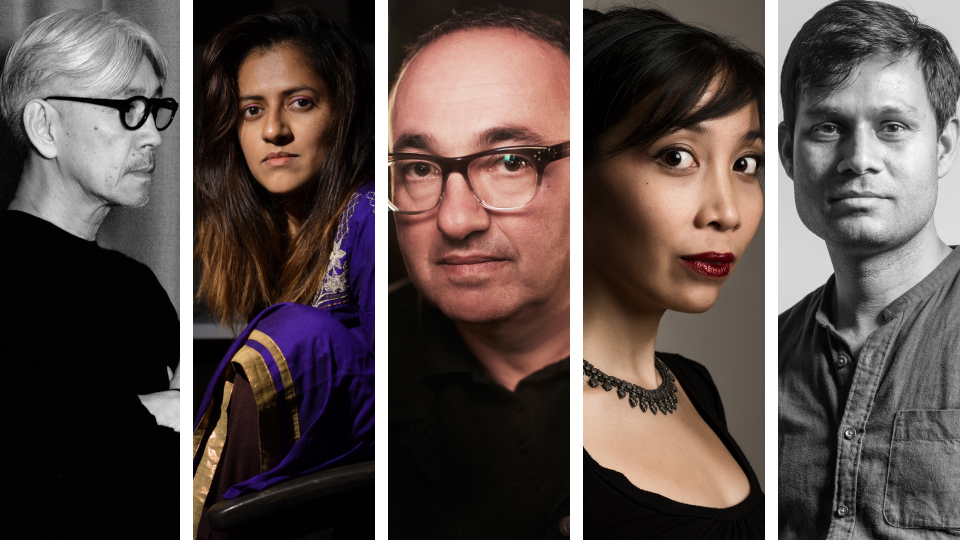 ASIA PACIFIC SCREEN AWARDS REVEALS FULL JURIES
Acclaimed Russian producer Alexander Rodnyansky (Loveless, Leviathan) will head the International Jury for the 12th Asia Pacific Screen Awards in Brisbane, Australia.
The Awards today announced that four juries will determine the winners from the 46 nominated films from 22 Asia Pacific countries and areas.
Seven men and seven women will sit on the juries, hailing from incredible 12countries.
Under the presidency of Rodnyansky, the International Jury will determine the winners across the six feature narrative awards, including the hotly contested Best Feature Film.
Nominated twice for an Academy Award®, Rodnyansky is a frequent collaborator with celebrated auteur Andrey Zvyagintsev and his films Loveless, Leviathan and Elena have collectively received a remarkable seven Asia Pacific Screen Awards.
Rodnyansky's prolific career spans more than two decades of television and feature films, including work with directors like Tom Tykwer and Lana and Lily Wachowski (Cloud Atlas), Robert Rodriguez (Sin City: A Dame to Kill For) and Billy Bob Thornton (Jayne Mansfield's Car).
Joining him are: award-winning Indonesian director and producer Nia Dinata (Arisan!, Love for Share, Three Sassy Sisters), internationally-acclaimed Nepalese filmmaker Deepak Rauniyar (Highway, White Sun), prominent Georgian producer Vladimer Katcharava (Dede, Girls of the Sun) and Chilean actress Antonia Zegers (Los Perros, A Fantastic Woman).
Zegers' appointment recognises the newly established APSA Awards Alliance with Ibero-America's Premios Platino Awards, made possible through a grant from Australia's Department of Foreign Affairs and Trade Council on Australia Latin America Relations.
In a first, 2018 will see the appointment of a new Cultural Diversity International Jury.
The new jury highlights the importance the Awards place on honouring the region's cultural diversity, an aim shared by partner UNESCO through a 12-year collaboration.
The new jury will determine the winner of the Cultural Diversity Award under the patronage of UNESCO.
Two ground-breaking filmmakers feature on the new jury: prolific and acclaimed documentarian and author, and the first female filmmaker from Yemen, Khadija Al-Salami (Jury Chair), and Laos' first female feature filmmaker Mattie Do (Laos).
Completing the inaugural three-person jury is Anthony Krause, Chief of the Policy and Research Unit in the Section for the Diversity of Cultural Expressions.
Krause is the first ever juror to represent founding partner UNESCO.
The Youth, Animation, Documentary International Jury will determine the winners across the three categories.
Chair of the jury will be Australian documentary filmmaker and a founder and CEO of the Documentary Australia Foundation Mitzi Goldman (A Common Purpose).
Goldman will be joined on the jury by Bangladesh's multi award-winning feminist filmmaker Rubaiyat Hossain (Meherjaan) and Luke Hetherington, Executive in Charge a LucasFilm's VFX and Animation studio, Industry Lights & Magic, based in Singapore.
The previously announced Music in Film International Jury is comprised of internationally renowned composer, musician and APSA Academy member Ryuichi Sakamoto (Japan, Jury Chair), Indian composer and Music Director Sneha Khanwalkar (Manto, Gangs of Wasseypur) and Australian composer, conductor and musician Nigel Westlake (Babe, Paper Planes, Miss Potter).
Brisbane Lord Mayor Graham Quirk said that Brisbane was thrilled to grow its significant relationship with the Asia Pacific.
"The Asia Pacific Screen Awards are important to the city of Brisbane because they strengthen our significant business and cultural ties with the region," he said.
"The Awards are a great drawcard for film business events, helping to transform Brisbane into an Asia Pacific cultural hub and position us as destination to do the business of film.
"They continue to shine a spotlight on powerful Asia Pacific stories, foster cross-cultural dialogue and celebrate filmmakers whose accomplishments too often go unrecognised."
Asia Pacific Screen Awards Chair Michael Hawkins said that it was a great honour for the awards to be represented by such distinguished filmmakers.
"We are extremely excited to have some of the region's top filmmakers and we thank them all for their generous contribution," Hawkins said.
"The juries have a great responsibility, determining winners and shining a spotlight on the region's cinematic best.
"We are very pleased to announce the Cultural Diversity International Jury which will see our hugely supportive founding-partner UNESCO formally represented on an APSA jury for the first time."
Audrey Azoulay, Director-General of UNESCO explained the organisations' uniting ethos.
"UNESCO's lasting partnership with APSA is grounded in our common commitment to promoting cultural diversity and creative industries as channels for freedom of artistic expression and sustainable development," Azoulay said.
"The 'Cultural Diversity Award' reflects our belief in the power of cinema to spread tolerance and peace in audiences worldwide.
"I am especially proud that this year, for the first time, UNESCO joined the Jury in selecting the winner of the 2018 Cultural Diversity Award."
The juries will hand down their verdicts at the 12th Asia Pacific Screen Awards, held in Brisbane, Australia on 29 November.
Back to news