Thursday, 8 November 2018
•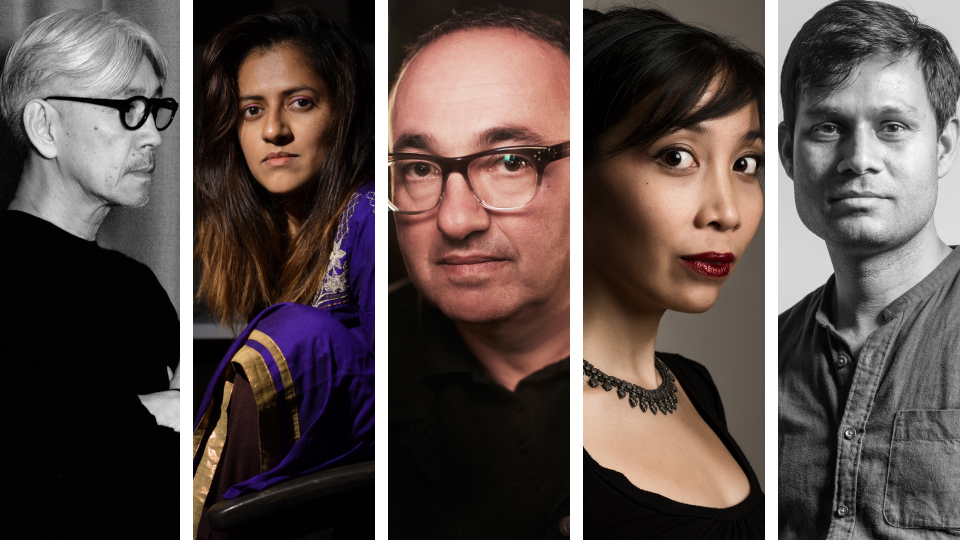 The Asia Pacific Screen Awards (APSA) today announced the full line up for the International Juries for the 12th edition, in the lead up to the prestigious award ceremony on November 29 in Brisbane, Australia. In 2018, four international juries will determine the winners from the 46 films from 22 countries and areas of the region nominated for an APSA, the region's highest accolade in film.
Discover them below as well as all of the nominees for the 2018 ceremony.
International Jury
Alexander Rodnyansky (Russian Federation) – Jury President
Alexander Rodnyansky is one of Russia's most important and prolific film producers having produced over 30 television series and 40 feature films including key works by some of the most acclaimed filmmakers in Russian history. Born in Kiev, he began his career as a documentarian working on many acclaimed films including The Mission of Raoul Wallenberg (1990) and Last Farewell USSR (1994), which won the FIPRESCI Prize from the Yamagata International Documentary Film Festival.
Despite these early successes as a filmmaker, he quickly lent his talents to producing. His earliest success was as producer on A Chef in Love (1996). Directed by Nana Dzhordzhadze, it was the first time the Asia Pacific country of Georgia received an Academy Award® nomination for Best Foreign Language Film. Rodnyansky soon followed that as producer on East-West (1999), a co-production between Russia, France, Ukraine, Bulgaria and Spain that once again earned an Academy Award® nomination for Best Foreign Language Film, this time for France.
In 2009, Rodnyansky founded AR Films, he co-owns the Non-Stop Production company, and has served as the President of Russia's leading national film festival, Kinotavr, since 2004.
Alongside television series, several significant films followed: The Sun (2005) from Russian auteur Aleksandr Sokurov won awards and competed for the Golden Bear at the Berlin International Film Festival, Aleksandr Mindadze's Innocent Saturday (2011) about the Chernobyl nuclear disaster also competed for the big prize in Berlin, and Fedor Bondarchuk's Stalingrad (2013) was a Russian blockbuster that became the first film he produced that was selected to represent Russia at the Academy Awards®.
In 2011 he produced Elena, the first collaboration between Rodnyansky and director Andrey Zvyagintsev. Next came Leviathan (2014), which became an international sensation – it was an Academy Award® and BAFTA nominee for Best Foreign Language Film and won the same award at the Golden Globes™, along with 35 other awards from around the. That success was followed up by Loveless, another Academy Award™ and BAFTA nominee. All three won an APSA including Rodyansky himself for producing Leviathan. Additionally, all won awards while in competition at the Cannes Film Festival.
While he has continued to produce a blend of acclaimed Russian arthouse cinema like the award-winning documentary ¡Vivan las antípodas! (2011) and big budget fare like the IMAX-shot The Duellist (2016), Rodyansky has also moved into American productions. He produced Jayne Mansfield's Car (2012) for director Billy Bob Thornton, as well as Robert Rodriguez' Sin City: A Dame to Kill For (2014) and Machete Kills (2013). He was also a co-producer on the adaptation of Cloud Atlas by the Wachowski siblings and Tom Tykwer. His most recent Russian feature, The Man Who Surprised Everyone (2018), premiered at the Venice Film Festival.
Nia Dinata (Indonesia)
Nurkurniati Aisyah Dewi, better known as Nia Dinata, is an award-winning Indonesian film director. Her movies are known for tackling subjects that are considered controversial or risky in Indonesia such as homosexuality, migrant workers and polygamy. After studying in Pennsylvania and New York City, Nia Dinata returned to her native Indonesia where she made her directorial debut with Looking for the Rainbow (1998), which was made for local television and won multiple national awards. This was followed by the ambitious undertaking of Ca-bau-kan (2002) about the tribulations of Chinese-Indonesians adapted from a novel by Remy Sylado. The film was selected by Indonesia to represent the country in the Academy Awards'® Best Foreign Language Film category.
In 2003 she directed Arisan!, a low-budget film about LGBTQ issues that became a surprise success with over 500,000 admissions. The success lead to her being invited to join the Cannes Young Directors program in 2004 and then produced Joko Anwar's award-winning Joni's Promise followed by another of her own films, Love for Share about polygamy in Indonesia. This film became her second to be submitted to the Oscars®. Producing Quickie Express and Chants of Lotus soon followed as did a sequel to Arisan! in 2011. Her most recent film as director was 2016's musical drama Three Sassy Sisters.
Deepak Rauniyar (Nepal)
Deepak Rauniyar was born in Saptari, Nepal, and worked as a teacher, a print journalist, radio correspondent, and as a writer and producer for the BBC Media Action where he wrote, directed and produced radio dramas and short films before eventually making his feature film debut with Highway (2012). Besides directing the micro budget feature he also produced and edited. The film premiered at the 62nd Berlin International Film Festival, the first time any Nepali film had ever screened at a major international festival. It was nominated for Berlin's Best First Feature Award and was selected to open the Museum of Modern Art in New York's ContemporAsian series in 2013. In his own country, the social drama provoked a tumultuous response due to its realistic characters and their taboo-shrouded issues.
In 2016, Rauniyar returned with White Sun, his second feature about the life in post-war Nepal, which he co-wrote, directed and produced.  The film was a major international success after receiving its world premiere at the Venice Film Festival. In addition to winning Venice's InterFilm Award, White Sun won Best Asian Feature at the Singapore International Film Festival, Grand Jury Prize at Palm Spring International Film Festival and four awards including Audience Award at the Fribourg International Film Festival. White Sun was Nepal's official selection for the Academy Awards'® Best Foreign Language Film category in 2017.
Vladimer Katcharava (Georgia)
Vladimer Katcharava graduated from Tbilisi State Film and Theater University 2001 and has become one of Georgia's most prominent producers of feature-length and short films. In 2010 he founded his company 20 Steps Productions with the goal of contributing to the development of Georgia's film industry focusing on development and co-production of independent feature and animation films that will appeal both to domestic and international audiences. Katcharava is an alumnus of the 2010 Berlin Talent Campus and has attended the 2015 Sundance Script Lab, the Cannes Film Festival's Producers on the Move in 2012, the 2011 EAVE Producers Workshop and the 2010 East European Film Alliance.
In 2013, Katcharava worked with Georgian first-time filmmaker Mariam Khatchvani on the short film Dinola, which won several awards. The pair's second collaboration, Dede (2017), proved to be another success, winning ten international awards including the Cultural Diversity Award Under the Patronage of UNESCO at the 2017 APSA ceremony. At the same ceremony, Katcharava was selected as a recipient of the MPA APSA Academy Film Fund from over 100 submissions. In 2018 he also co-produced Eva Husson's Girls of the Sun starring Golshifteh Farahani, which premiered at the Cannes Film Festival and competed for the Palme d'Or.
Antonia Zegers (Chile)
Antonia Zegers is a prominent Chilean actress, with a vast career in film, theatre and television. She studied at the theatre school of Gustavo Meza. She has participated in plays such as Brecht's Auge y Caída de la Ciudad de Mahagonny and collaborated with the Chilean playwright and director Ramón Griffero for many years. In television she was part of the stable cast of the National Television of Chile for ten years, participating in prominent national series such as Romané, The Circus of the Montini, The Pincheira, Pampa Illusión among many others. In 2012, she participated in the HBO TV series Prófugos.
In cinema she has acted in Post Mortem (2010), The Club (2015) and the Oscar®-nominated No (2012), all directed by Pablo Larraín. Her work on The Club received multiple nominations and awards including from The Platino Awards and the Fenix Film Awards. She also took part of the movies Sábado (2003) and La Vida de los Peces (2010) by director Matías Bize. For Los Perros (2017) by Marcela Said, which premiered in 2017 at the Critics' Week in Cannes, Zegers was awarded Best Actress at the Stockholm Film Festival. She most recently appeared in Sebastián Lelio's A Fantastic Woman, which won the Academy Award® for Best Foreign Language Film in 2018, Chile's first.
Youth, Animation and Documentary International Jury
Dr Mitzi Goldman (Australia) – Jury Chair
Mitzi Goldman is a founder and CEO of the Documentary Australia Foundation, having been instrumental in its realisation since its inception in 2006. With 30 years' experience as a documentary director, producer and editor, through her production company, Looking Glass Pictures, she has created many award winning international documentaries. Her most recent films include Ka-Ching! Pokie Nation (2015) and Night Parrot Stories (2016), which premiered at the Sydney Film Festival. Previous credits include A Common Purpose (2011), winner of the Audience Award for Best Documentary at the Sydney Film Festival and was nominated for Best Feature Length Documentary at 2012 AACTA Awards; End of the Rainbow (2007), which screened at over 20 international festivals and was the winner of eight international awards including IDFA 2008. Other previous credits include Hatred, Ports of Destiny, Chinese Take Away, Bloodlines, National Geographic's Memoirs of a Plague, which screened in competition at IDFA in 2010, and Love and Sex in an Age of Pornography.
From 2002 to 2008, Goldman was Co-Head of Documentary at the Australian Film Television and Radio School (AFTRS). She has also been Co-Chair of the Australian International Documentary Conference and co-founded Ozdox, a monthly forum on documentary culture. Mitzi holds a BA from University of Sydney and a PhD in Cultural Studies and Political Philosophy.
Rubaiyat Hossain (Bangladesh)
Rubaiyat Hossain is one of Bangladesh's handful of female filmmakers, known for her debut feature film Meherjaan (2011), which faced political and cultural wrath in Bangladesh for its anti-war narrative and its critique of masculine nationalism from a feminine point of view. The film won over 20 awards from film festivals around the world including the Audience Award at Northampton Film Festival and Best Narrative Feature at the Los Angeles Movie Awards.
Her second feature Under Construction (2015) premiered at New Directors Showcase at Seattle International Film Festival and was theatrically released in Bangladesh and France. She was awarded many awards including the Emerging Director Award at the Asian American International Film Festival and two at the National Film Awards of Bangladesh. She has also produced several short films and is currently in post-production on her third feature, Made in Bangladesh. Hossain uses a feminist lens to deconstruct the otherwise phallocentric institution of cinema. She currently lives between Shaka and New York making films and attending Tisch School of Arts at New York University in Cinema Studies.
Luke Hetherington (Singapore)
Luke Hetherington is the Executive in Charge of Industrial Light & Magic (ILM) in Singapore and is responsible for all projects in production at the studio and developing regional partnerships, overseeing studio operations, marketing, and bidding on future projects. Hetherington's experience in building high functioning teams plays a critical role in his work at the studio, as does his knowledge of the Asian market.
Prior to joining ILM, Hetherington had 20 years of experience in the animation and visual effects industry. He spent the 17 years at Animal Logic in Australia where he helped lead the company through a period of outstanding growth in roles including Head of Film VFX, Executive Producer, Head of Production, and Head of CG.
His credits include Star Wars: The Last Jedi, Ready Player One, Avengers Infinity War, Monster Hunt 2, Solo: A Star Wars Story, Sucker Punch, Knowing, Stealth, Monk Comes Down the Mountain, Walking with Dinosaurs 3D and the sci-fi television series Farscape. For House of Flying Daggers (2004), directed by APSA 2011 FIAPF Award recipient Zhang Yimou, he was nominated for a BAFTA Award for Best Achievement in Special Visual Effects.
Cultural Diversity International Jury
Khadija Al-Salami (Yemen) – Jury Chair
Khadija is Yemen's first woman filmmaker, and has made some over 25 documentaries for various TV stations in France and Yemen and received several awards at various film festivals worldwide. With Charles Hoots, she has written a book, "The Tears of Sheba," about her experiences growing up in Yemen.  She also wrote the book Nada "la rose de matin". She occupied until 2012 the post of Press Counselor and Director of the Communication and Cultural Center at the Embassy of Yemen in Paris.
Among the awards she received: The Knight of the Order of Arts & Letters awarded by the French Culture Minister Frederic Mitterrand.  Inspiring woman, chosen by the Mosaic Foundation (Washington D.C. Medal of Honor rank of Knight (Chevalier) awarded by the French President Jacques Chirac.
Anthony Krause (UNESCO)
Anthony Krauseis Chief of the Policy and Research Unit in the Section for the Diversity of Cultural Expressions (Culture sector) at UNESCO. He joined UNESCO in 2003 as Executive Officer in the Office of the Director-General (2003-2009), then Chief of the Culture Unit in the Regional Bureau for Science and Culture in Europe (Venice, Italy), responsible for the implementation of culture programmes in South-East Europe (2009-2013). Previously, he was Assistant Professor in contemporary history at the National Institute for Oriental Languages and Civilizations (INALCO, Paris). A former fellow at the Institute for Advanced Studies (Budapest Collegium, Hungary), he is a graduate from the Ecole Normale Supérieure and holder of an Agrégation in History. He earned a Ph.D. in contemporary history from INALCO, Paris, in 2000 and is the author of numerous articles on Hungary and central European history. For the 2018 APSA Cultural Diversity International Jury, Anthony Krause represents UNESCO and is unaffiliated with any one nation.

Mattie Do (Laos)
Born in Los Angeles to recent immigrant parents who left during the communist revolution in Laos, Mattie Do returned to Vientiane in 2010 with her husband and whippet to take care of her retired father. Noting that Lao-language films were scarce and that few featured strong female protagonists or stories, she became determined to make a feature film. At the time, Laos had no functioning filmmaking infrastructure and only one cinema in the capital city. Mattie uses horror and supernatural storytelling to convey messages about women's roles and delicate social issues. In 2012, Mattie debuted her film, Chanthaly, at the Luang Prabang International Film Festival. The film has since become the first Lao film to screen at major festivals in America and Europe. Do's second feature film Dearest Sister was chosen to attend the 2014 Cannes Film Festival as part of the La Fabrique des Cinémas du monde program and was selected as the Laotian entry for the Best Foreign Language Film at the 90th Academy Awards, the first time that Laos has submitted a film for consideration in this category. Do is the first Lao woman to direct a feature film.

Music in Film International Jury
Ryuichi Sakamoto (Japan) – Jury Chair
Born in 1952, Ryuichi Sakamoto was 26 years old when he became a distinguished name in Japanese music as a founding member of the influential Yellow Magic Orchestra (1978-1983). Pioneers in synth-pop, rave and ambient music, the band was lauded around the globe, recording 11 albums in 5 years (the second sold over 1 million copies). He began studies in musical composition at 11 years of age and later studied composition (classical and contemporary) and ethnomusicology at the university.
But to the eyes and ears of filmgoers, especially those outside Japan, Ryuichi Sakamoto seemed to arrive in one fully formed bundle. It came in the soft, languid fusion of orchestra and electronic keyboards in the central theme to his brilliant music for Merry Christmas Mr Lawrence – a soundtrack that seemed everywhere at the 1983 Cannes Film Festival. When the World War 2 drama directed by Nagisa Oshima screened in Competition, audiences were also enthralled to see the Japanese composer playing Captain Yonoi, commander of the prisoner-of-war camp. It was the first of many extraordinarily fruitful collaborations with English producer Jeremy Thomas.
In 1987, he teamed up with Thomas for Bernardo Bertolucci's The Last Emperor, once more as both composer and actor. He played the enigmatic figure of Masahiko Amakasu and contributed another outstanding musical score – earning him an Academy Award® (with David Byrne and Cong Su), a Golden Globe®, a Grammy and the New York, Los Angeles and British Film Critic Associations awards for best original soundtrack.
In 1990, Bertolucci's The Sheltering Sky won Sakamoto his second Golden Globe®. His film scores have included the Japanese version of The Adventures of Milo and Otis (1986), The Handmaid's Tale (1990), High Heels (1991), Wuthering Heights (1992), the television series Wild Palms (1993), Little Buddha (1993), Snake Eyes (1998), Gohatto (1995), Tony Takitani (2004), Women Without Men (2009) and Hara-Kiri: Death of a Samurai (2011). The latter is his most recent work with Jeremy Thomas, a collaboration that has now endured over three decades. His composition "Bibo No Aozara" closed Alejandro González Iñárritu's Babel (2006).
Ryuichi Sakamoto contributed the music for the Barcelona Olympics ("El Mar Mediterrani") and during a career of 46 solo albums, 25 soundtracks and 41 collaborations, he has worked with magical musical figures of his time – Youssou N'Dour, Robbie Robertson, Iggy Pop, Brian Wilson, David Byrne, David Sylvian, David Bowie, Thomas Dolby, writer William S. Burroughs and video artist Nam June Paik. He mounted his own opera LIFE in 1999 with contributions from the Dalai Lama, Pina Bausch, Salman Rushdie, Josep Carreras, Salif Keita and Bernardo Bertolucci.
Sakamoto's world has always been vast: "This global view to the different cultures is just part of my nature. I want to break down the walls between genres, categories, or cultures. Instead of building walls or borders, I always try to combine different things. To me, it's challenging and exciting."
A campaigner against carbon emissions, landmines and nuclear reactors, his website opens with a quotation from a speech he gave last year in Oxford. On Fukushima: "Now that the worst accident in history has awoken us from our deluded slumber to 'use nuclear energy peacefully', the next step is to prove to the world that people and nukes cannot coexist, whether it be for weapons or electricity."
Ryuichi Sakamoto is a man of peace, a man of music, a man of cinema and a deeply committed citizen of the world.
Sneha Khanwalkar (India)
Sneha Khanwalkar is a composer of film scores and music director from India. After making her debut with the war drama The Hope in 2004, she worked on several films before her breakthrough on Go (2007) and Oye Lucky! Lucky Oye! (2008), which won three of India's annual Filmfare Awards. Khanwalkar later made history as just the second woman ever nominated for Best Music Director at the Filmfare Awards for her work on the two-part epic Gangs of Wasseypur (2012). Hers was the first nomination for a female composer in nearly three decades following Usha Khanna in 1983. Gangs of Wasseypur won the 2012 APSA Jury Grand Prize for director Anurag Kashyap.
She has worked on additional popular films including Khoobsurat (2014), Detective Byomkesh Bakshy! (2015), and Manto (2018), which has screened this past year at Cannes, Toronto and Sydney film festivals. She has also hosted the MTV series Sound Trippin' in which she travelled to places like Punjab and Yellapur, collecting ambient sounds and vocals by local musicians to create an original composition that resonates with the location of its origins.
Nigel Westlake (Australia)
Nigel Westlake's career, spanning 4 decades, began as a clarinettist touring Australia and the world with many ensembles. He began composing from 1980, receiving offers to write for radio, theatre, circus, TV and film. His movie credits include Ali's Wedding, Paper Planes, Miss Potter, Babe, Babe: Pig in the City, Children of the Revolution, The Nugget and the IMAX films Antarctica, Imagine, Solarmax and Wild Australia: The Edge.
His television credits include documentaries, telemovies, news themes and station idents. He writes extensively for the concert hall, receiving commissions to write for orchestras, ensembles and soloists. Nigel has received many awards including 2 Arias, 15 AGSC / APRA awards, across both classical and screen categories, the Paul Lowin Orchestral Prize, The Limelight Award and the Gold Medal for Best Original Music at the New York International Radio Festival. In 2004 he was awarded the HC Coombs Creative Arts Fellowship at the Australian National University and holds an honorary Doctorate in Music, awarded by the University of New South Wales in 2012.
He has conducted all the major symphony orchestras in Australia and made his US conducting debut in 2016 at the Lincoln Centre with the New York Philharmonic.
COMPLETE LIST OF 12th ASIA PACIFIC SCREEN AWARD NOMINATIONS
BEST FEATURE FILM
Balangiga: Howling Wilderness
Philippines
Directed by Khavn
Produced by Achinette VILLAMOR, Khavn DE LA CRUZ, Edong CANLAS
Burning
Republic of Korea
Directed by LEE Chang-dong
Produced by LEE Joon-dong, LEE Chang-dong
The Gentle Indifference of the World (Laskovoe Bezrazlichie Mira)
Kazakhstan, France
Directed by Adilkhan YERZHANOV
Produced by Serik ABISHEV, Olga KHLASHEVA
Manta Ray (Kraben Rahu)
Thailand, People's Republic of China, France
Directed by Phuttiphong AROONPHENG
Produced by Mai MEKSAWAN, Philippe AVRIL, Jakrawal NILTHAMRONG, Chatchai CHAIYON
Shoplifters (Manbiki Kazoku)
Japan
Directed by KORE-EDA Hirokazu
Produced by MATSUZAKI Kaoru, YOSE Akihiko, TAGUCHI Hijiri
BEST YOUTH FEATURE FILM
Ava
Islamic Republic of Iran, Qatar, Canada
Directed by by Sadaf FOROUGHI
Produced by Kiarash ANVARI, Sadaf FOROUGHI
Nervous Translation
Philippines
Directed by Shireen SENO
Produced by John TORRES
Passage of Life (Boku no kaeru basho)
Japan, Myanmar
Directed by Akio FUJIMOTO
Produced by Kazutaka WATANABE, Fumito YOSHIDA
The Pigeon (Güvercin)
Turkey
Directed by Banu SIVACI
Produced by Banu SIVACI, Mesut ULUTAŞ
Village Rockstars
India
Directed by Rima DAS
Produced by Rima DAS
BEST ANIMATED FEATURE FILM
Hoffmaniada
Russian Federation
Directed by Stanislav SOKOLOV
Produced by Yuliana SLASHCHEVA, Boris MASHKOVTSEV, Nikolai MAKOVSKY, Sergei STRUSOVSKY
Maquia: When the Promised Flower Blooms (Sayonara no asa ni yakusoku no hana o kazarô)
Japan
Directed by Mari OKADA
Produced by Naoko ENDO, Tomomi KYOTANI, Nobuhiro TAKENAKA, Nobuhiro KIKUCHI 
Mirai (Mirai no Mirai)
Japan
Directed by Mamoru HOSODA
Produced by Yuichiro SAITO, Takuya ITO, Yuichi Adachi, Genki KAWAMURA
On Happiness Road (Hsing Fu Lu Shang)
Taiwan
Directed by SUNG Hsin-Yin
Produced by Sylvia FENG
Rezo (Znaesh', mama, gde ya byl)
Russian Federation
Directed by Leo GABRIADZE
Produced by Timur BEKMAMBETOV
BEST DOCUMENTARY FEATURE FILM
Amal
Egypt, Lebanon, Qatar, France, Germany, Norway, Denmark
Directed by Mohamed SIAM
Produced by Myriam SASSINE, Mohamed SIAM
Gurrumul
Australia
Directed by Paul Damien WILLIAMS
Produced by Shannon SWAN
Of Fathers and Sons
Syrian Arab Republic, Lebanon, Qatar, Germany
Directed by Talal DERKI
Produced by Ansgar FRERICH, Eva KEMME, Tobias N. SIEBERT, Hans Robert EISENHAUER
Of Love & Law
Japan, United Kingdom, France
Directed by Hikaru TODA
Produced by Elhum SHAKERIFAR, Hikaru TODA
Up Down & Sideways (kho ki pa lü)
India
Directed by Anushka MEENAKSHI, Iswar SRIKUMAR
Produced by Manas MALHOTRA
ACHIEVEMENT IN DIRECTING
Nadine LABAKI for Capharnaüm
Lebanon
Bruce BERESFORD for Ladies in Black
Australia
Emir BAIGAZIN for The River (Ozen)
Kazakhstan, Norway, Poland
KORE-EDA Hirokazu for Shoplifters (Manbiki Kazoku)
Japan
Ivan AYR for Soni
India
BEST SCREENPLAY
Payman MAADI for Bomb, A Love Story (Bomb, Yek Asheghaneh)
Islamic Republic of Iran
OH Jung-mi, LEE Chang-dong for Burning
Republic of Korea
Adilkhan YERZHANOV, Roelof Jan MINNEBOO for The Gentle Indifference of the World (Laskovoe Bezrazlichie Mira)
Kazakhstan, France
KORE-EDA Hirokazu for Shoplifters (Manbiki Kazoku)
Japan
Dan KLEINMAN, Sameh ZOABI for Tel Aviv on Fire
Israel, Belgium, France, Luxembourg
ACHIEVEMENT IN CINEMATOGRAPHY
Saumyananda SAHI for Balekempa
India
Hideho URATA for A Land Imagined
Singapore, France, Netherlands
Nawarophaat RUNGPHIBOONSOPHIT for Manta Ray (Kraben Rahu)
Thailand, People's Republic of China, France
Chaiyapruek CHALERMPORNPANIT for Malila: The Farewell Flower
Thailand
ZHANG Miaoyan, XU Zhiyong for Silent Mist
People's Republic of China, France
BEST PERFORMANCE BY AN ACTRESS
ZHAO Tao for Ash is Purest White (Jiang hu er nv)
People's Republic of China, France
Samal YESLYAMOVA for Ayka
Russian Federation, Kazakhstan, People's Republic of China, Germany, Poland
Rooney MARA for Mary Magdalene
Australia, United Kingdom
Damla SÖNMEZ for Sibel
Turkey, France, Germany, Luxembourg
Laura KOROLEVA for Sveta
Kazakhstan
BEST PERFORMANCE BY AN ACTOR
Zain AL RAFEEA for Capharnaüm
Lebanon
Karim MIRKHADIYEV for Fortitude (Sabot)
Uzbekistan
Nawazuddin SIDDIQUI for Manto
India
Akylbek ABDYKALYKOV for Night Accident (Tunku Kyrsyk)
Kyrgyzstan
Bahman FARMANARA for Tale of the Sea (Hekayat-e Darya)
Islamic Republic of Iran
CULTURAL DIVERSITY AWARD UNDER THE PATRONAGE OF UNESCO
Ala Changso
People's Republic of China
Directed by Sonthar GYAL
Produced by Yungdrung GYAL
Balangiga: Howling Wilderness
Philippines
Directed by Khavn
Produced by Achinette VILLAMOR, Khavn DE LA CRUZ, Edong CANLAS
The Lord Eagle (Toyon Kyyl)
Russian Federation
Directed by Eduard NOVIKOV
Produced by Dmitrii SHADRIN
Memories of My Body (Kucumbu Tubuh Indahku)
Indonesia
Directed by Garin NUGROHO
Produced by Ifa ISFANSYAH
The Taste of Rice Flower (Mi Hua Zhi Wei)
People's Republic of China
Directed by Pengfei
Produced by Pengfei, LIU Jing, Rebecca HO
BEST ORIGINAL SCORE
Eléni KARAÏNDROU for Bomb, A Love Story (Bomb, Yek Asheghaneh)
Islamic Republic of Iran
Harry GREGSON-WILLIAMS for Breath
Australia
Hildur GUÐNADÓTTIR, Jóhann JÓHANNSSON for Mary Magdalene
Australia, United Kingdom
Ryan CAYABYAB for The Portrait (Ang Larawan)
Philippines
Omar FADEL for Yomeddine
Egypt
Back to news