Tuesday, 21 September 2010
•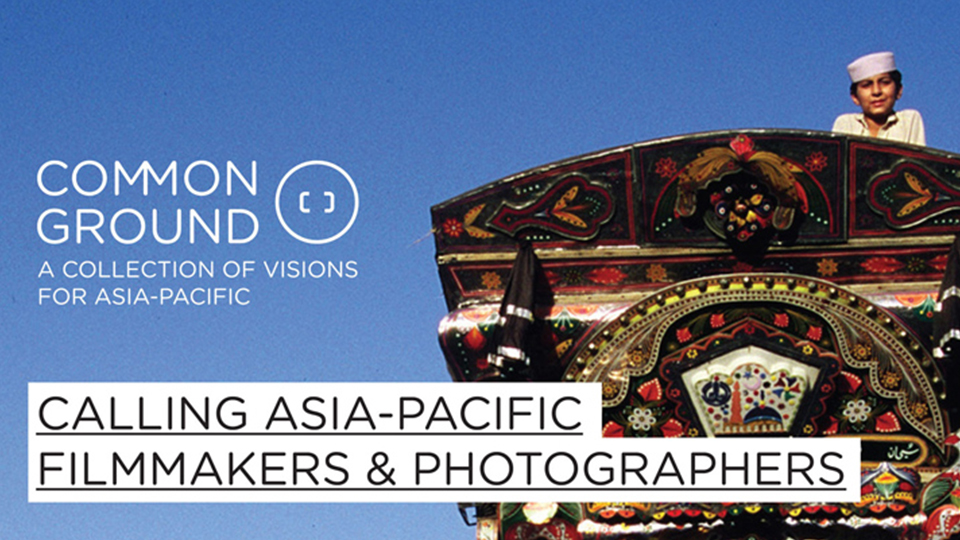 The Asia Pacific Screen Awards (APSA) and Unlimited: Designing for the Asia Pacific have announced Common Ground, a collaborative project which will identify, exhibit and promote creative talent from across Asia-Pacific.
Individuals are invited to submit self-produced, self-funded videos or photographs which explore how creativity is changing their personal world. Selected works will be exhibited online during the first Asia Pacific Design Triennial 'Unlimited' during October 2010, and in the lead up to the fourth annual APSA Ceremony on December 2.
Common Ground invites individuals to show how creativity is adding value to their daily life: shaping communities and schools; preserving traditions; designing homes and cities; helping people adapt to challenging  situations; telling personal stories. Entries Open September 21. Common Ground is proudly supported by Portable TV, an online channel that explores film, music and art through online video and the creators of the  Portable Film Festival.
APSA Chairman Des Power said: "Creative thinking often lies at the heart of instigating positive social, economic and environmental outcomes for the future. Film, photography, writing, design, craft, architecture and  homegrown ingenuity allow us all to find positive solutions and pathways forward."
"I am very pleased to see the first Asia Pacific Design Triennial, Unlimited, launch their program tonight and to collaborate with them on Common Ground. Here in Queensland we are fortunate to be the home of several  cultural initiatives which engage with Asia Pacific in a truly unique and meaningful way."
"As well as APSA and the Asia Pacific Design Triennial, Queensland is also home to the internationally regarded Asia Pacific Triennial, held at Brisbane's Gallery of Modern Art, so we are creating many opportunities to encourage creative thinking and forge links with Asia Pacific."
In announcing the initiative at the official launch of Unlimited: Designing for the Asia Pacific this evening, Creative Director, Ewan McEoin said: "Creativity is a common strength of humanity – a force that creates value and opportunity, a force to be respected and valued. This idea is at the heart of Unlimited and Common Ground."
"As we launch our inaugural program, we are delighted to collaborate with the Asia Pacific Screen Awards to tell more stories from this vast and creative region."
Common Ground invites filmmakers, photographers and creative thinkers to contribute a piece to this creative story by uploading a video or photograph into the Common Ground gallery.
One filmmaker and one photographer will be selected as 2010 Common Ground Winners, and will be featured in an online profile and interview for Common Ground and APSA – an acknowledgement of the creative talent of the artist and a platform to share their story. Common Ground is an ongoing project. The first round of entries will close on October 30th, 2010 but submissions will continue to be received on an ongoing basis. An estimated 40,000 people are expected to view the work online over the life of the program.
APSA is an international cultural initiative of the Queensland Government through Queensland Events Corporation in partnership with UNESCO and FIAPF-International Federation of Film Producers Associations. APSA  honours the works of filmmakers across a region covering 70 countries, one third of the earth and half the world's film output. Films are judged on cinematic excellence and the way in which they attest to their cultural origins. The fourth annual APSA Ceremony will take place on Australia's Gold Coast on December 2.
Unlimited: Designing for the Asia Pacific is a new international event supported by the Queensland Government that connects design thinkers with community, government, education and industry leaders to find creative solutions for the big picture challenges in our region. Every three years Unlimited will host a week-long event in Brisbane with public workshops, exhibitions, talks, a business symposium, and a series of master classes and youth events.
Unlimited is supported by an online portal that brings together regional curators and collaborators, and documents and disseminates key ideas, solutions and propositions. The inaugural event will take place in Brisbane on 4–10 October.
Entry details and Terms and Conditions are available at: www.unlimitedap.com/commonground
Back to news