Thursday, 27 November 2008
•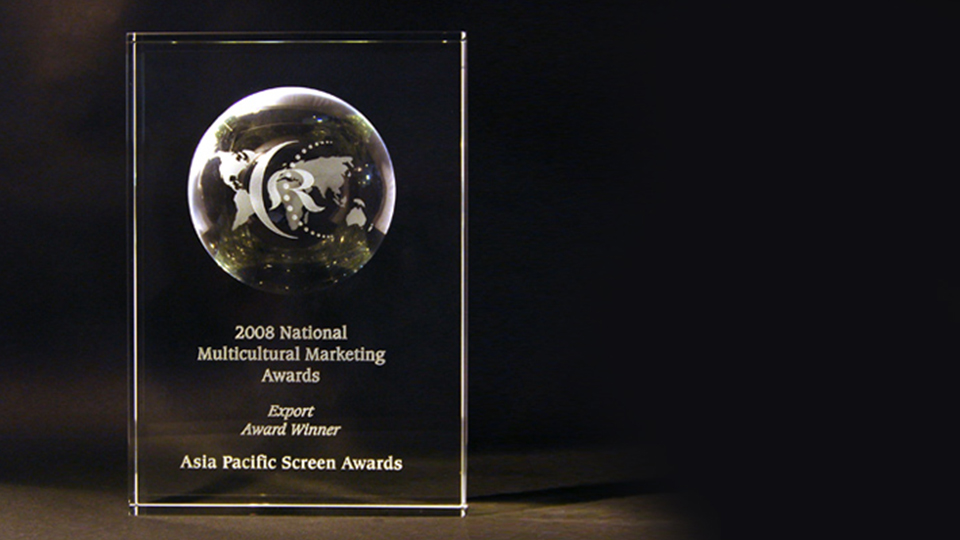 The Asia Pacific Screen Awards has been announced as the winner of the Export Category of Australia's National Multicultural Marketing Awards.
The National Multicultural Marketing Awards encourage and reward the efforts of businesses and organisations that focus on the cultural diversity of Australia in their overall marketing strategies.
The awards promote best practice in marketing. Organisations recognised by the awards are regarded as leaders in the industry and role models in seizing business opportunities through inclusive marketing.
In accepting the award, Asia Pacific Screen Award's Head of Marketing Sharyn Sawyer said the organisation was delighted to be recognised in just its second year.  The second annual Asia Pacific Screen Awards were held on November 11.
"Two weeks ago, in a special ceremony on Australia's Gold Coast, the international film world celebrated the outstanding works of filmmakers from across the Asia-Pacific – a vast and culturally diverse region of 70 countries and four billion people.
"We were joined by finalists from 17 countries, and some 550 guests, in acknowledging the enormous depth of talent from a region now responsible for half the world's film output.
"Through the awards, and a series of globally broadcast television documentaries, it is our aim to magnify the vital role of film in promoting understanding, and its role in the preservation of cultural diversity.
"On a commercial level, we aim to stimulate dialogue and business opportunities with our neighbours of Asia-Pacific – the emerging powerhouse of film.
"The entire team at the Asia Pacific Screen Awards make tremendous individual contributions and this award is a wonderful recognition of their efforts."
The Asia Pacific Screen Awards, the region's highest accolade in film, is a cultural initiative of the Queensland Government through Queensland Events, in collaboration with CNN International, UNESCO and FIAPF – International Federation of Film Producers Associations.  The Asia Pacific Screen Awards – the APSAs – acclaim, at a global level, the cinematic excellence and cultural diversity of the vast Asia-Pacific region.
The National Multicultural Marketing Awards announcements were made on Tuesday evening, 25 November, at the Westin Hotel Sydney in the presence of more than 400 distinguished guests. Already in their 19th year, the awards represent the hallmark of recognition of multicultural marketing in Australia.
Back to news