Friday, 12 December 2014
•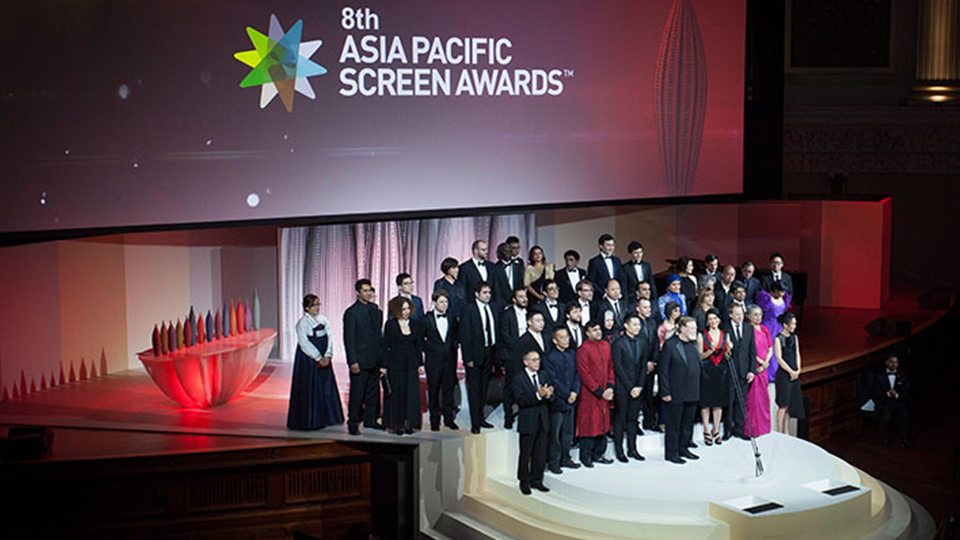 The star-studded 8th Annual Asia Pacific Screen Awards (APSA) held in Brisbane's City Hall last night attracted international attention.
Highly regarded US entertainment bible Variety gave the city and the awards a glowing report card.
"The move has cemented the show in Brisbane, which sees itself as a cultural centre and Australia's gateway to Asia, and given the show an air of permanence that contrasts with other awards shows in the Asia Pacific region," Variety reported.
"With the backing of the city and top-up funding from local business, the APSAs have flourished.
"Lightning-aside, they are now an impressively well-run affair, with live web feeds, and a behind-the-scenes documentary, swanky receptions in the City Hall and among the exhibits of the Gallery of Modern Art."
A cracking storm, lightning strike and temporary power failure didn't dampen the spirits of guests or nominees. If anything it brought everyone closer together, the hosts joking with each other as the show went on … in style.
It is the second year the APSAs have been held in Brisbane, a location increasingly seen as a centre for cultural events and Australia's gateway to Asia.
This year's winners are from a total of nine different countries and areas of the vast Asia Pacific region. Russian film Leviathan won the Asia Pacific Screen Award (APSA) for Best Feature Film.
Best Performance by an Actor went to New Zealand's Cliff Curtis for The Dark Horse. Iconic Australian actor David Gulpilil received a Special Mention for Charlie's Country.
Best Performance by an Actress was awarded to Lü Zhong for Red Amnesia (People's Republic of China).
Uplifting moments during the ceremony included overwhelming audience acclaim for popular indigenous actor Gulpilil and an emotional response to Merila Zareie, who spoke of Iran's peace-loving people and the suffering of mothers as she accepted a Special Mention in the Best Actress category.
In 2014, 36 films from 21 Asia-Pacific countries and areas received APSA nominations. Over 250 films were considered in competition from 42 countries.
The APSAs truly enhance Brisbane's cultural relationship with its regional neighbours and strengthen its position in the Asia Pacific market.
Read more for yourself here:
Variety
Hollywood Reporter
Brisbane Times
Sydney Morning Herald
Xinhuanet
Back to news