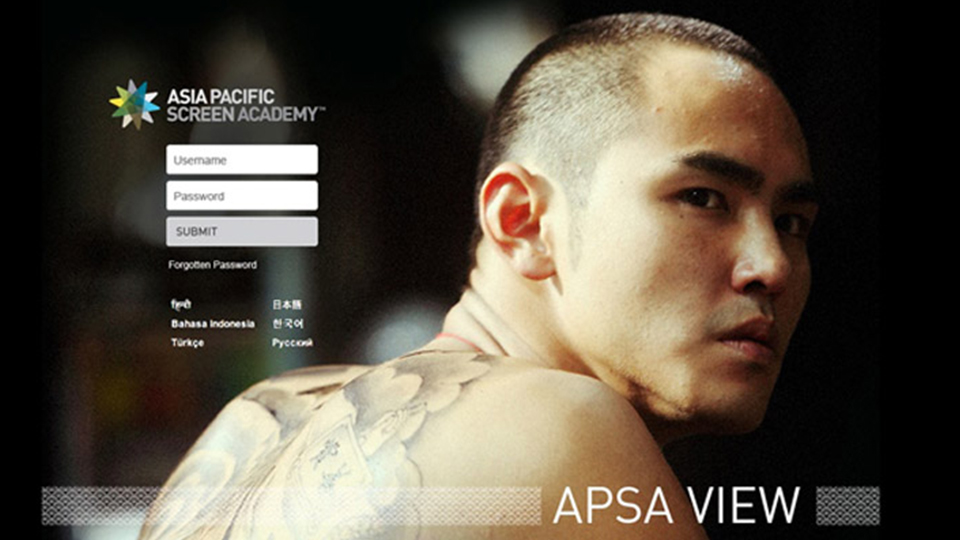 The Asia Pacific Screen Awards today launched its online viewing platform APSA View, for APSA Academy members to view and vote in selected categories of the fifth annual Awards.
In 2011, Asia Pacific Screen Awards (APSA) Academy members will, for the first time, have the opportunity to vote.
With APSA View now live, Academy members are invited to begin the process of viewing and voting.
Past Jury, Nominations Council, Documentary and Animation Academy members will determine the nominees and winners for Best Animated Feature Film and Best Documentary Feature Film in the 2011 competition.
Children's Feature Film Academy members will, along with past Jury and Council, decide on the nominees for Best Children's Feature Film with the winner in that category to be determined by the International Jury ahead of the fifth annual APSA Ceremony on November 24.
Documentary filmmaker and APSA Academy member Mai Masri is urging her fellow Academy members to take this opportunity to watch films entered in the Awards and exercise their voting rights.
"Winning the Asia Pacific Screen Award for Best Documentary Feature Film in 2007 for Beirut Diaries: Truth, Lies and Video was a very meaningful accolade and one I value greatly. I have watched with pride as the Awards have grown in stature around our region and applaud this important step which now allows Academy members, such as myself, to embrace the responsibility of Academy voting rights," Ms Masri said.
APSA View utilises state-of-the-art technology developed by APSA with highly respected international companies Cisco and The Media Architects to enable the viewing and judging process.
Academy members view and vote on eligible films using e.v.e – enhanced video encryption – a unique online screening platform developed by Brisbane-based digital media development firm The Media Architects. The e.v.e application will allow members to easily and securely watch eligible films wherever they are in the world.
The Nominations Council will also view eligible films through the online viewing service and their deliberations will take place using Cisco TelePresence – high quality, life-like video conferencing technology. Council members across five countries will be brought together by Cisco to deliberate on films and determine the nominees without leaving their home city.
The Nominations Council is chaired once again by filmmaker and academic Professor Hong-Joon Kim (Republic of Korea) and the 2011 Council members are Russell Edwards (Australia), Yuka Sakano (Japan), Jeannette Paulson Hereniko (Hawaii, USA), Peggy Chiao (Taiwan) and Philip Cheah (Singapore). APSA Chairman Des Power and Artistic Director Maxine Williamson will also participate in the process.
APSA's Academy was established in 2008 to encourage dialogue, collaboration and business opportunities for the region's filmmakers. It also provides a platform to foster opportunities for co-productions and other initiatives to develop between the 70 countries and areas that form the APSA network.
All APSA Nominees, Winners, Jury and Nominations Council members are inducted into the Academy – the most respected names in film from the region and some from outside it, including Jury members and producers from Europe, the UK and the US. There are currently 389 members, increasing by around 100 each year as new Nominees and Jury members are inducted.
The fifth annual APSA Ceremony will take place on Australia's Gold Coast on November 24, 2011. Nominees will be announced October 12.
Back to news