Friday, 10 February 2023
•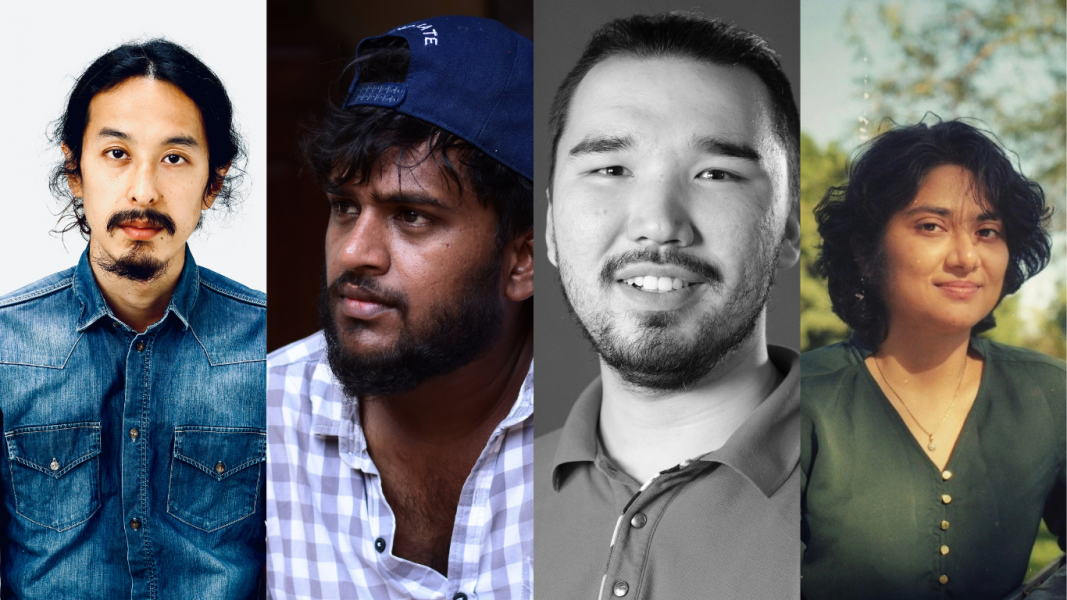 In its first face-to-face sessions since 2019, the eighth Asia Pacific Screen Lab (APSLab), an initiative of the APSA Academy in association with Griffith University, Griffith Film School and NETPAC, is successfully underway following a five day international development workshop in Singapore last week.
The successful new participants, chosen from a wide field of incredibly strong submissions are Yoshimasa Jimbo (Japan), Deyali Mukherjee (India), Amir Amenov (Kazakhstan) and Sobanasivan Velrajah (Sri Lanka), all of whom are developing feature length projects set in their respective countries.
The highly successful programme offers emerging feature filmmakers of the Asia Pacific a tailor made, year-long immersive development programme to further their project, helping them make the move to working in a broader international framework.
Now in its eighth year, the Asia Pacific Screen Lab has doubled its intake, and forged a new relationship with Film Schools Without Borders to support emerging filmmakers from countries without established film schools.
Successful participants are matched carefully with a mentor who is a member of the prestigious Academy of the Asia Pacific Screen Awards (APSA).
The mentors, participants and industry experts gathered at Singapore's inspirational Temenggong Artists-In Residence, a not-for-profit arts charity designed to foster cross-cultural exchange, to begin the programme:
APSLab Recipients and Mentors:
Recipient: Yoshimasa Jimbo (Japan)
Mentor: Director/Producer Akiva Tevet (Israel)
Project: Feature Documentary Blissfully, Cidery
Recipient: Deyali Mukherjee (India)
Mentor: Director Vimuktthi Jayasundara (Sri Lanka)
Project: Feature Notun Gur (A New Sweetness)
Recipient: Amir Amenov (Kazakhstan)
Mentor: Writer/Producer Jeremy Chua (Singapore)
Project: Feature Warm Night, Cold Beer
Recipient: Sobanasivan Velrajah (Sri Lanka)
Mentor: Auteur Prasanna Vithanage (Sri Lanka)
Project: Feature FilmKaker
Attending Experts:
Acclaimed Malaysian Director U-Wei Haji Saari (Malaysia)
Renowned Producer Fran Borgia (Singapore)
Screenwriting expert Pavel Jech (USA)
At the end of their year-long incubation, graduating participants will be nearing funding-ready stage and will pitch to a high-profile industry jury of sales agents, producers and festival programmers.
The event was also attended by Herman Van Eyken, Chair of the CILECT Asia Pacific Association, Philip Cheah, (Advisor to NETPAC), Ki Yong Park (Founder Asian Film Academy) and Anne Demy-Geroe (Vice-President NETPAC) who, with the support of NETPAC (Network for the Promotion of Asia Pacific Cinema), the Sun Foundation, and the Asia Pacific Screen Academy have worked assiduously since 2010 towards the development of the Asia Pacific Screen Laboratory (APSLab).
Of the week, PARK Kiyong, Chairperson, KOFIC said: "Filmmaking is all about creativeness, and creativity heavily relies on the space. Temenggong is a perfect place for Asia Pacific Screen Lab workshop as the artistic atmosphere it provides makes you even more creative."
Herman Van Eyken said 'There is nothing like the creative energy that can come from putting the right people together in a room to collaborate, and it was thrilling to finally be able to do so again, and in such a special location. The workshop was hugely successful and we look forward to the continued development of the emerging talent of the region and their projects. This year, as part of a new Film Schools Without Borders initiative, the Lab is also pleased to see the active participation – both by mentees and mentors – from countries where there are as yet no established film schools.'
The Asia Pacific Screen Lab is a year-long immersive development program in conjunction with APSA Academy, Griffith University, Griffith Film School and NETPAC, with the framework of Film Schools Without Borders. Support of John Kirby AM and family of the Sun Foundation gratefully acknowledged. Applications were considered by a panel featuring Herman Van Eyken, Park Ki-yong, Anne Démy-Geroe, Taema Mahinui and Vimukthi Jayasundara.
Back to news