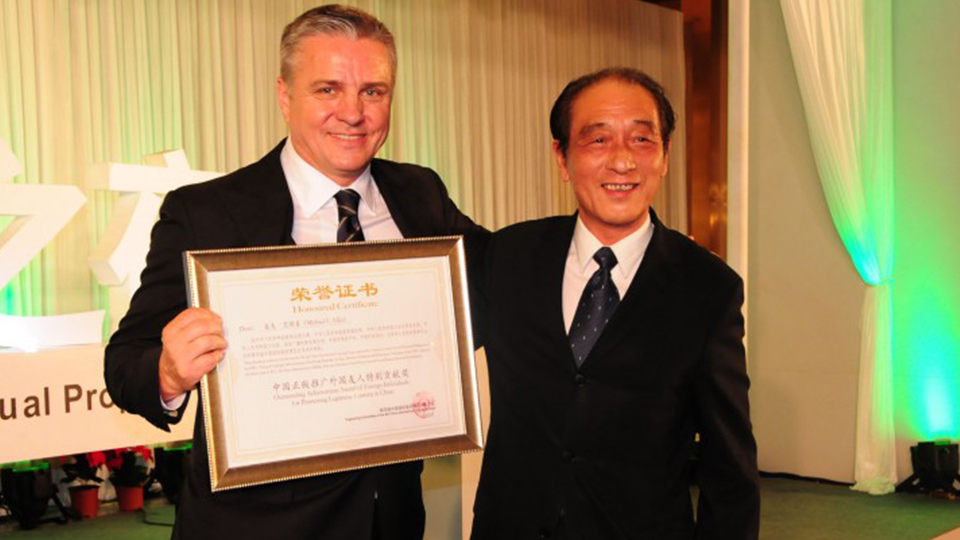 Chinese government recognises MPA contribution towards copyright protection in China
On June 24, Mike Ellis, the President and Managing Director Asia Pacific of the Motion Picture Association (MPA) was presented with an Award for making a significant contribution to IPR protection in China.
The presentation was made at the annual Jinhui Awards, which recognises the contribution made by companies and individuals to the successful protection of IPR and copyright trade in China.
The Awards took place on the final day of the fourth China International Copyright Expo (CICE) in Beijing. This year, in addition to awards being presented in three categories comprising copyright protection, creativity and organizational works, a new Award entitled Outstanding Achievement Award of Foreign Individuals for Promoting Legitimate Content in China, was presented to Mike Ellis.
Presenting the Award, Zhu Yongde, Chairman of the China Film Copyright Association, said, "We can't think of a more ideal recipient to receive this inaugural Award at the annual China International Copyright Expo which is now the largest of its kind in Asia dedicated exclusively to copyright. This Award reflects the positive changing landscape of copyright protection in China today and for that, Mr. Ellis should be recognised for his outstanding contribution."
On receiving the Award, Mike Ellis said, "I thank the China International Copyright Expo for this Award which I accept on behalf of the MPA and the film community for their significant contribution to content protection and the promotion of copyright business in China."
The Jinhui Awards was attended by over 300 government and IPR representatives including Yan Xiaohong, Vice Minister of the National Copyright Administration of China (NCAC) and representatives of the World Intellectual Property Organization (WIPO) Beijing Diplomatic Conference on the Protection of Audiovisual Performance.
Back to news