Thursday, 20 March 2014
•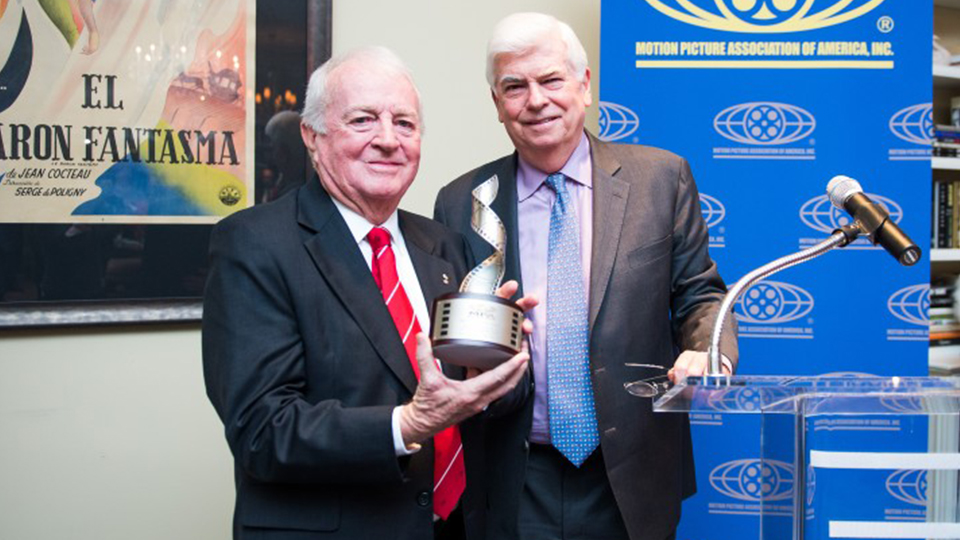 The Motion Picture Association of America (MPAA) and The Hon Kim Beazley AC, Australian Ambassador to the United States of America, will tonight honour the Asia Pacific Screen Awards (APSA) and its founding Chairman Des Power AM at a reception in Washington DC.
APSA Executive Chairman Michael Hawkins said the evening would include a screening of No Burqas Behind Bars which won Best Documentary at the Paris International Film Festival in February and was nominated for the APSA Best Documentary Feature Film in 2013.
"In his role as founding Chairman of the Asia Pacific Screen Awards Des Power showed great vision," Mr Hawkins said.
"He was the driving force behind the development of the awards and the global partnerships with UNESCO and FIAPF – International Federation of Film Producers Associations.
"Since their establishment in 2007, the APSA's have built a global reputation for recognising and rewarding the best films and filmmaking talent in the Asia Pacific.
"The MPA (the international arm of the MPAA in Asia Pacific) has partnered with APSA since 2010 in the MPA APSA Academy Film Fund which provides development funding for new feature film projects across the Asia Pacific.
"The Fund provided $US25,000 to Swedish-based Iranian documentary filmmaker Maryam Ebrahimi to make her documentary No Burqas Behind Bars which was shot in an Afghani women's prison in 2011."
Des Power is an award-winning filmmaker, a writer, former journalist and foreign correspondent and chairman of a number of prominent boards in the film and events industries in Australia. In 2006, he received an Order of Australia for his services to tourism, film, broadcasting and the community.
The head of the Queensland Events Corporation for 11 years, he is currently creative director on a symphony commissioned by the Department of Veterans Affairs for the 100th anniversary of the Anzac landing on Gallipoli, Turkey.
Lord Mayor Graham Quirk said Mr Power remained involved with the awards through his participation on the APSA Advisory Board alongside other Board members Geoff Rodgers and Harvey Lister.
"Des Power really put Australia on the global film map through his work in creating the Asia Pacific Screen Awards and this honour is a thoroughly deserved recognition of that," he said.
"His legacy has seen the awards become the Asia Pacific's highest accolade in film."
The 8th Asia Pacific Screen Awards presented by Treasury Hotel & Casino will be held on Thursday 11 December 2014 in City Hall.
For more information on the awards visit www.asiapacificscreenawards.com
The Awards, supported by Brisbane City Council and managed by economic development board Brisbane Marketing in a unique collaboration with Paris-based UNESCO and FIAPF International Federation of Film Producers Associations, recognise and promote cinematic excellence and cultural diversity of the world's fastest growing film region: comprising 70 countries and areas, 4.5 billion people, and responsible for half of the world's film output. In 2013, 39 films from 23 countries and areas received award nominations.
Back to news