Wednesday, 18 November 2009
•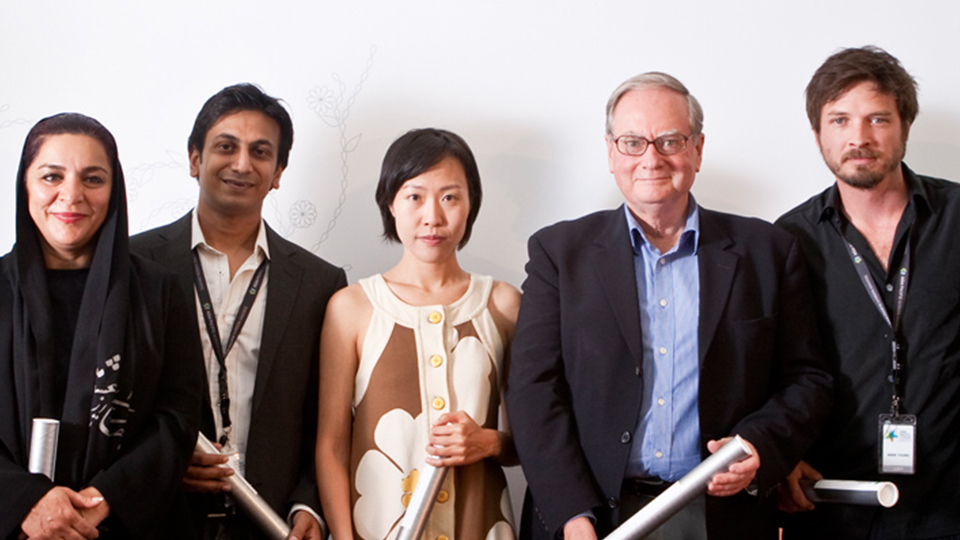 The International Jury for the 2009 Asia Pacific Screen Awards (APSA) commence deliberations on Australia's Gold Coast today, marking the beginning of a week of screenings and deliberations to determine the winners in the third annual APSAs. The final appointments to the Jury include two Australian film identities, Andrew Pike and Aden Young.
Andrew Pike is a film historian and documentary filmmaker, a producer, film distributor and exhibitor widely known for introducing Australian audiences to Asian cinema in the 1980s.
Aden Young is an accomplished actor, writer and director, seen most recently in the smash hit Mao's Last Dancer, directed by APSA's 2008 Jury President, Bruce Beresford. Aden recently completed shooting Julie Bertuccelli's The Tree, opposite Charlotte Gainsbourg.
They join Tahmineh Milâni (Islamic Republic of Iran), Pryas Gupta (India), Gina Kim (Republic of Korea) and Jury President, Huang Jianxin (People's Republic of China).
Thirty-seven films from 16 countries and areas are vying for the region's highest accolade in film. Winners will be announced in a ceremony on the Gold Coast next week on November 26 attended by the nominees and more than 700 film industry luminaries.
APSA Chairman Des Power said today: "I am pleased to welcome this outstanding group of filmmakers to the Gold Coast and thank them for their time and dedication to the task ahead. The 37 films in competition this year are a superb representation of the talent and creativity of our diverse region. I trust that the Jury's collective breadth of experience will assist them in the difficult task of choosing winners in the 2009 APSA's."
Australia's David Williamson regrettably stepped down from the 2009 Jury due to a scheduling conflict but looks forward to participating in APSA in future years. Feroz Abbas Khan is replaced by India's Pryas Gupta, recipient of the 2008 APSA Grand Jury Prize for his debut feature, The Prisoner. Feroz Abbas Khan was appointed by The Government Of India to produce and direct a commemoration event in Delhi, for the Victims of Terror which required him to remain in India in the lead up to the event.
On accepting his jury appointment, Andrew Pike said: "This is a tremendous honour and I look forward to working with my fellow jury members and Jury President Huang Jianxin. I have fond memories of Huang Jianxin's visit to Australia in the 1980s when we released his first feature, a savage political satire called The Black Cannon Incident, a film that went on to be selected by the Hong Kong Film Awards as one of the 'Greatest 100 Films in the last 100 years'. He is a gifted filmmaker, especially of irreverent comedies, and is a distinguished figure in Asian cinema".
APSA honours the works of filmmakers across a region covering 70 countries, one third of the Earth and half the world's film output. Films are judged on cinematic excellence and the way in which they attest to their cultural origins.
Back to news