Wednesday, 10 November 2010
•
More than 40 submissions from across Asia Pacific have been received for the inaugural MPA APSA Academy Film Fund with final numbers to be confirmed as submissions arrive in Australia over the coming week. Projects submitted by APSA Academy members from 17 countries including Armenia, Australia, India, Islamic Republic of Iran, Philippines, Fiji, Lebanon, Japan, Israel, People's Republic of China, Singapore and New Zealand are to be considered for the US$100,000 script development fund which was formed earlier this year by the Motion Picture Association (MPA) and the Asia Pacific Screen Awards (APSA).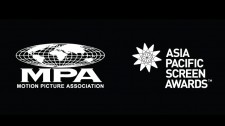 Four grants, of US$25,000 each, will be allocated to the script development of four new projects. A member of the APSA Academy must be attached to the project in one of the key roles of: Producer, Director, Screenwriter, Actor, Actress or Cinematographer. The APSA Academy is a body of filmmakers comprised of past APSA nominees, winners, Jury and Nominations Council members – among them many of the region's most respected names in film.
Commenting on the close of submissions today, MPA President and Managing Director Asia Pacific, Mike Ellis, said: "The number of submissions illustrates the enthusiasm with which this initiative has been embraced by the Asia Pacific filmmaking community and the critical importance of developing creative pathways to develop production-ready scripts. All of us involved in this project are looking forward to seeing the gems that will be unearthed through the fund."
Mr Ellis also announced today that joining Ronin Films Managing Director Andrew Pike, Chair of the film fund judging panel, will be APSA Award-winning Korean producer Hanna Lee, producer for 2007 APSA Best Feature Film Miryang (Secret Sunshine) and a member of APSA's International Jury in 2008; and Australian-Chinese writer, director, actor and producer Pauline Chan, best known for her feature film Traps and director of the new Australian-Chinese co-production Mei Mei, currently in post-production.
APSA Chairman Des Power said: "APSA is committed to finding new ways to build business opportunities and creative partnerships between filmmakers of Asia Pacific. The MPA APSA Academy Film Fund is of consequence in that it provides significant finance and real opportunities for the development of exciting new films. Since we announced the Fund, we've also seen around 100 filmmakers join the online APSA Networking Forum to engage in dialogue with their peers, share ideas and explore partnerships.
"I am delighted with the response to our inaugural funding round which also includes submissions from our newest Academy members, the 2010 Nominees."
All APSA nominees are automatically inducted into the APSA Academy whose Patron is Australian acting legend Jack Thompson.
The inaugural recipients will be announced at the fourth annual Asia Pacific Screen Awards Ceremony, which will take place in Australia on Queensland's Gold Coast on December 2, 2010.
31 films from 15 countries and areas are nominated in the APSA's with Best Feature nominees coming from Republic of Korea, Taiwan, Turkey and People's Republic of China. This year, Academy-Award winning producer Lord David Puttnam will head the International Jury to determine the Asia Pacific Screen Award winners. The Awards Ceremony will be webcast live through www.asiapacificscreenawards.com.
APSA is an international cultural initiative of the Queensland Government, Australia, in unique collaboration with UNESCO and FIAPF-International Federation of Film Producers Associations which acclaims films from 70 countries and areas; one third of the earth; and half the world's film output.  Films are judged on cinematic excellence and the way in which they attest to their cultural origins.
The MPA APSA Academy Film Fund is supported by the Motion Picture Association, the organisation representing the interests of major motion picture companies in the global marketplace. The MPA promotes and protects its member companies' intellectual property rights and conducts education outreach programs to highlight to movie fans around the world the importance of content protection. These activities have helped to transform entire markets benefiting everyone in the film industry, both foreign and local filmmakers. It's member companies include: Paramount Pictures Corporation, Sony Pictures Entertainment Inc, Twentieth Century Fox Film Corporation, Universal City Studios LLLP, The Walt Disney Studios, and Warner Bros. Entertainment Inc. For more information about the MPA, please visit www.mpa-i.org
Back to news