Motion Picture Association (MPA) President and Managing Director Asia Pacific, Mike Ellis announced this evening that Ronin Films Managing Director Andrew Pike will sit on the judging panel for the inaugural MPA APSA Academy Film Fund.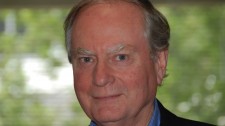 The announcement was made from the Australian International Movie Convention (AIMC) on Australia's Gold Coast where Mr Ellis reported that in just two weeks a strong calibre up of submissions had already been received for consideration in the US$100,000 script development fund which was formed earlier this year in partnership with the Asia Pacific Screen Awards (APSA).
Mr Ellis said: "The submission period for the MPA APSA Academy Film Fund commenced on July 30 and we have already received projects from renowned film practitioners in Iran, Japan, Russian Federation, China, Australia, Israel, New Zealand and India with more to come," Mr Ellis said.
"I am delighted that Andrew Pike has joined our inaugural assessment panel. His extensive experience as a distributor, exhibitor and a filmmaker in his own right along with his vast knowledge of Asian cinema will bring a wealth of experience to the task of assessing the projects submitted for the fund."
"Our aim in establishing the MPA APSA Academy Film Fund with our friends at APSA is to contribute to the development of a vibrant creative community here in Asia Pacific. The strong response we have received this early in the submission process confirms that we have created something of value to the region."
Four grants, each of US $25,000, will be allocated to the script and project development of four new projects. Applicants must be members of the APSA Academy, a body of filmmakers comprised of past APSA nominees, winners, Jury and Nominations Council members – many of the region's most respected names in film.
The inaugural recipients will be announced at the fourth annual Asia Pacific Screen Awards Ceremony which will take place in Australia on Queensland's Gold Coast on December 2, 2010.
APSA Chairman Des Power said: "I am thrilled to see the extremely positive response to the film fund from our Academy members. I commend the MPA on their contribution to the region's filmmakers. Their commitment will go a long way to support current and previous APSA nominees in the development of first class screenplays, and in doing so we will see the production of exciting new films destined for our cinema screens. I thank Andrew Pike for joining our inaugural panel and look forward to welcoming him back to the Gold Coast for the APSA Ceremony week later in the year."
APSA Academy member Warwick Thornton, the writer, director and cinematographer of 2009 APSA Best Feature Film winner, said: "It was a real honour to be recognised alongside filmmakers from Asia-Pacific when Samson & Delilah won the Award for Best Feature Film at last year's APSA's. The new script development fund created by the MPA and APSA will provide a wonderful opportunity for filmmakers to develop a really great script, which is so important of course to making a really great film."
All APSA nominees are automatically inducted into the APSA Academy. Nominees in the fourth annual APSA's will be announced early October with the film fund submission period closing on October 30 so newly inducted Academy members will have one month to submit for the fund.
An international cultural initiative of the Queensland Government, Australia, APSA honours the works of filmmakers across a region covering 70 countries, one third of the earth and half the world's film output. Films are judged on cinematic excellence and the way in which they attest to their cultural origins.
The MPA APSA Academy Film Fund is supported by the Motion Picture Association, representing the interests of major motion picture companies in the global marketplace. The MPA promotes and protects its member companies' intellectual property rights and conducts education outreach programs to highlight to movie fans around the world the importance of content protection. These activities have helped to transform entire markets benefiting everyone in the film industry, both foreign and local filmmakers. It's member companies include: Paramount Pictures Corporation, Sony Pictures Entertainment Inc, Twentieth Century Fox Film Corporation, Universal City Studios LLLP,  The Walt Disney Studios, and Warner Bros. Entertainment Inc. For more information about the MPA, please visit www.mpa-i.org
Back to news