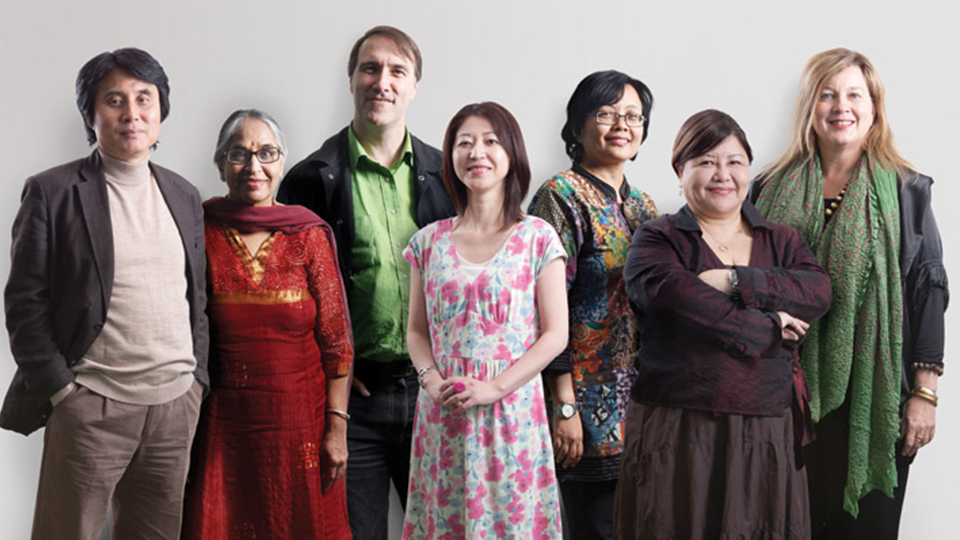 The Asia Pacific Screen Awards (APSA) today announced members of the 2010 APSA Nominations Council, comprising international film industry experts from eight countries drawn from high profile academic institutions, film festivals and film organisations across Asia-Pacific. The 2010 Council chaired by Professor Hong-Joon Kim (Republic of Korea) includes two new members: producer/director Nan Achnas (Indonesia) and producer/author Peggy Chiao (Taiwan).
Entries open today for the competition, now in its fourth year. Films from a vast range of countries including Cambodia, Japan, India, Turkey, Republic of Korea, Cambodia, Islamic Republic of Iran, Russian Federation, Kyrgystan and New Zealand will submit films to compete for the region's highest accolade in film, to be presented at the fourth annual APSA Ceremony on Australia's Gold Coast on December 2, 2010.
Fifty-one Official Submitting Organisations have been invited by APSA and FIAPF-International Federation of Film Producers Associations to submit films to represent their country or region. In addition, the Nominations Council and the APSA Chairman are empowered to invite titles to compete. APSA does not accept independent submissions.
2010 is already shaping up to be a significant year for Asia-Pacific films, with a strong showing from the region at February's Berlin Film Festival where films from Asia-Pacific took out 11 major awards including the Golden Bear for Best Film which was awarded to Turkish film Bal (Honey). The upcoming Cannes Film Festival will feature new works by Takeshi Kitano, Lee Chang-dong, Im Sang-soo and Apichatpong Weerasethakul, all expected to be among the 200 plus films in contention for this year's APSAs.
Several members of the APSA Academy have eligible projects including two time APSA winner Lee Chang-dong whose new film Poetry will be in competition at Cannes later this month. Lee's Miryang (Secret Sunshine) won Best Feature Film and Best Performance by an Actress at the inaugural APSAs and in 2009, Ye Haeng Ja (A Brand New Life) won Best Children's Feature Film.
Other Academy members to watch in 2010 include: Simon Yam who stars in Echoes of the Rainbow which won the Crystal Bear in Berlin and a Best Actor accolade for Yam at the recent Hong Kong Film Awards; Shawkat Amin Korki, director of multi-award winning Kick Off; Jeon Do-yeon who stars in the highly anticipated remake of Korean classic Housemaid; and Huang Jianxin, 2009 APSA Jury President whose latest film, action-thriller Bodyguards and Assassins is a successful Hong Kong-Mainland China co-production.
Entries close on August 23 and the Nominations Council will gather in Brisbane, Australia in September to deliberate on films and reach nominees in nine of twelve award categories. Preparatory work will be performed by the Advisory Committee to the Nominations Council, chaired by film critic and historian, Adrienne Mc Kibbins, who will assist the Nominations Council in reviewing eligible films.
Nominations Council members for 2010 are: Chair, Professor Hong-Joon Kim (Republic of Korea), Department of Film, School of Film, TV and Multimedia, Korea National University of Arts; Mohammad Atebbai (Islamic Republic of Iran)Managing Director, Iranian Independents; Russell Edwards (Australia) film critic for Variety magazine; Azize Tan (Turkey), Director, International Istanbul Film Festival, Istanbul Foundation for Culture and Arts; Anne Démy-Geroe (Australia) film scholar and former Executive Director, Brisbane International Film Festival; Yuka Sakano (Japan) Head of International Relations, Kawakita Memorial Film Institute; Maithili Rao (India) author and film critic.
New council member Peggy Chiao is a respected film producer and key figure in the Taiwan New Cinema movement of the 1980s. She is an academic and author of more than 40 books on film. Nan Achnas is a director and producer whose documentary and narrative works have screened at festivals worldwide including the FIPRESCI award-winning Whispering Sands. Nan produced 2009 APSA Nominee 3 Doa 3 Cinta (Pesantren: 3 Wishes 3 Loves) and currently teaches Cinema Studies at the Jakarta Institute of the Arts.
The Nominations Council operates on a rotational basis. Founding members Philip Cheah (Singapore), Professor Xie Fei (People's Republic of China), Aruna Vasudev (India), Soheir Abdel Kader (Egypt) and Jeannette Paulson Hereniko (Hawaii) will not sit on the council in 2010 but will be welcomed back in future years.
APSA Nominees will be announced early October and winners in each category will be determined by an International Jury who will assemble on Australia's Gold Coast on November 22 to commence deliberations. The 2010 International Jury President will be announced on May 16 from APSA's International Launch at the Cannes Film Festival. APSA is an international cultural initiative of the Queensland State Government, Australia.
Back to news