Monday, 1 September 2008
•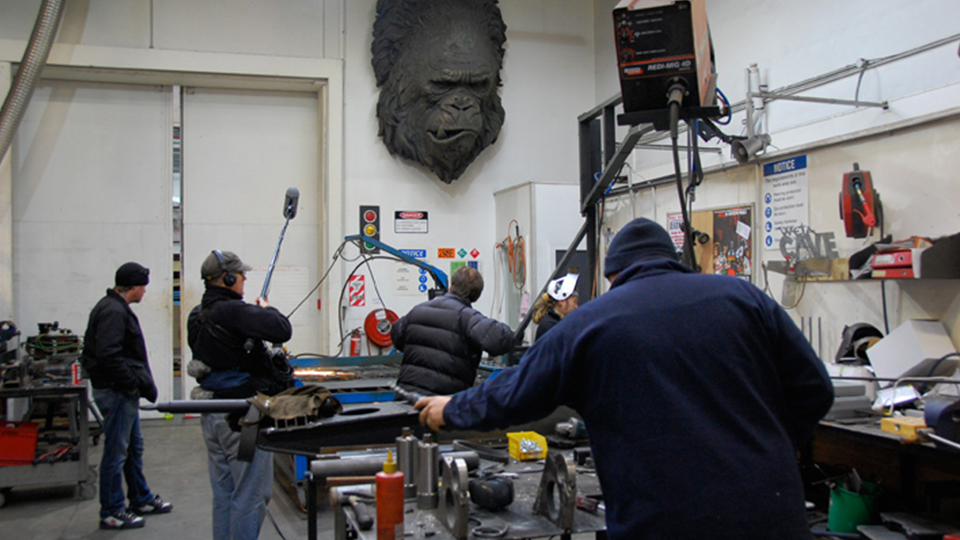 In the run-up to the 2008 Asia Pacific Screen Awards, CNN is to feature the power and reach of Asia-Pacific cinema in four half-hour Scene By Scene documentaries starting October 4th. Covering over 70 countries, one third of the earth and half of the world's film output, Asia-Pacific cinema has never been more prominent and these programs celebrate its diversity and reach.
From New Zealand to India, Pakistan to Thailand and Australia to China, the documentaries travel across the Asia-Pacific to hear from the directors, producers and stars about the political, religious and cultural challenges they face making films. Some of the films and filmmakers profiled include:

Australia
Scene By Scene visits the set of Mao's Last Dancer, the true story of renowned ballet dancer Li Cunxin, and hears from Academy Award nominated director and APSA International Jury President Bruce Beresford in addition to leading actors Joan Chen and Chi Cao.
New Zealand
Scene By Scene gets a rare tour of what's become known as "Wellywood" – the state-of-the-art filmmaking empire established in the New Zealand capital, Wellington, by Academy Award winner Peter Jackson and business partner Richard Taylor. The best example of Weta Workshop may be Gollum from Lord of the Rings, but Taylor tells Scene By Scene the movie world is about to be stunned by James Cameron's Avatar and Steven Spielberg and Jackson's Tintin which are both in production in Weta.
India
Even bigger and more popular than Bollywood, Telugu cinema from southern India, known as Tollywood, features some of India's brightest talents and biggest stars. Recent Oscar nominee Ashutosh Gowariker shares with Scene By Scene his experience working with Aishwarya Rai on a new film Jodhaa Akbar.
Thailand
Scene By Scene goes on location with Thailand's royal filmmaker, Prince Chatrichalerm Yukol, as he shoots an epic period story involving thousands of extras and over 200 elephants. One of the best known and most successful Thai film directors, Chatri's production Suriyothai has become the country's highest grossing film earning more than $18M at the box office.
Russia
From just $65M ticket sales in 2001 to $500M in 2007, Scene By Scene takes an inside look at the world's fastest growing film industry interviewing the renowned producer Alexandar Rodnyansky. He talks candidly about his fears of a return to authoritarianism and has been told personally by Russian Presidents Vladimir Putin and Dmitry Medvedev that there are limits to what filmmakers can do.
Jordan
Scene By Scene examines how Jordan's new film industry is by royal command. Her Royal Highness, Princess Rym Al-Ali, a board member of the Royal Film Commission lays out the Royal Family's vision to make Jordan a powerhouse of Middle Eastern cinema by attracting filmmakers from all over the region. Jordanian director Amin Matalqa also talks on his decision to return from Los Angeles to produce an award winning film Captain Abu Raed.
Scene By Scene airs on CNN International on Oct 4-5; 11-12; 18-19; Nov 1-2:
Hong Kong: Saturday at 2000, Sunday at 0000, 0800 & 1300 and Monday at 0600
India: Saturday at 1730 & 2130, Sunday at 0530 & 1030 and Monday at 0330
Bangkok: Saturday at 1900 & 2300, Sunday at 0700 & 1200 and Monday at 0500
Tokyo: Saturday at 2100, Sunday at 0100, 0900 & 1400 and Monday at 0700
Sydney: Saturday at 2200, Sunday at 0200, 1000 & 1500 and Monday at 0800
Wellington: Sunday at 0000, 0400, 1200 & 1700 and Monday at 1000
*  After Oct 5th add one hour to airtime for Sydney and Wellington
CNN International
CNN is the world's leading global 24-hour news network and one of the world's most respected and trusted sources for news and information. The CNN brand is available to two billion people via 18 CNN branded TV, internet and mobile services produced by CNN Worldwide, a division of Turner Broadcasting System Inc and a Time Warner company. CNN International is the international directorate of CNN Worldwide and distributes news via 14 services in seven different languages. CNN International can be seen in more than 231 million households and hotel rooms in over 200 countries and territories worldwide, including more than 36 million across the Asia-Pacific region and online at www.cnn.com/international.
Asia Pacific Screen Awards
The Asia Pacific Screen Awards (APSA) is an international cultural initiative that acclaims, at a global level, the cinematic excellence and cultural diversity of the vast Asia-Pacific region.  It brings together, in a unique collaboration, Atlanta-based CNN International, Paris-based UNESCO and FIAPF – the International Federation of Film Producers Associations. The Asia Pacific Screen Awards honour the works of filmmakers across a region covering more than 70 countries and areas, one third of the earth and half the world's film output. The 2008 Asia Pacific Screen Awards ceremony will be held on November 11 on the Gold Coast, Queensland, Australia.
Back to news