Friday, 27 October 2017
•
Director, Screenplay and Actor nominations for Sandome no Satsujin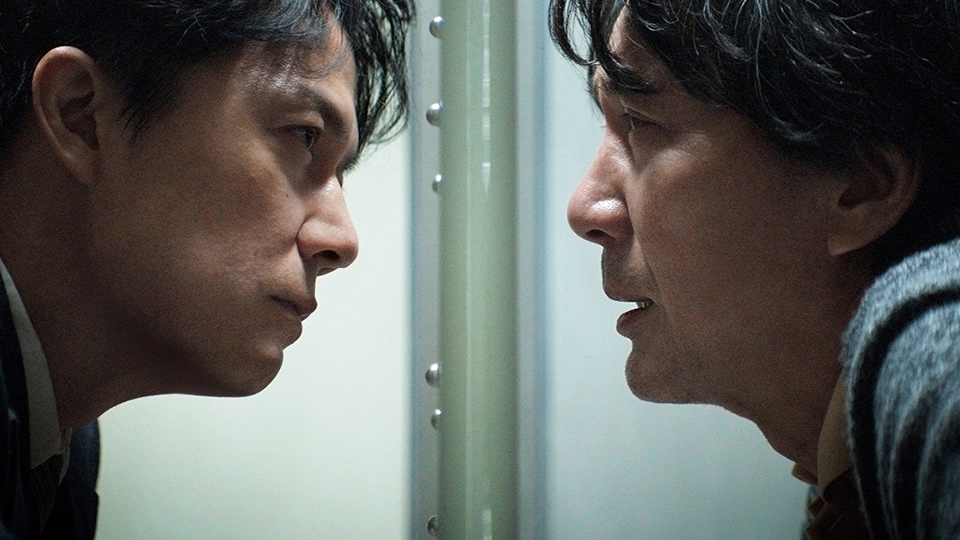 Hirokazu Kore-eda and his film Sandome no Satsujin (Japan) have been honoured with three nominations in the 11th Asia Pacific Screen Awards. Acclaimed auteur and APSA Academy member Hirokazu Kore-eda is nominated for Achievement in Directing and Best Screenplay, and eminent performer Koji Yakusho is nominated for Best Performance by an Actor.
Mr Kore-eda has previously received APSA nominations for his films I Wish (Kiseki) in 2009 and Like Father, Like Son (Soshite Chichi Ni Naru) in 2013.
Japanese co-production with Kyrgyzstan, France, Germany and Netherlands, Centaur has been nominated for the APSA Cultural Diversity Award under the patronage of UNESCO (United Nations Educational, Scientific and Cultural Organisation), an award which represents the shared common goals of APSA and UNESCO, to promote diversity of cultural expression and raise awareness of the value of culture at local, national and international levels.
41 films from 25 countries and areas of the Asia Pacific region have received nominations in 2017. Winners will be announced at the 11th APSA ceremony on November 23, where they will be presented with a unique and exquisite handmade APSA award vessel made by Brisbane-based internationally awarded glass artist Joanna Bone.
In total, films from Japan have six nominations including the previously announced films nominated for Best Animated Feature Film – A Silent Voice and your name.
Programming Director of Tokyo International Film Festival (TIFF) Yoshi Yatabe has been selected for the prestigious International Jury alongside Jury President, Australian film editor Jill Bilcock, Filipino writer/director Adolfo Alix Jr, Chinese actress He Saifei, and Kazakh writer, director and cinematographer Adilkhan Yerzhanov.
Japan has a strong history at APSA, with films and filmmakers from Japan winning ten APSAs over the course of the event's first ten years. Wins have been had across many award categories including: Best Performance by an Actress (Kirin Kiki, for An), Best Performance by an Actor (Masahiro Motoki for Okuribito), the Jury Grand Prize (Shinobu Terajima for Caterpillar), Best Documentary Feature Film (Yi Seung-jun's Planet of Snail) and the FIAPF Award for outstanding contribution to the promotion and preservation of cultural diversity in film (Ryuichi Sakamoto, Isao Matsuoka). The Best Animated Feature Film award has been won no less than three times by Japanese productions (5 Centimetres per Second, Momo e no Tegami, Kaguya-Hime No Monogatari).
The APSA International Jury determines the winners of Best Feature Film, Achievement in Directing, Achievement in Cinematography, Best Screenplay and two acting categories, Best Performance by the Actress and Actor. They will also determine the winner in the prestigious Cultural Diversity Award, under the patronage of UNESCO and awards a Jury Grand Prize. Nominations in these categories will be announced on Friday 13 October.
The APSA International Youth Animation and Documentary Jury for 2017 will be chaired by the internationally acclaimed filmmaker and APSA Academy member Haifaa Al Mansour (Wadjda, Mary Shelley) who will be joined by Melanie Coombs, the Australian producer behind Academy Award® winner Harvie Krumpet and APSA Best Animated Feature Film winner Mary and Max, and renowned British producer Steve Abbott (A Fish Called Wanda, Brassed Off) representing APSA's Academy Alliance with the European Film Academy (EFA).
2017年10月
第11回アジア太平洋映画賞(APSA)
「三度目の殺人」、監督賞・脚本賞・男優賞の3部門にノミネートされる
オーストラリア、ブリスベン:
是枝裕和監督と作品「三度目の殺人」(日本)が、第11回アジア太平洋映画賞(APSA)の3部門においてノミネートされました。映画監督として高い評価を受ける是枝氏はAPSAアカデミー会員でもあり、本年度の最優秀監督賞および最優秀脚本賞の候補者、また、同作品の著名な俳優、役所広司氏が最優秀男優賞の候補者に選定されました。
是枝氏は、2009年「I Wish(奇跡)」、2013年「Like Father, Like Son(そして父になる)」の2作品でAPSAに以前ノミネートされています。
キルギスタン、フランス、ドイツ、オランダ、そして日本の共同制作の映画作品、「Centaur 」が、UNESCO(国際連合教育科学文化機関)後援によるAPSA 文化多様性賞(Cultural Diversity Award under the patronage of UNESCO)にノミネートされました。この賞は、文化的多様性を表現・促進し、地域・国家・世界の各領域で文化価値への認識を高めるという、APSAおよびUNESCOの共通目標に向けて貢献をした映画作品に授与されます。
2017年はアジア太平洋地域の25か国から41作品がノミネートされました。優勝者は、11月23日に開催される第11回アジア太平洋映画賞の授賞式で発表され、ブリスベンを拠点とする国際的に著名なガラス工芸家Joanna Bone氏によるユニークかつ優美な手作りのAPSA優勝記念品が授与されます。
日本からは、すでに発表があった最優秀長編アニメーション映画部門の候補2作品、「A Silent Voice (聲の形)」および「your name.(君の名は。)」を含めて合計6作品がノミネートされています。
東京国際映画祭(TIFF)プログラミング・ディレクターの矢田部吉彦氏が、栄誉ある国際審査委員に選任されており、審査委員長を務めるオーストラリアの映画編集者 Jill Bilcock氏をはじめ、フィリピンの脚本家/監督 Adolfo Alix Jr 氏、中国の女優 He Saifei氏、カザフスタンの脚本家・監督・撮影監督 Adilkhan Yerzhanov氏と共に審査団を構成します。
これまでAPSAにおいて、日本の映画界からの作品および製作者は合計12のアジア太平洋映画賞を受賞しており、非常に大きな影響をもたらしてきました。受賞歴は数多くの部門にわたっています:最優秀女優賞(「あん」の樹木希林氏)、最優秀男優賞(「おくりびと」の本木雅弘氏)、審査員特別賞(「キャタピラー」の寺島しのぶ氏)、最優秀長編ドキュメンタリー映画賞(「かたつむりの惑星(Planet of Snail)」、「タリバンに売られた娘(I Was Worth 50 Sheep)」)、最優秀脚本賞(「ハッピーアワー」の高田聡氏、岡本英之氏、野原位氏、はたのこうぼう)、国際映画製作者連盟(FIAPF)賞(坂本龍一氏、松岡功氏)。 最優秀長編アニメ映画賞においては、日本の4作品が受賞しています(「秒速5センチメートル」、「ももへの手紙 」、「かぐや姫の物語」、「百日紅~Miss HOKUSAI~」)。
APSA国際審査団が最優秀長編映画賞、最優秀監督賞、最優秀撮影賞、最優秀脚本賞、最優秀男優賞および最優秀女優賞の受賞者を選考します。さらに、栄誉ある「文化的多様性を称えるユネスコ賞(Cultural Diversity Award)」および審査員特別賞の受賞者も選考も行い、各部門のノミネート者は10月13日金曜日に発表されます。
APSA青少年アニメ・ドキュメンタリー映画の2017年審査員団は、国際的に著名な映画製作者およびAPSAアカデミー会員のHaifaa Al Mansour 氏(「Wadjda」、「Mary Shelley」) が委員長を務め、オーストラリアの映画製作者でアカデミー賞® 受賞歴のある「Harvie Krumpet 」やAPSA最優秀アニメ長編映画賞の受賞作「Mary and Max」の製作で知られるMelanie Coombs氏、そしてAPSAアカデミーのヨーロッパ映画アカデミー(EFA)との連携を代表して英国の製作者Steve Abbott氏(「A Fish Called Wanda」、「Brassed Off」)が審査員として加わります。 この3部門でのノミネート詳細が近日発表されました。
ノミネート詳細は以下のとおりです:
最優秀長編映画賞
Angels Wear White (Jia Nian Hua)
People's Republic of China, France
Produced by Sean CHEN
Co-Produced by Alain DE LA MATA
Directed by Vivian QU
Foxtrot
Israel, Germany, France, Switzerland
Produced by Michael WEBER, Viola FÜGEN, Eitan MANSURI, Cedomir KOLAR, Marc BASCHET, Michel MERKT
Directed by Samuel MAOZ
A Gentle Creature (Krotkaya)
France, Germany, Lithuania, Netherlands
Produced by Marianne SLOT
Co-Produced by Valentina MIKHALEVA, Galina SEMENTSEVA, Lev KARAKHAN, Gunnar DEDIO, Uljana KIM, Peter WARNIER, Marc VAN WARMERDAM, Serge LAWRENYUK
Directed by Sergei LOZNITSA
A Man of Integrity (Lerd)
Islamic Republic of Iran
Produced by Mohammad RASOULOF
Co-Produced by Kaveh FARNAM, Rozita HENDIJANIAN, Michal KŘEČEK
Directed by Mohammad RASOULOF
Sweet Country
Australia
Produced by Greer SIMPKIN, David JOWSEY
Co-Produced by David TRANTER
Directed by Warwick THORNTON
最優秀アニメーション映画賞候補作
Have a Nice Day (「Hao ji le」 中華人民共和国)
Saving Sally (フィリピン、フランス)
Koe no Katachi (「聲の形」 日本)
Window Horses: The Poetic Persian Epiphany of Rosie Ming (カナダ)
Kimi no na wa. (「君の名は。」日本)
最優秀青少年向け長編映画賞候補作
Big Big World (「Koca Dünya」 トルコ)
Jasper Jones (オーストラリア)
The Seen and Unseen (「Sekala Niskala」 インドネシア、オーストラリア、カタール、オランダ)
The Skier (「Ski-Baz」 イラン)
The Summer is Gone (「Ba Yue」 中華人民共和国)
最優秀ドキュメンタリー映画賞候補作
Kim Dotcom: Caught in the Web (ニュージーランド)
Last Men in Aleppo (シリア・アラブ共和国、デンマーク)
Taste of Cement (レバノン、カタール、シリア・アラブ共和国、アラブ首長国連邦、ドイツ)
The Opposition (オーストラリア、パプアニューギニア)
A Yangtze Landscape (「Changjiang」 中華人民共和国)
最優秀監督賞
Ana URUSHADZE for Scary Mother (Sashishi Deda)
Georgia, Estonia
Andrey ZVYAGINTSEV for Loveless (Nelyubov)
Russian Federation, Belgium, France, Germany
KORE-EDA Hirokazu for The Third Murder (Sandome no Satsujin)
Japan
Mouly SURYA for Marlina the Murderer in Four Acts (Marlina si Pembunuh dalam Empat Babak)
Indonesia, France, Malaysia, Thailand   

Sanal KUMAR SASIDHARAN for Sexy Durga
India
最優秀脚本賞
Amit V MASURKAR, Mayank TEWARI for Newton
India
Boris KHLEBNIKOV, Natalia MESHCHANINOVA for Arrhythmia (Aritmiya)
Russian Federation, Finland, Germany
Dastan ZHAPAR UULU, Bakyt MUKUL for A Father's Will (Atanyn Kereezi)
Kyrgyzstan
David TRANTER, Steven MCGREGOR for Sweet Country
Australia
KORE-EDA Hirokazu for The Third Murder (Sandome no Satsujin)
Japan
最優秀撮影賞
LYU Songye for Ghost in the Mountains (Kong Shan Yi Ke)
People's Republic of China
Mindia ESADZE for Scary Mother (Sashishi Deda)
Georgia, Estonia
Pyotr DUKHOVSKOY, Timofey LOBOV for The Bottomless Bag (Meshok Bez Dna)
Russian Federation
Shehnad JALAL for Lady of the Lake (Loktak Lairembee)
India
Warwick THORNTON, Dylan RIVER for Sweet Country
Australia
最優秀女優賞
Cut MINI for Emma' (Mother) (Athirah)
Indonesia
Ecem UZUN for Clair Obscur (Tereddüt)
Turkey, France, Germany, Poland
NA Moon-hee for I Can Speak
Republic of Korea
Nata MURVANIDZE for Scary Mother (Sashishi Deda)
Georgia, Estonia
ZHOU Xun for Our Time Will Come (Ming Yue Ji Shi You)
People's Republic of China, Hong Kong (PRC)
最優秀男優賞
Navid MOHAMMADZADEH for No Date, No Signature (Bedoune Tarikh, Bedoune Emza)
Islamic Republic of Iran
Paolo BALLESTEROS for Die Beautiful
Philippines
KOJI Yakusho for The Third Murder (Sandome no Satsujin)
Japan
Rajkummar RAO for Newton
India
Mohammad BAKRI, Saleh BAKRI for Wajib (Duty)
Palestine, Colombia, France, Germany, Norway, Qatar, United Arab Emirates
ユネスコ後援による文化多様性賞(CULTURAL DIVERSITY AWARD)
文化的多様性の促進および保護への顕著な貢献を果たした映画作品に授与されます。
Centaur
Kyrgyzstan, France, Germany, Netherlands, Japan
Directed by Aktan ARYM KUBAT
Produced by Altynai KOICHUMANOVA, Cedomir KOLAR, Marc BASCHET, Danis TANOVIC, Thanassis KARATHANOS, Martin HAMPEL, Gulmira KERIMOVA, Denis VASLIN, Fleur KNOPPERTS, Yuji SADAI
Dede
Georgia, Croatia, Netherlands, Qatar, United Kingdom
Directed by Mariam KHATCHVANI
Produced by Vladimer KATCHARAVA, Samantha TAYLOR, Mike DOWNEY, Igor NOVA
Co-Produced by Conrad ALLEBLAS, Jamillah VAN DER HULST
Die Beautiful
Philippines
Directed by Jun ROBLES LANA
Produced by Ferdinand LAPUZ, Jun ROBLES LANA
Honeygiver Among the Dogs (Munmo Tashi Khyidron)
Bhutan
Directed by Dechen RODER
Produced by Dechen RODER, Esther KOO
Lady of the Lake (Loktak Lairembee)
India
Directed by Haobam PABAN KUMAR
Produced by Haobam PABAN KUMAR
Co-Produced by Thiyam ROMOLA DEVI, Haobam IBETOMBI, Warepam JHANSIRANI
FIAPF賞(FIAPF AWARD)
FIAPF(国際映画製作者連盟)によって、アジア太平洋地域において際立った貢献をした映画作品に授与されます。
ヤングシネマ賞(YOUNG CINEMA AWARD)
NETPAC (アジア映画振興ネットワーク)およびグリフィス大学のグリフィス・フィルム・スクール(GFS)の後援のもと、ヤングシネマ賞(Young Cinema Award)は、アジア太平洋地域における才能ある新人を奨励してNETPAC審査員によって授与されます。
芸術賞(ARTISTIC ACKNOWLEDGEMENT)
APSA 2017年国際候補者選考委員会は、Abbas Kiarostami氏に特別芸術賞(Artistic Acknowledgement)を授与し、APSAアカデミーは氏をアカデミー会員として死後追贈します。
Back to news