Monday, 5 November 2012
•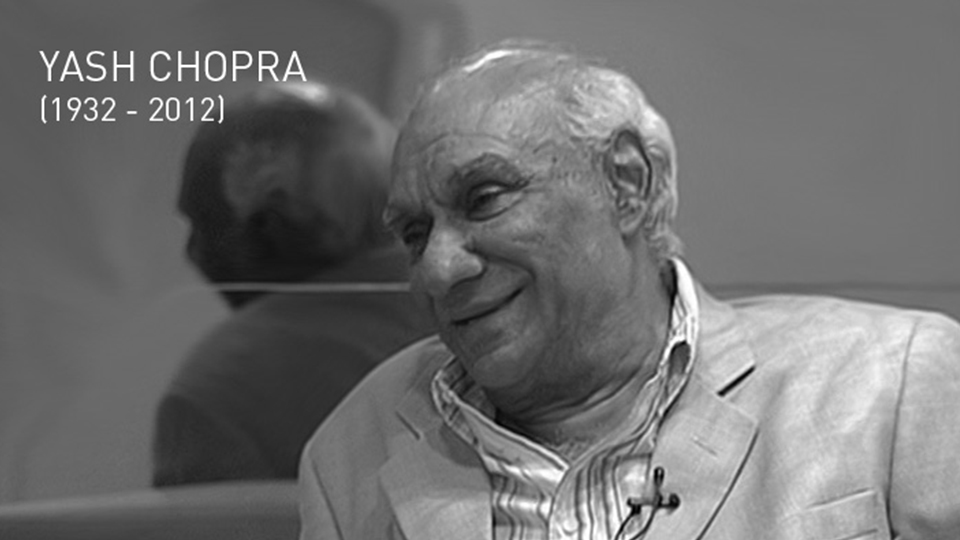 Yash Chopra, the major and much beloved figure in Indian cinema, died on October 21st in Mumbai. He turned 80 on September 27 and had been working to complete his last film Jab Tak Hai Jaan, which is due to be released for Diwale on November 13th.
Chopra was to shoot one more song for the film in his adored Switzerland; this could now be done by his director son Aditya, or the film could be released as is.
Chopra has worked in the Hindi film industry for some fifty years, starting his career with his elder brother BR Chopra, whom he often cited as his inspiration, giving him full credit for his own success. In those fifty years Chopra has directed 22 features and produced or executive produced some 41 more. His first film as a director was Dhool Ka Phool in 1959, a melodrama about illegitimacy, and in 1965 he made WAQT, the film with which he not only found both critical and commercial acclaim, but with which he is credited with pioneering the concept of multi-starrers. But it's for his romantic sagas that he will most be remembered. Following the success of Daag A Poem of Love in 1973, Chopra founded his production company Yash Raj films, and the studio has gone from strength to strength, giving many talented writers and directors a start in the industry.
Chopra was born on September 27th in Lahore to a Punjabi family, as the youngest of eight children (his oldest sibling was 30 years his senior).  For some years his upbringing was in the household of his older brother BR Chopra, a film journalist at the time, which presumably sparked the younger Chopra's interest in cinema.  Chopra moved to India after the Partition, planning on pursuing a career as an engineer, but his love of cinema encouraged him to seek work in the Bombay film industry, beginning his long career as an assistant to I S Johar and to his brother B R Chopra, who had become a producer/director.
He married in 1970, and decided on returning from his honeymoon that he would set up on his own. His sons, Aditya and Uday, were born in 1971 and 1973, and now work in the film industry. Aditya has only directed three features, but they have all been blockbusters, and he is now a highly regarded producer/writer/director in his own right. Uday has been an actor, and is now an overseas part of the Yash Raj empire.
While it might conventionally be said that Chopra is survived by his wife and two sons, it could also be said that he is survived by the many in Hindi cinema who looked upon him as a father figure or elder brother. Two such people would be Amitabh Bachchan, who appeared in four films under Chopra's direction (one of which, Dewaar, often credited as being the film that created Bachchan's "angry young man" persona), and Shah Rukh Khan, for in many ways it is the Yash Raj films that made him the superstar he is. Chopra first directed Khan early in his career in Darr (1993), a box office hit.  While producing and running Yash Raj studios, Chopra only directed 3 more films from 1993: Dil to Pagal Hai (1998), Veer-Zaara(2004), and finally Jab Tak Hai Jaan (2012), all starring Shah Rukh Khan. Khan also worked with other directors under the Yash Raj banner, and the combination of Yash Raj and SRK delivered such mega hits as Chak de India (2007) Rab ne Bana di Jodi (2009), and DDLJ (1995) – which has just celebrated a continuous run of 17 years at a cinema in Mumbai. Produced by Yash Chopra, directed by his son Aditya and starring Shah Rukh Khan and Kajol, it has become a landmark of Hindi cinema.
Yash Raj Films, which operates out of a state of the art studio in Mumbai, is held in high esteem within the Hindi film industry, as is its founder.  Not just as a producer and director, but as a man, Chopra was both admired and liked in the industry. Over the years he has won many awards and has represented the Hindi film industry at many events around the world.  However, the actors he worked with always claimed that Yashji, as he was fondly called, was the most lively and "youngest person on the set".  He always remembered birthdays and other celebrations, and was also known for his love of food; no matter where a crew was anywhere in the world, Chopra would always know where to find the best Tandoori chicken or Parathas.
He was an icon of Hindi cinema, with films often referred to as a "Yash Chopra- type romance" as though it had become a genre, but Yash Chopra will be remembered not just as an iconic producer/ director, a great film maker, and a unique representative of Hindi cinema, but as a warm human being.
In 2008 The Asia Pacific Film Awards presented Yash Chopra with the APSA 2008 FIAPF (International Federation of Film Producer's Associations) Award for Outstanding Achievement in Film. Unfortunately he was unable to attend the ceremony in Queensland due to the death of his brother B R Chopra, but a video of Yash Chopra talking from his office in Yash Raj films Mumbai was screened on the awards night. The award was presented to him in person at the opening of the Mumbai film festival a few months later by the Director General of FIAPF, Benoît Ginisty.  Yash Chopra said: "I am very happy that Mr Benoît Ginisty has specially come to present this prestigious award to me which unfortunately I could not collect last year owing to a personal bereavement. I thank the Asia Pacific Screen Awards and FIAPF and humbly accept this award as recognition for the Indian Film industry as a whole and for myself personally."
Something he said a few years ago perhaps best sums up his work: "Films have been my only passion in life. I have always been proud of making films and will continue taking pride in all my films. I have never made a movie I have not believed in. However, though I love all my films, one tends to get attached to films that do well. But I do not have any regrets about making films that did not really do well at the box office."
Professor Rachel Dwyer, author of Yash Chopra (BFI DIRECTOR SERIES) said, when asked to make a comment on Yash Chopra's contribution to Indian cinema: "Yashji was one of the people who built the film industry after 1947 and was still shaping it until his last days.  His films often raised social issues, however rich and prosperous his protagonists became.  Yashji shaped the idea of the Indian as a modern Punjabi from his earliest films such as Waqt,  uniting the diaspora with the homeland in the 1990s onwards.  His legacy will continue through the work of Aditya Chopra and Karan Johar, two of the most important producer-directors in Bombay today."
Back to news