Wednesday, 25 April 2012
•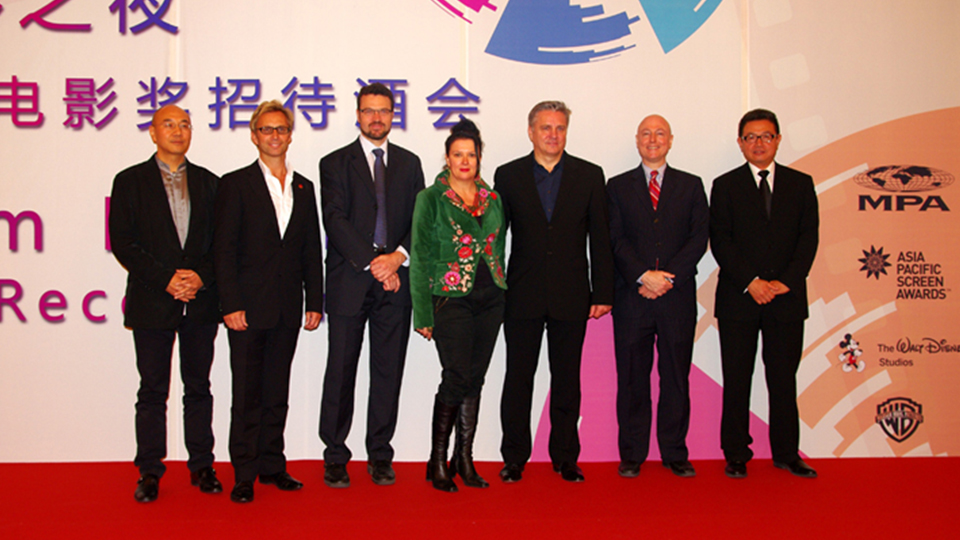 The Asia Pacific Screen Awards (APSA) and Motion Picture Association (MPA) announced a further US $100,000 for the MPA APSA Academy Film Fund at a reception held at the second Beijing International Film Festival (BJIFF) this evening. This brings the total investment in these film development projects to US $300,000.
Established in 2010, the fund is intended to stimulate film production in the Asia Pacific region and to encourage dialogue, collaboration and business opportunities for the region's filmmakers particularly at the developmental phase. Among the 70 countries embraced by APSA, grants totalling $200,000 have already been awarded to projects from the Islamic Republic of Iran, India, Republic of Korea, and People's Republic of China, Iraq and Kazakhstan.
The four $25,000 development grants are exclusive to members of the APSA Academy comprised of past APSA nominees, winners, Jury and Nominations Council members.In the past two years the MPA APSA Academy Film Fund rewarded eight deserving APSA Academy Members with $25,000 to assist them to realise their stories for the screen.
"A common theme for discussion at the 2nd Beijing International Film Festival this week has been the importance of recognising creative talent and supporting their screen ideas at an early stage," said Mike Ellis, President and Managing Director Asia-Pacific MPA.
"Our MPA APSA Academy Film Fund does just that, and with astonishing results.
"We were the first to support Asghar Farhadi's film, A Separation, allowing him to complete the film and take it to the screen. The rest is history. It went on to win a multitude of awards including Best Feature Film at the 2011 Asia Pacific Screen Awards and to our delight Best Foreign Language Film prize at this year's Oscars."
Applications for 2012 MPA APSA Film Fund are now open; commencing from April 25 to October 21. Projects will be assessed by a panel of highly qualified Film Practitioners. Successful applicants will be announced during the sixth annual APSAs ceremony on Friday November 23 in Brisbane, Queensland, Australia.
This year, three Film Practitioners have been appointed to assess the projects from APSA Academy Members. APSA Artistic Director Maxine Williamson said in Beijing, "We are extremely excited to welcome back to Chair the Panel for a third year, founder and Managing Director of Ronin films Mr Andrew Pike, multi-awarded Hong Kong filmmaker and APSA Academy member Alex Law, and APSA 2009 winner for, Best Animated Feature Film for Mary and Max, Academy Award winning filmmaker Melanie Coombs."
The MPA reception, held earlier this evening, forms part of the Beijing International Film Festival calendar of events, and was attended by a number of APSA Academy members including 2011 Jury President Nansun Shi and 2011 Jurors Cameron Bailey from the Toronto Film Festival and Ming Zhenjiang, Executive Chairman of the China Film Producers Association.
Several past APSA winners and nominees' films are being screened at the Beijing festival. "This year we were again honoured to have worked with the international panorama section in presenting APSA nominated films and see five APSA films screening in the program." said Maxine Williamson "The BJIFF is an important platform that offers members of our 500-strong Academy the opportunity to Premiere their films in China."
For more on the 2012 MPA APSA Film Fund Panellists – Click Here
To view the 2012 MPA APSA Film Fund Trailer – Click Here
Back to news