Tuesday, 15 November 2016
•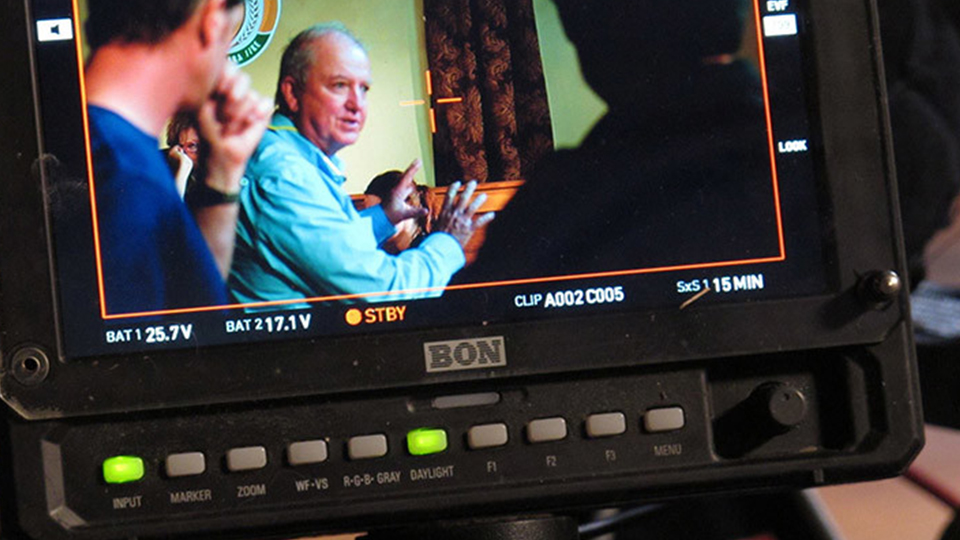 EMERGING FILMMAKERS FROM SINGAPORE AND JORDAN SELECTED FOR INTENSIVE YEAR-LONG DEVELOPMENT INCUBATOR PROGRAM
The Griffith Film School (GFS), the Asia Pacific Screen Academy and NETPAC (Network for the Promotion of Asia Pacific Cinema) are pleased to announce the two successful filmmakers whose projects will benefit from the 3rd round of the Asia Pacific Screen Lab (APSL).
Jordanian filmmaker Zain Duraie was selected to develop her feature film As We Hold Our Breath, which tells the story of a close family through the eyes of the 17 year old son Bashar, as he struggles with deteriorating mental health. The filmmaker was drawn to the uniqueness of telling this tale set in the Arab world, dealing with the stigma both in wider society and inside your very own home.
Singaporean writer/director Siew Hua Yeo was selected for his feature In The Eyes Of A Stranger about a police inspector named Goh in Singapore. When he is assigned to investigate a criminal, Goh begins to empathise with his life and starts to question his will to make an arrest. His next case is to follow a voyeur, but Goh realises that he is now the one being watched.
Each filmmaker will be paired with an APSA Academy member and guided through a year-long mentorship which includes development workshops in writing, directing, producing and pitching, and a residency with their mentor.
Mentoring Zain Duraie is Mary Stephen, the multitalented editor, composer, associate producer, filmmaker and mentor in Venice Biennale College of Cinema's annual workshop, whose extensive body of work has seen her collaborate with filmmakers in Europe, China, Hong Kong, Taiwan, Turkey, Australia and Canada.
Filmmaker, author and tireless champion of Asian cinema with a career spanning more than five decades, Peggy Chiao Hsiung-Ping will mentor Siew Hua Yeo.
The APSL is an initiative of NETPAC overseen by NETPAC members Anne Demy-Geroe, Philip Cheah,Park Ki-yong and Herman Van Eyken and hosted and administered by the Griffith Film School, Griffith University Brisbane, in collaboration with the APSA Academy, supported by the Sun Foundation.
Head of the Griffith Film School, Herman Van Eyken said "This year's selection sees two films coming from two very different places – one has the potential to be a big commercial success within an established police thriller genre, but told through a new generational gaze, and the other is a very intimate look inside the challenges to a family of mental illness, but explored from a cultural perspective rarely seen."
"What was clear to the selection panel is that both of these early-career filmmakers have the potential to create amazing cinematic works with these incredibly ambitious stories, and the APSL is thrilled to be able to guide them through the intense development process.
"As we now enter the third year of the APSL, the only development lab focused on the filmmakers of Asia Pacific, and which produces funding-ready projects, the next natural stage in the lab's future is to look to expanding and exploring more partnerships and gateways, including funding avenues," he said.
APSA Academy President Jack Thompson AM said "Through the Asia Pacific Screen Lab, the APSA Academy is directly contributing to the development of new cinematic voices from the vast Asia Pacific region, and we can't wait to see them present their completed films on a world stage, sharing the stories of this culturally diverse and creatively strong region."
NETPAC Advisory Board member Philip Cheah said "We are really the alternative lab as we are emphasising quality personal time and individual supervision above classroom exercises and seminars. And we take a whole year to allow the project to breathe and find a life."
Park Ki-Yong, renowned filmmaker and respected academic from Republic of Korea said "New Singaporean talent Siew hua Yeo's project In the Eyes of a Stranger tackles one of the horrifying issues of our time – watching and being watched, randomly."
NETPAC Vice President Anne Demy-Geroe said "The personal and passionate tone of Zain Duraie's project, drawing from her own experience, about an everyday family coping with mental illness in the family, yet set in a country from which we hear few voices, has the potential to resonate widely."
Executive Chairman of the Asia Pacific Screen Awards and its Academy, Mr Michael Hawkins said "The Asia Pacific Screen Lab is a vital and dynamic year-long development incubator for these young creative talents from Asia Pacific and the APSA Academy is proud to be part of this important initiative."
The Lab's program incubator and accelerator workshops, master classes, script clinics and other development activities will be scheduled in conjunction with existing initiatives in the region, and created specifically for the APSL and include:
Script workshop with European story development expert, Jan Fleischer, who was the long-time head of screenwriting at the UK's National Film and Television School.
A directorial workshop by US experts including the world famous performance expert Mark Travis, formerly an advisor at Amsterdam's prestigious Binger Filmlab, and prolific and award-winning director Gil Bettman.
'Turnaround' producer workshop entirely focused on development, financing, production and delivery from Ben Gibson, formerly from the London Film School and AFTRS.
The Lab is an important development vehicle to enable film co-production across the 70 countries and areas of Asia Pacific. This will accelerate global export of Asia Pacific creative screen content and creative products and strengthen its creative entrepreneur's capacity for success.
The 2nd Asia Pacific Screen Lab Graduation will be held in Brisbane on Friday 25 November where Lab participants Mohanad Hayal from Iraq and Australian Jakeb Anhvu will pitch their funding-ready films to a panel of Industry Professionals including APSA International Jury President Lord David Puttnam, members of the Asia Pacific Screen Awards Jury and Academy, and the Asia Pacific Screen Lab Directorate..
More information can be found at www.griffith.edu.au/filmschool
FURTHER INFORMATION ABOUT THE 3RD ASIA PACIFIC SCREEN LAB RECIPIENTS
Zain Duraie (Jordan) Feature Fiction Film: As We Hold Our Breath
Bashar is an aspiring doctor in his final year at school, living in Jordan. He lives a calm family life until signs of obsession and mania begin to show. Initially his family ignores his symptoms but this begins to put a strain on them all and eventually Bashar is hospitalised. The family and Bashar make an effort to bring him home but it is more difficult and out of their control than they assumed. What becomes of this family having to face not only the burdens of an illness, but also the ensuing reactions of themselves and those around them? What becomes of Bashar and his family's destiny?
Zain Duraie said "I want to tell this story because of its universal message and I feel it is important for our youth to watch such films and to know what mental illness is and that it is through them that we can create a world free of stigma. A world were people can share their feelings and worries. Where an illness of the brain is as important as an illness of the body and it is also important for newly diagnosed 17 year olds to know that they are not alone."
Yeo Siew Hua (Singapore) Feature Fiction Film: In The Eyes Of A Stranger
Synopsis: Inspector Goh has been staking out a group of teenagers suspected of being linked to a syndicate involved in credit card fraud. The leader of the pack is Darren, whom Goh successfully plants a listening devise on. Goh is able to listen in on his conversations and stalks him from a distance. As he gets deeper into his investigation, Goh realises that Darren is a father to a toddler and is more human than his profiling had first impressed upon him. Keeping a close eye on Darren, Goh is drawn into his world and starts to question his own will to make an arrest of Darren. After letting Darren off, Goh is tasked to track down a Voyeur on the loose who has been videotaping the most private moments of a statesman's wife, Mrs Sim. The Voyeur seems to be able to tap into security cameras all around the island and before long, Goh realises the tables have turned and he is now the one being watched.
Teo Siew Hua said "In The Eyes Of A Stranger is a meditation on the gaze and it's power to objectify and possess. Through the frame of the camera, the viewer is transformed into the omnipresent voyeur and is made complicit through the act of watching. This film is a response to what I take to be the most pressing questions of my generation in my context and of the region; whether seeing is able to open our encounters with an Other or create more categories of foreknowledge that only entrenches our alienation between each other."
More information can be found at www.griffith.edu.au/filmschool.
Contacts:
Griffith Film School 
Herman Van Eyken (Executive Officer)
[email protected]
Donna Hamilton (Operations Officer)
[email protected]
Asia Pacific Screen Awards media contact
Cathy Gallagher
[email protected]
MENTOR BIOGRAPHY: MARY STEPHEN(HONG KONG/Canada/FRANCE)
Born in Hong Kong, graduate of Concordia University in Montreal , Mary Stephen has been living in Paris since the 1980s. She collaborated with French New Wave director Eric Rohmer for more than 30 years as his film editor and co-composer, starting as assistant to Rohmer's then-chief-editor Cécile Décugis (who edited for Truffaut, Rohmer, Godard including the legendary Breathless). Mary then became Rohmer's chief-editor from the 1991 Winter's Tale to his last feature The Romance of Astrea and Celadon (2007). In the past decade Mary has been working with fiction and documentary filmmakers from Europe, China, Hong Kong, Taiwan, Turkey, Australia and Canada, editing, associate-producing and mentoring. A partial list of her work includes The Apology (2016) by Tiffany Hsiung, produced by the National Film Board of Canada ; Flowing Stories by Jessey Tsang Tsui Shan ; Dot 2 Dot by Amos Why ; The Swaying Waterlily and Majority by Seren Yüce (Lion of the Future, Venice 2010); Umbrella, 1428 (Orizzonti Doc Award, Venice Film Festival 2009) and A Young Patriot by Du Haibin; Last Train Home by Lixin Fan (Joris Ivans Award, IDFA 2009) ; Wild Grass of Qingdao by Lina Yang ; The Headmaster (part of the omnibus film 8 and ½ produced by Johnnie To, for release in 2016) and the new feature Our Time Will Come, by Ann Hui ; Shanghaï Strangers, web short by Joan Chen ; Blind Mountain by Li Yang (Un Certain Regard, Cannes 2007) ; Do Not Forget Me Istanbul omnibus film with 6 directors from the region including Hany Abou-Assad (Palestine), Aida Begic (Bosnia), Stefan Arsenijevic (Serbia), Stergios Niziris (Greece), Eric Nazarian ( Armenia), etc; My Marlon and Brando (Best New Narrative Filmmaker, Tribeca 2010) by Hüseyin Karabey.
Mary has continued her own filmmaking (VISION FROM THE EDGE: Breyten Breytenbach painting the lines and PALIMSEST : From Bloomsbury to China, retracing dual 'Stephen' family steps). She participates in juries and workshops as well as collaborates with film schools on several continents. She is a member of the Academy of Motion Picture Arts and Sciences. She continues to call Paris home where her three children have their work base : Julie Stephen Chheng – paper and digital designer, Julien Chheng – animation filmmaker, Jonathan Chheng – architect.
MENTOR BIOGRAPHY: PEGGY CHIAO HSIUNG-PING
A tireless advocate of 'new cinemas' in Taiwan, Hong Kong and mainland China, Peggy Chiao Hsiung-Ping first reached prominence in international circles for her critical work on ground-breaking Taiwanese directors such as Hou Hsiao-Hsien, before turning to film production. Chiao studied film at UT Austin (1977–81), then at UCLA (1983–5). A film critic for some of the major Taiwanese newspaper, she has also been teaching at the Taipei National University of Arts since 1985. She wrote a number of books, including: New Taiwan Cinema (1987) Hong Kong New Wave (1987) and Aspects of New Asian Films (1991). Internationally she was known to help Chinese-language film directors to be recognized. She also served on many international film festival juries.
In 1990, she established the China Times Express Awards for young cinema. She was the CEO of National Taiwan Film Year consigned by the government in 1993. She founded the Taiwan Film Centre in 1994, to help develop an international network for local filmmakers, and, in 1997, opened Arc Light, a production company with pan-Chinese ambitions. Among the films thus produced are: in Hong Kong, Ann Hui's As Time Goes By and Stanley Kwan's Still Love You After All These…; in Taiwan, Ts'ai Ming-liang's The Hole (1998), Lin Chen-sheng's Betelnut Beauty (2001), Christine Yao's Empire of Silver(2009) and Cheng Fen Fen's Hear Me(2009); and in China, Wang Xiaoshuai's Beijing Bicycle (2001) and Drifters(2002), Liu Fen Dou's Green Hat (2004), Li Yu's Lost in Beijing(2007) and Buddha Mountain(2011) and Sherwood Hu's Lord of Shanghai(2016) . She was the chair of the prestigious Golden Horse Film Festival.
Back to news