Thursday, 17 September 2009
•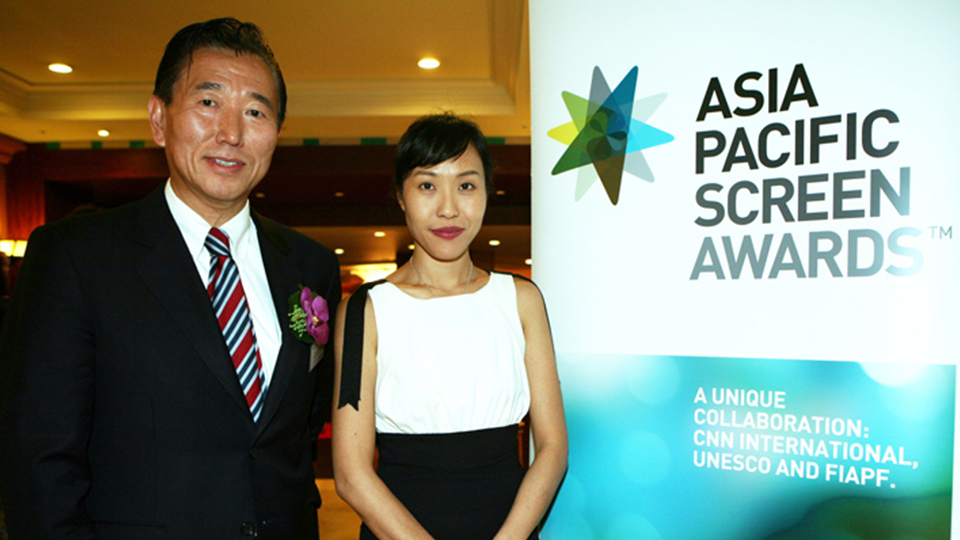 Seoul: The Asia Pacific Screen Awards (APSA) today announced the appointment of acclaimed Korean writer-director, Gina Kim, to its 2009 International Jury.
The announcement was made at a creative industries networking reception in Seoul following the recent Asia-Pacific Cities Summit.
"Gina Kim is one of Korea's most impressive young filmmakers and I warmly welcome her to the APSA Jury," said APSA Chairman, Des Power.
"212 films from 43 countries have been submitted this year, a record number of entries. I know that Gina will make a valuable contribution to the difficult task of choosing those that best demonstrate cinematic excellence and attest to their cultural origins."
Among the guests at the reception were notable Korean film industry representatives including members of the Academy of the Asia Pacific Screen Awards and 2008 APSA Juror, Hanna Lee (Producer, Secret Sunshine).
Gina Kim attended the reception, arriving in Seoul direct from the prestigious Venice Film Festival where she sat on the Orizzonti Jury and presented the world premiere of her new feature length documentary Faces of Seoul.
Ms Kim said, "It is an honour to represent the Republic of Korea on the International Jury of the Asia Pacific Screen Awards and I look forward to collaborating with my fellow Jury members. An international award of this calibre is very meaningful to the way films are perceived and promoted around the world."
Gina Kim's appointment to the APSA Jury comes ahead of next week's announcement of the 2009 Jury President.
APSA has had a strong association with the Republic of Korea since its inception with several films receiving APSAs including Ggeutnaji Anhmeun Jeon Jaeng / 63 Years On (Best Documentary Feature Film 2008), Joheunnom Nabbeunnom Isanghannom / The Good, the Bad, the Weird (Achievement in Cinematography 2008)  and Miryang (Secret Sunshine) which was awarded Best Feature Film in 2007 and Best Performance by an Actress in a Leading Role for Jeon Do-Yeon's performance in the film.
Eminent Korean filmmaker and author, Professor Hong-Joon Kim is the chair of the APSA Nominations Council, a distinguished panel of international film industry experts who meet in Brisbane, Australia next week to decide nominees in nine categories. The winners are then determined by the International Jury ahead of the third annual Asia Pacific Screen Awards ceremony on November 26, 2009, on Australia's Gold Coast.
Born in 1973 in Seoul, writer-director Gina Kim graduated from the Seoul National University and then moved to the United States where she completed her MFA at CalArts. In her early work, Kim studied the female identity and examined issues such as anorexia (Flying Appetite, 1998), the commercialisation of the female body (OK Man, This Is Your World, 1995), isolation (Dache-ro-wa-jineun a-chim / Morning Becomes Eclectic, 2001), and the mother-daughter relationship (Kim Gina eui bidio ilgi / Gina Kim's Video Diary, 2002). Kim Gina eui bidio ilgi (2002) and Gen jip ap (Invisible Light, 2003) have screened at festivals throughout the world, including Berlin, Locarno, Rotterdam, Turin and Vancouver. The highly acclaimed, Never Forever, produced by Lee Chang-dong and starring American actress Vera Farmiga, screened in competition at the Sundance Film Festival 2007 and was awarded the Special Jury Prize at the 2007 Deauville American Film Festival. Kim was nominated for Best New Director of 2008 in Korea's prestigious Daejong Film Festival Grand Bell Awards. Kim taught film production and film theory classes at Harvard University as a full-time lecturer for three years from 2004 to 2007.
Kim's new documentary, Faces of Seoul recently had its world premiere at the 66th Venice Film Festival where she sat on the Orizzonti Jury. She is currently developing a new feature film in English, produced by Martin Scorsese.
A cultural initiative of the Queensland Government, APSA is a unique collaboration between Atlanta-based CNN International, Paris-based UNESCO and FIAPF-International Federation of Film Producers Associations. APSA honours the works of filmmakers across a region covering 70 countries, one third of the Earth and half the world's film output.
Key Dates 2009*:
September 14 – 20, 2009 – APSA Advisory Committee to the Nominations Council meets
September 23 – 29, 2009 – Nominations Council Deliberations
Early October 2009 – Nominees Official Announcement
November 19 – 24, 2009 – Jury Deliberations
November 26, 2009 – Asia Pacific Screen Awards Ceremony
*Dates subject to change without notice
Back to news