Friday, 12 October 2012
•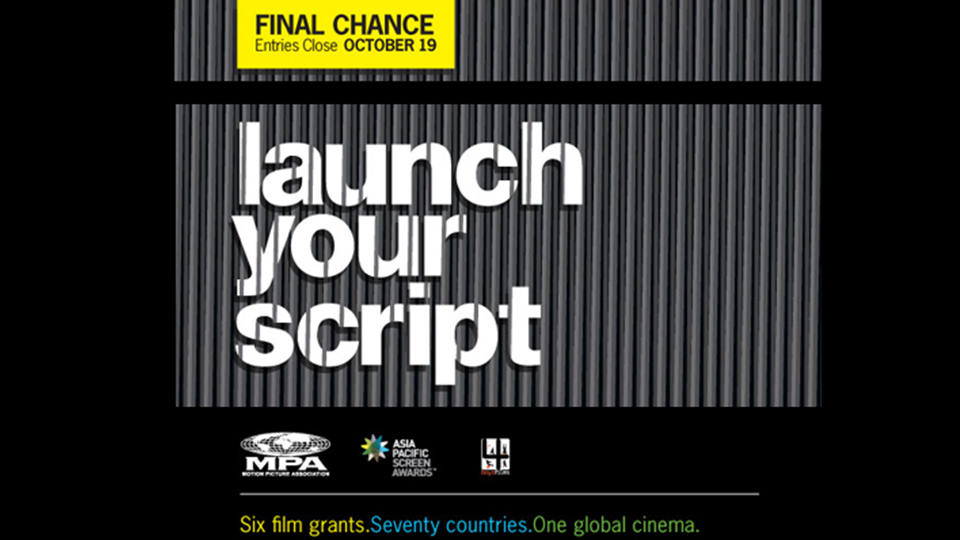 Launch your script through the APSA MPA Film Fund – SUBMISSIONS CLOSE OCTOBER 19
Academy members are urged to 'launch your script' and submit projects for the 2012 MPA APSA Academy Film Fund before close on Friday October 19.
The MPA APSA Academy Film Fund consisting of four grants, each of US $25,000, are allocated to the script development of projects. These grants are exceptional opportunities for Academy members. Applications will be assessed by an international panel of film industry professionals next month and recipients will be announced at the sixth annual Asia Pacific Screen Awards ceremony on Friday November 23.
The MPA APSA Academy Film Fund focuses on stimulating production in the region, particularly at the development phase, among the 70 countries embraced by APSA.
Academy members are eligible to submit a maximum of two projects each year and an entry form, synopsis and treatment will be required for each submission. Academy members interested in submitting their projects for the APSA Film Funds are advised to contact [email protected] as soon as possible.
APSA MPA Success Story:
Asghar Farhadi (Islamic Republic of Iran)
Iranian writer/director/producer Asghar Farhadi's film, A Separation, took out the Best Foreign Language Film award at this year's Oscars. Farhadi received a US$25,000 grant in 2010 through the MPA APSA Academy Film Fund, allowing him to complete the film. It also went on to win the Golden Bear for Best Film, Silver Bear for Acting (ensemble cast) at last year's Berlin International Film Festival as well as Best Feature Film at the 2011 APSAs.
Peng Tao (People's Republic of China)
The Cremator, written, directed and produced by APSA Academy member Peng Tao is another MPA APSA Academy Film Fund success story having recently had its world premiere at the Toronto International Film Festival. Peng Tao was inducted into the APSA Academy and was nominated for his Achievement in Directing at the 2007 awards, for his film Little Moth.
2011 MPA Film Fund recipients:
Shawkat Amin Korki (Iraqi-Kurdistan)
Shawkat Amin Korki received a development grant for his project Memories on Stone. Shawkat Amin Korki was inducted into the Academy in 2007 for Crossing the Dust, for which he received an Achievement in Directing nomination.
Memories on Stone (logline):
In post-Saddam Iraq, childhood friends Huseyin and Alan are about to produce the first movie made in free Kurdistan. Little do they know they are embarking on the odyssey of their lives.
Payman Maadi (Islamic Republic of Iran)
Payman Maadi received a grant for his film Those Days. Payman was nominated this year for Best Performance by an Actor for A Separation, which was the first film to be completed with funding from the MPA APSA Academy Film Fund. A Separation won Best Feature Film at the fifth annual Asia Pacific Screen Awards.
Those Days (logline):
A love story during the years of the Tehran rocket attacks.
Maryam Ebrahimi (Islamic Republic of Iran/Sweden)
Maryam Ebrahimi received a grant for the documentary Burqas Behind Bars. Maryam was also inducted into the Academy last year, winning the Best Documentary Feature Film Award for I Was Worth 50 Sheep.
Burqas Behind Bars (logline):
35 women. 34 children. 4 cells. Shot entirely inside an Afghan women's prison, documentary feature Burqas Behind Barsexposes how "moral crimes" continue to be used to control women in post-Taliban Afghanistan. Locked away from society, the women want their stories told. They want a voice.
Pryas Gupta (India)
Pryas received development funding for his project The Cricket Tree. A former member of the APSA International Jury, Pryas was inducted into the Academy in 2008 when his film The Prisoner won the Jury Grand Prize.
The Cricket Tree (logline):
A modern day fable set in India, children's feature The Cricket Tree is about Suman, a talented young cricketer who journeys from being a poor village farmer to a successful cricketer through his tenacity, loving nature and determination and also a strange carved bat made for him by his dying father from the wood of an ancient tree in the village.
Back to news