Thursday, 11 December 2014
•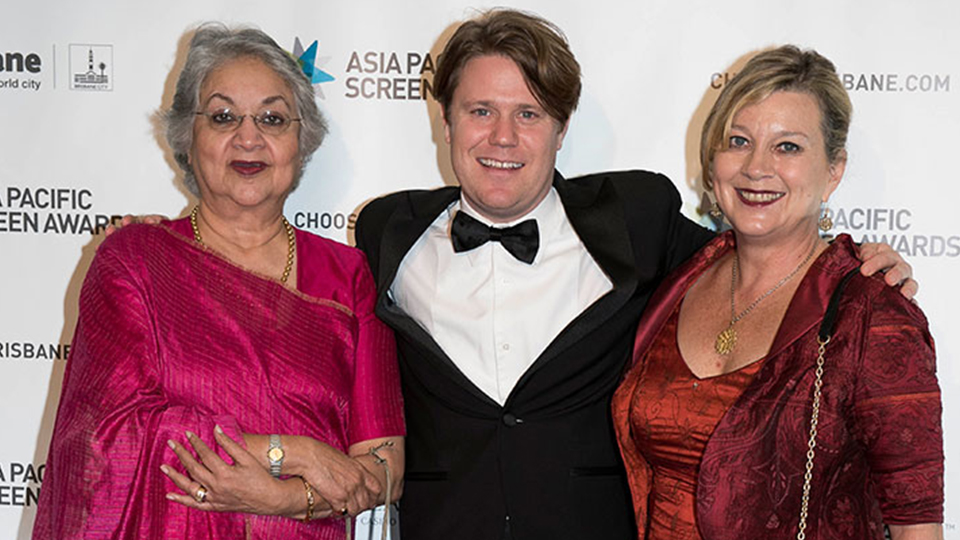 STORIES OF CHILDREN OF ASIA PACIFIC IN FOCUS THROUGH APSA ACADEMY CHILDREN'S FILM FUND 2014
Brisbane: The APSA Academy Children's Film Fund awarded two AUD$20,000 grants to an Indian animated feature film and an Australian feature film in the 2014 funding round, announced during the 8thAsia Pacific Screen Awards ceremony in Brisbane tonight.
The fund supports projects at script development stage that carry positive, life-affirming messages specifically for and about children of Asia Pacific and is offered annually exclusively for APSA Academy members.  The fund was established in 2011 in collaboration with APSA Academy member and producer Butch Jimenez and his Manila-based production company 4 Boys Films.
The 2014 funding round received a record number of submissions with twenty-two projects submitted representing twelve Asia Pacific countries and areas: Australia, Cambodia, People's Republic of China, Hong Kong (PRC), India, Islamic Republic of Iran, Israel, Republic of Korea, New Zealand, Philippines, Saudi Arabia and Sri Lanka.
The 2014 APSA Academy Children's Film Fund recipients are:
Andrew Pike (Australia) for BOOMER
"A touching but unsentimental coming of age tale of the bonding of two misfits from different classes, a bullied middle class boy and a street kid, who find sanctuary in nature."
Andrew Pike was inducted into the APSA Academy as a member of the third APSA International Jury in 2009.
Shilpa Ranade (India) A MAN FROM KABUL (KABULIWALA)
"An imaginative and visually exciting update of a much loved story by India's Renaissance Man and Nobel Prize winner, Rabindranath Tagore, to make big socio-political ideas digestible for a young audience globally."
Shilpa Ranade was nominated for Best Animated Feature Film in 2013 for The World of Goopi and Bagha
The eminent panel who assessed the submissions was chaired again this year by Australia's Anne Démy-Geroe, Co-Artistic Director of the Iranian Film Festival Australia and former Artistic Director then Executive Director of the Brisbane International Film Festival (1991 to 2009).  She was joined in 2014 by Indian children's books, art and music specialist Nira Benegal and producer of Best Children's Feature Film nominee Theeb, Rupert Lloyd.
In speaking about the entries Ms Démy-Geroe said, "The strength and diversity of the projects, ranging from live action to animation and documentary, targeted at all age groups and covering the entire region, was truly exciting, and I believe it rewards the faith and generosity of Mr Jiminez in supporting this crucial area of cinema."
APSA ACADEMY CHILDREN'S FILM FUND PANELISTS
Anne Démy-Geroe (Australia) – Chair
Co-Artistic Director of the Iranian Film Festival Australia and former Artistic Director then Executive Director of the Brisbane International Film Festival (1991 to 2009). Her interest in Asian cinema led to the establishment of the sole Australian NETPAC jury at the Brisbane International Film Festival and a FIPRESCI jury for Asia Pacific cinema. Démy-Geroe, who is a NETPAC board member, teaches Asia Pacific cinema at Griffith Film School and is currently a doctoral candidate on Iranian Cinema. She was an organiser for the Queensland Images Film Festival in 1989, has worked on the annual Queensland New Filmmakers Awards for many years, silent film festivals and Queensland regional film festivals. She was a judge for the Queensland Premier's Literary Awards and a past Council Member of the National Film and Sound Archive. She has served on international juries from Hawaii to Tehran for NETPAC and others. In 2003, Anne was awarded an Australian Centenary Medal for services to the film industry.
NIRA BENEGAL (India)
A true lover of the arts, Nira Benegal contributes to and supports a diverse range of artistic disciplines including film, literature, music, architecture and design. Benegal had a long and successful career as an editor for the leading publisher of children's books, India Book House. She later joined Inside Outside, India's first and foremost design magazine, as Assistant Editor where she remained for the first three years of its publication. Currently, Benegal is a member of the Selection Committee for films for the Mumbai International Film Festival and a member of the Managing Committee of the Mehli Mehta Music Foundation, a not-for-profit organisation that promotes western classical music through the presentation of high quality concerts and music education for children. Recently she volunteered to help with the annual Tata Literature Live Festival, Mumbai's largest international literature festival.
RUPERT LLOYD (United Kingdom)
Rupert Lloyd has spent the majority of his film career working in the Editorial department, most notably as an assistant editor on the six-time Academy Award winner The Hurt Locker. More recently he worked as an Editor on Mahmoud Al-Massad's award winning second feature, This Is My Picture When I Was Dead.  After producing Naji Abu Nowar's short film Death of a Boxer, Lloyd founded Noor Pictures to pursue a career as an independent producer and produced Naji Abu Nowar's debut feature Theeb alongside Bayt Al Shawareb. Premiering at the 71st Venice Film Festival Theeb went onto play at the Toronto International Film Festival, the BFI London Film Festival, Mumbai Film Festival and Abu Dhabi Film Festival. In Venice Naji Abu Nowar was awarded a Lion for 'Best Director in Orizzonti' and was named Variety's 'Arab Filmmaker of the Year' in Abu Dhabi where the film also received the FIPRESCI award for 'Best Narrative Feature' and 'Best Arab Film' in the New Horizons section. In addition to producing Theeb, Lloyd was also the editor.
Past APSA Academy Children's Film Fund grant recipients are:
2011
Songtaijia (People's Republic of China/Tibet)
Garin Nugroho (Indonesia)
2012
Nan Achnas (Indonesia)
Ainsley Gardiner (New Zealand)
2013
Sudheer Palsane (India)
Kath Shelper (Australia)
The Asia Pacific Screen Awards, proudly presented by Treasury Casino and Hotel, is supported by Brisbane City Council and managed by economic development board Brisbane Marketing in a unique collaboration with Paris-based UNESCO and FIAPF-International Federation of Film Producers Associations, recognising and promoting cinematic excellence and cultural diversity of the world's fastest-growing film region: comprising 70 countries and areas, 4.5 billion people, and responsible for half of the world's film output. In 2014, 36 films from 21 Asia Pacific countries received award nominations.
Back to news